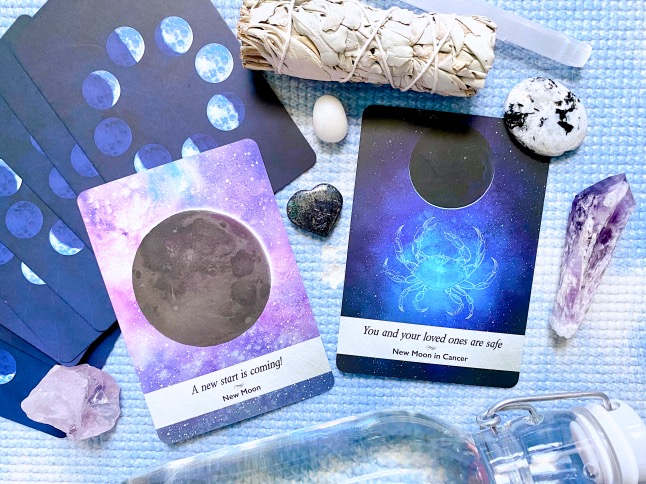 This Friday, July 9th at 9:04 PM EST there will be a New Moon in the sign of Cancer (my astrological sign! hehe). A New Moon means it's the time for a fresh start, manifesting, Intention setting, drawing energy. Now is the time to release the negative thoughts and energy and focus on all the new possibilities and things you want to accomplish in the next six months. Anytime there is a moon in the sign of Cancer you can expect this time to be extra emotional because Cancer is ruled the moon, it's their "planet".

The moon's energy is strong enough to work with on the day before, the day of, and the day after. I like to plan out my moon rituals a few days in advance so that I have all my materials ready. Check out this post to see what's the difference between the New Moon and Full Moon.

What to expect during this New Moon?
– A fresh start
– Tap into your emotions. Are you feeling balanced? If not, do some chakra work
– Intuitive energy
– Heightened sensitivity
– Extra creativity

Activities to do during this New Moon
– Manifest. Write down what it is you want to create in the next 6 months
– Reflect and journal about what no longer serves you and what you want to focus on
– Wear white or cream-colored clothing
– Do this guided meditation
– Work with selenite and clear quartz
– Write a love letter to the moon
– Create art for the moon
– Make some moon water
– Make a moon oil
– Spend time at home
– Spend time with your loved ones
– Light a white candle
– Burn lunar incense
– Take a lunar bath and bathe under the moonlight

Have you worked with the New Moon before?