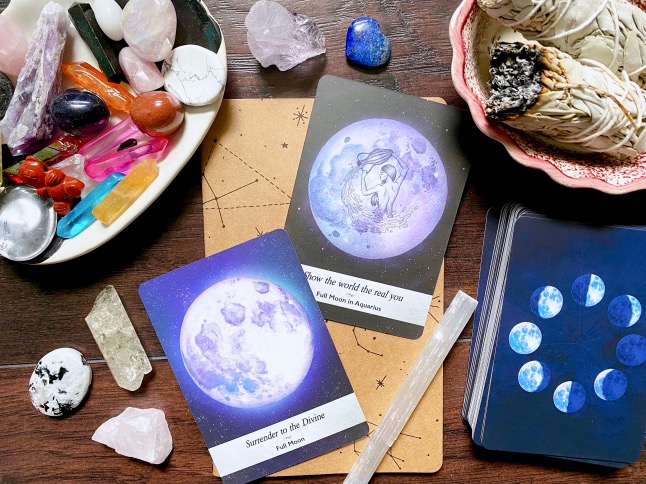 This Friday, July 23rd at 10:20 PM EST there will be a Full Moon in the sign of Aquarius. This is one of two Aquarius full moons, there will be another Aquarius full moon next month! Because of the back-to-back Aquarius full moon, this means that the Aquarian energy will be highlighted during the next month. Aquarians, like to do things differently. They are unconventional, like to embrace odd ideals, and like to do things their way. When given a situation they like to step outside of the box and try to find a new and/or better way to find solutions. Now is the time, to check your birth chart and to see where the sign of Aquarius is in your chart. Uranus and 11th House are also ruled by the sign of Aquarius so make sure to check where those placements are in your birth chart as well to see how this Full Moon will affect you.

If you would like to learn more about the Full Moon make sure you read this post. You can also read all my past moon posts here.

What to expect during this Full Moon?
– Heightened emotions
– Emotional triggers
– Be wary of sudden decisions

Activities to do during this Full Moon
– Reflect on what happened 6 months ago, are you on the path you want to be on? If not, what can you change to get yourself back on track?
– Do this Full Moon meditation
– Do this yoga practice
– Do a card spread for the Full Moon. This account posts some great Tarot prompts
– Journal. Write down what you're worried about right now so a month from now (during the next Full Moon) you can reflect on what you were feeling a month ago
– Break free from old habits that no longer serve you
– Work with clear quartz crystal
– Work with a piece of Selenite, Amethyst, and/or Tigers Eye crystal
– Drink some peppermint or lavender chamomile tea
– Take a sound bath
– Heal or work on your Solar Plexus chakra

Have you worked with the Full Moon before?