Not too long ago I was watching some Korean beauty YouTubers and one of them (I can't remember who I was watching) was recommending some skincare products that I never heard of before, PURITO. When I was reading reviews online I was surprised at how many positive reviews I found from products by PURITO. A lot of people mentioned that PURITO is very similar to COSRX, which I'm a huge fan of. Then I found that PURITO products were available to purchase through Amazon so I decided to try out their products because of the convenience.
Since I don't write reviews anymore I wanted to make a first impression post on these products because I know a have some K-beauty junkies out there who may not know of PURITO and wanted to share this brand with you all because I really am loving these products. Plus, they're cruelty-free!
Check out their
official Instagram page
to learn about their products and upcoming releases. I love how they use a dog to explain their products. For those who don't know, "Purito" means "dog" in Spanish.
*This is not a sponsored post and none of these products were gifted to me for free. I purchased all these products with my own money. All thoughts and opinions are my honest opinions. If anybody from Purito is reading this and would like to work with me feel free to contact me.
Defense Barrier pH Cleanser
They say the ideal pH level for skin is between 4.5 and 6 which is why PURITO pH 5.5 cleanser is the optimal level to protect the skin barrier. It helps calm, soothe skin, recover from damage and irritation. Read more
here
.
This product was the first one that I purchased. Before this cleanser, I was using a foam cleanser and literally, the day after I started using this cleanser my skin felt more hydrated and softer! Probably, because it doesn't strip your natural oils like foam cleansers do. This is a very gentle cleanser and very similar to the COSRX ph cleanser, which I used before and loved but eventually stopped because it broke me out.
Centella Green Level Buffet Serum
Claims to improve skin barrier, lighten, anti-wrinkle, help calm down inflamed skin, reduce pigmentation and moisturized. Read more about this product
here
.
I wanted a serum to help with anti-aging so it was either this serum or the Snail Repair Advanced 91 serum. In the end, I went with this one because it also claims to help with inflamed skin which I have. I used 2 pumps both in the morning and night. When I bought the cleanser I also bought this serum and used it the same night. With the combination of the two, I have noticed a change with my skin texture.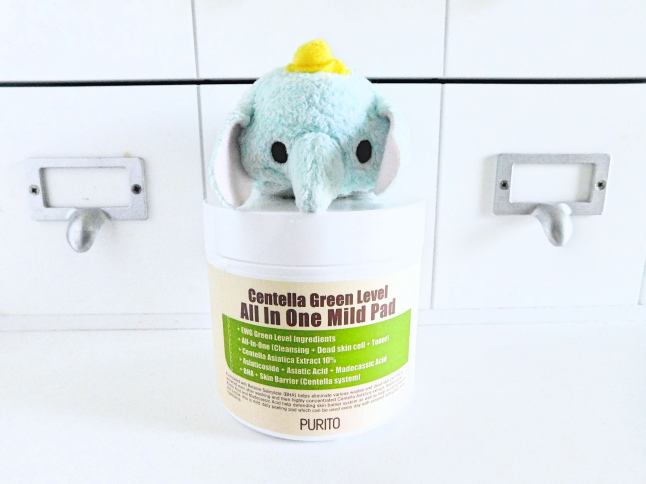 Centella Green Level All In One Mild Pad
These all-in-one pads are designed to remove dirt and residue while calming the skin and preventing breakouts. Read more here.
If you've been following for a while then you know I'm a huge fan of COSRX pimple pads, I used all 3 versions. When I saw that PURITO had their own pad, of course, I had to try them! Like the COSRX pads, there is a smooth and embossed side, for exfoliation and makeup removal. I've been using these in the morning and night as my "toner step" (I normally just use skincare pads at night but I don't have a toner at the moment). They are the newest product I've added to my routine so I can't really say anything as far as results go but so far they are working really nicely with my skin. I love that it comes with a plastic clipper that makes picking up each pad hygienic.
Sea Buckthorn Vital 70 Cream
Sea Buckthorn contains 70% of Vitamin C. But this cream contains Vitamin A, B, C, D, E, P, and K. Read about all the benefits here. You can mix PURITO's Vitamin C serum together with the cream for maximum results.
It's very hydrated, light, non-sticky, absorbs quickly, and moisturizing. I'm only using this at night at the moment because I heard that you're not supposed to use vitamin c in the morning. I really love this cream and can see myself purchasing this in the future again. I would love the serum+cream technique and PURITO's other creams.
Final thoughts? My skin loves PURITO! I only have good things to say about their products. If you have sensitive skin I would recommend both the cleanser, Centella serum, and the pads because they are very gentle (the pads do have a scent to them but it goes away quickly). I will definitely be purchasing more of their products in the future.
Have you tried any Purito products?
Related Posts