I'm back with another What I Read this Month post. I've decided that whenever I read more than four books I'll dedicate a post to all the books I read in said month. if I read four books or less I'll just leave my thoughts on the books in my monthly posts. I was surprised that I was able to read seven books this month despite traveling for a week. As someone who used to struggle to finish one book in a month, I'm very proud of myself! haha

This month started and ended with two 2-star reads. There were a handful of 3 and 4-star reads that kept me entertained this month. I'm happy with the selection of books I picked out this month. I do wish I would've read more spooky books seeing as it was October and all but I already have a few spooky reads that I plan to read in November that I can't wait to read!

Make sure to follow me on Goodreads to be updated on what I'm reading and on StoryGraph if you're curious about my book statistics.

My star reading scale
★★★★★/5 – Loved it! Would reread and recommend it to others.
★★★★/5 – Kept me entertained. I would reread.
★★★/5 – Didn't love or hate but would recommend to others.
★★/5 – Did not enjoy it and probably skimmed through most of it.
★/5 – I hated it and regret wasting my time with this book.
DNF – Did not finish. This will probably be rare because I like to finish every book I start.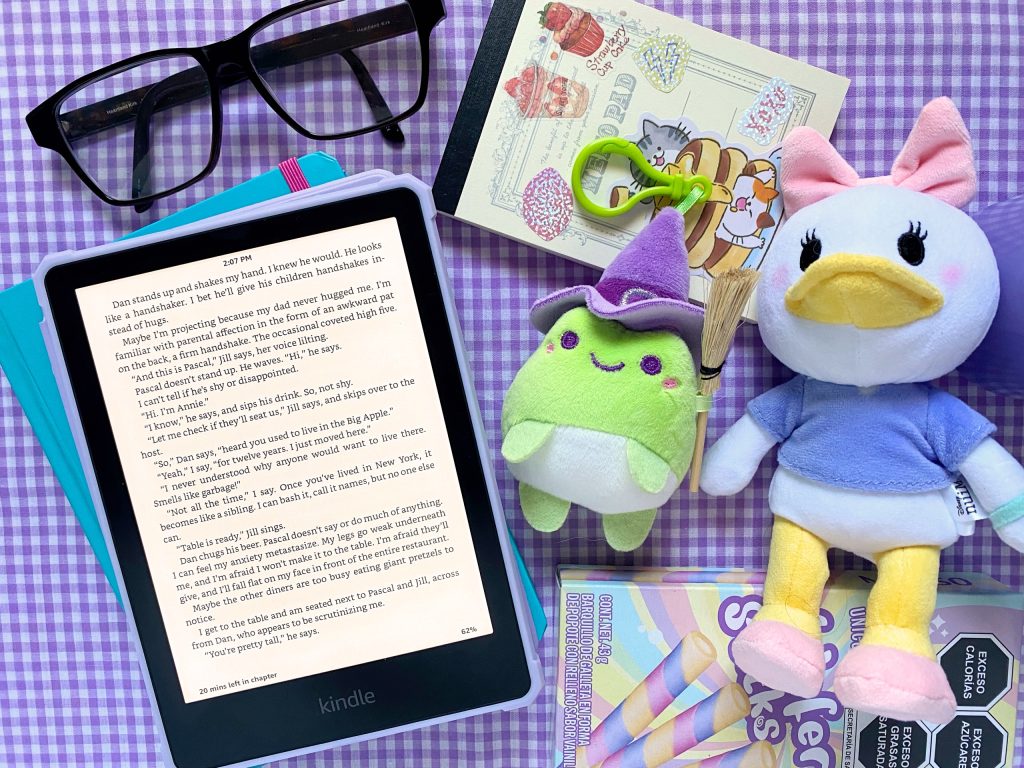 DISCLAIMER: Links included in this post might be affiliate links. If you make a purchase with the links I provide, I may receive a small commission at no additional charge to you

Keeper of Enchanted Rooms by Charlie N. Holmberg ★★/5
Thirty-one year old Merritt Fernsby, who is estranged from his family since more than a decade, gets a shock when he learns that his grandmother has left him a remote estate named Whimbrel House. This property has been vacant for more than a century, but Merritt, who doesn't really have an alternative, is happy to move in. This is only until he realises that his new house has locked him in and has no intention of ever letting him out. Unbeknownst to Merritt, Hulda Larkin, a valuable employee of the 'Boston Institute for the Keeping of Enchanted Rooms' (BIKER!), has been assigned Whimbrel House in order to ascertain its magical propensity and calm down its aggression. When she arrives, Merritt is relieved. However, they both soon realise that their residence has far more secrets than they initially assumed, and the dangers to them might not come from the house alone.

The opening chapter of this book got me hooked! To be honest, the villains's chapters were what kept me reading this book. The chapters in between became boring as the story progressed. There was a love story that I wasn't expecting that made me almost DNF this book but I managed to finish it! The story as a whole didn't work for me and won't be continuing the rest of the Whimbrel House series.

You can purchase Keeper of Enchanted Rooms here


Cider Mill Coven by Vanessa Abigail Lambert ★★★★/5
When three young cousins experience an explosion of nature-infused magic at their Grandma Lydia's orchard, their parents whisk them off to opposite corners of New England. But distance cannot contain their witchy destiny forever and in 1995 – one fateful October night – tenacious dreamer, Raven, now 18 years old, has a near death experience that ignites mystical forces from within. Soon after, her hilarious bestie of a cousin, the vivacious and ever-so snappy Killian, has his own shocking encounter. But will the third and final member of their cousinly trifecta, the bubbly, bi-racial Adelaide be down to ride this supernatural rollercoaster? Sweet, eccentric Grandma Lydia is waiting at Cider Mill with bated breath and a mountain-high pile of fresh-baked confections. She's been a coven of one for far too long and is eager to immerse the teenage trio in the "Green Witch Way." But her unconventional methods aren't always as sweet as cider. Magic and mischief collide as the cousins soon begin to unspool a thread of family secrets so disenchanting it might send 'em running (or flying) for the hills. Cider Mill Coven is full of twists at every turn. It's a story of family and forgiveness, friendship… and forbidden love. From a magical treetop retreat to a spellbinding elixir that serves to protect a secret society of nature-loving covens from discovery, this '90s coven tale is sure to conjure up a hypnotizing blend of spookiness and delight.

This was the perfect autumn witchy to read in October! This is set in the 90s so it was fun to read with all 90s nostalgia and the coziness of the fall into water season. The author even created a Spotify playlist for her book! If you're someone who can read while listening to music (I can't) go listen to the playlist. Overall, I loved this book and would reread it again. My only complaint is that I think it focused too much on one of the characters. In the beginning, every chapter was on one of three cousins so I thought that's how the rest of the book was going to play out. However, it became focused on one character and I wished we could've learned more about all three of the cousins equally. The book ended on a cliffhanger so I can't wait for the next book to come out!

You can purchase Cider Mill Coven here


I'm Thinking of Ending Things by Iain Reid ★★★★/5
I'm thinking of ending things. Once this thought arrives, it stays. It sticks. It lingers. It's always there. Always. Jake once said, "Sometimes a thought is closer to truth, to reality, than an action. You can say anything, you can do anything, but you can't fake a thought." And here's what I'm thinking: I don't want to be here.

I enjoyed reading this book! It was a page-turner that I quickly read in less than 5 days, which is a big deal for me! I was on the edge of my seat waiting for something to happen and when I found out what happened I was so confused and flipped back and forth trying to weave everything together and even then, I still had so many questions! If you read this, let me know your thoughts!

You can purchase I'm Thinking of Ending Things here


Something Wicked This Way Comes by Ray Bradbury ★★★/5
For those who still dream and remember, for those yet to experience the hypnotic power of its dark poetry, step inside. The show is about to begin. Cooger & Dark's Pandemonium Shadow Show has come to Green Town, Illinois, to destroy every life touched by its strange and sinister mystery. The carnival rolls in sometime after midnight, ushering in Halloween a week early. A calliope's shrill siren song beckons to all with a seductive promise of dreams and youth regained. Two boys will discover the secret of its smoke, mazes, and mirrors; two friends who will soon know all too well the heavy cost of wishes…and the stuff of nightmares.

I originally gave this 4 stars because I enjoyed the performance of the audiobook but I've knocked it down a star because the story as a whole wasn't that memorable. Parts of the story stayed with me but the book as a whole was so-and-so.

You can purchase Something Wicked This Way Comes here


Homesick for Another World by Ottessa Moshfegh ★★★/5
Homesick for Another World is a master class in the varieties of self-deception across the gamut of individuals representing the human condition. But part of the unique quality of her voice, the echt Moshfeghian experience, is the way the grotesque and the outrageous are infused with tenderness and compassion. Moshfegh is our Flannery O'Connor, and Homesick for Another World is her Everything That Rises Must Converge or A Good Man is Hard to Find. The flesh is weak; the timber is crooked; people are cruel to each other, and stupid, and hurtful. But beauty comes from strange sources. And the dark energy surging through these stories is powerfully invigorating. We're in the hands of an author with a big mind, a big heart, blazing chops, and a political acuity that is needle-sharp. The needle hits the vein before we even feel the prick.

This collection of short stories was a mixture of gross, strange, weird, and lonely. I feel like that was the theme of this short story collection, loneliness, which makes sense because I believe the author wrote this during the pandemic. The first couple of stories were gross at parts but I was entertained by most of the stories and some left me pondering what would happen next. Some stories were better than others but overall I enjoyed this book and can't wait to read more by Ottessa.

You can purchase Homesick for Another World here


Love in the Big City by Sang Young Park ★★★/5
Young is a cynical yet fun-loving Korean student who pinballs from home to class to the beds of recent Tinder matches. He and Jaehee, his female best friend and roommate, frequent nearby bars where they push away their anxieties about their love lives, families, and money with rounds of soju and ice-cold Marlboro Reds that they keep in their freezer. Yet over time, even Jaehee leaves Young to settle down, leaving him alone to care for his ailing mother and to find companionship in his relationships with a series of men, including one whose handsomeness is matched by his coldness, and another who might end up being the great love of his life.

Love in the Big City is a coming-of-age story too by a male living in Seoul, South Korea. It's divided into four parts, each part focusing on different relationships in his life. I didn't love nor hate this book and would recommend this book as it was an interesting read and I learned a lot about the lgbt scene in Korea.

You can purchase Love in the Big City here


Nothing But Blackened Teeth by Cassandra Khaw ★★/5
A Heian-era mansion stands abandoned, its foundations resting on the bones of a bride and its walls packed with the remains of the girls sacrificed to keep her company. It's the perfect wedding venue for a group of thrill-seeking friends. But a night of food, drinks, and games quickly spirals into a nightmare. For lurking in the shadows is the ghost bride with a black smile and a hungry heart.

I started and finished this on Halloween night because I wanted to be creeped out but most of this book was unforgettable. All the characters were unlikeable and, to be honest, I was rooting for the Japanese ghosts to take out the whole group of these privileged 20-somethings. haha

You can purchase Nothing But Blackened Teeth here


Have you read any of these books? What did you read in October?