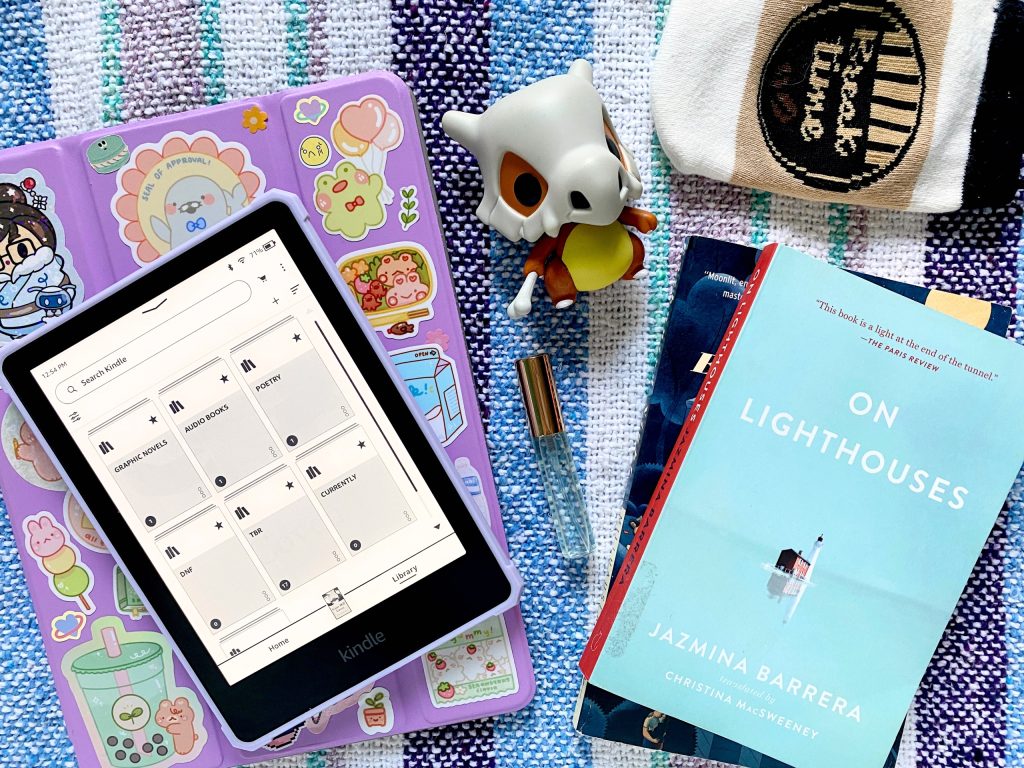 If you read my September monthly favorites then you know that I read a lot in September. In fact, I read eight books in September! The most books I have ever read in a month! Yes, you may argue that some were audiobooks, graphic novels, and one poetry book but books are books and reading can be taken in a lot of different ways, for example reading this blog post counts as reading!

Seven out of the eight books were provided to me via Kindle Unlimited. I have less than a month left before my Kindle Unlimited subscription ends. I got Kindle Unlimited for free back when I received my Kindle Paperwhite a few months ago. If I'm being honest, I haven't used my Kindle as much as I thought I would. My summer has been surprisingly busy so I haven't had much time to use my Kindle but I've been trying to binge everything that I want to read before my subscription ends in a few weeks so I've been using my Kindle a lot more. Let me know if you all want a review on the Kindle Paperwhite.

Make sure to follow me on Goodreads to be updated on what I'm reading and on StoryGraph if you're curious about my book statistics.

My star reading scale
★★★★★/5 – Loved it! Would reread and recommend it to others.
★★★★/5 – Kept me entertained. I would reread.
★★★/5 – Didn't love or hate but would recommend to others.
★★/5 – Did not enjoy it and probably skimmed through most of it.
★/5 – I hated it and regret wasting my time with this book.
DNF – Did not finish. This will probably be rare because I like to finish every book I start.
DISCLAIMER: Links included in this post might be affiliate links. If you make a purchase with the links I provide, I may receive a small commission at no additional charge to you

On Lighthouses by Jazmina Barrera ★★★/5
For celebrated writer Jazmina Barrera, humanity's fascination with the ocean is an invitation to explore one of its most potent symbols: the lighthouse. Brilliantly resisting the postcard kitsch typically associated with her subject, On Lighthouses is a sweeping work that connects figures such as Robert Louis Stevenson, Virginia Woolf, Walter Benjamin, and Anne Carson; Barrera's interconnected essays offer a mesmerizing portrait—historical, literary, and decidedly personal—of her obsession, those structures whose message is "first and foremost, that human beings are here." On Lighthouses, described as "alluring and arresting as the landscapes and stories it conveys" by the Los Angeles Review of Books, takes readers on a journey from raging sea to cold stone—from a hopeless isolation to a meaningful one—concluding at last in a place of peace.

This is the only physical book that I read in September. It's a book about lighthouses and thoughts. Each cater is on a different lighthouse along with the author's experience getting to that lighthouse and some history on said lighthouse. This was a nice book to read in late summer. One of the reasons why I wanted to read this book was because it's by a Latin American author and I'm trying to read more books from Latin American authors to build up my collection. If you have any recommendations please let me know.

You can purchase On Lighthouses here


The Great Passage by Shion Miura ★★★/5
Kohei Araki believes that a dictionary is a boat to carry us across the sea of words. But after thirty-seven years of creating dictionaries, it's time for him to retire and find his replacement.

I've been reading a lot of Japanese Literary Fiction lately. After I finished The Easy Life in Kamusari I decided to read The Great Passage because it is by the same author. The synopsis sounded right up my alley as I love learning about words so a book about creating a dictionary I thought would be interesting and at some parts it was. However, the whole book felt pretty bland to me. Nothing too digestible. It was interesting to read about Japanese work culture but overall this book felt flat to me.

You can purchase The Great Passage here or read for free via Kindle Unlimited here


At the End of the Matinee by Keiichiro Hirano ★★/5
Classical guitarist Satoshi Makino has toured the world and is at the height of his career when he first lays eyes on journalist Yoko Komine. Their bond forms instantly.

Upon their first meeting, after Makino's concert in Tokyo, they begin a conversation that will go on for years, with long spells of silence broken by powerful moments of connection. She's drawn by Makino's tender music and his sensitivity, and he is intrigued by Yoko's refinement and intellect. But neither knows enough about love to see it blooming nor has the confidence to make the first move. Will their connection endure, weaving them back together like instruments in a symphony, or will fate lead them apart?

This book was suggested to me after I finished The Great Passage so I decided to give it a go. I was curious to see how a Japanese literature love story would turn out and I was disappointed. At first, it starts as a meet-cute with the two main characters but after a few chapters the relationship fizzes out and the rest of the book is just boring. The more I read, the more I disliked the characters because I became frustrated with them. It's a miracle I even finished this book because I almost DNF it.

You can purchase At the End of the Matinee here or read for free via Kindle Unlimited here

Mooncakes by Suzanne Walker ★★★/5
A story of love and demons, family and witchcraft. Nova Huang knows more about magic than your average teen witch. She works at her grandmothers' bookshop, where she helps them loan out spell books and investigate any supernatural occurrences in their New England town.

One fateful night, she follows reports of a white wolf into the woods and comes across the unexpected: her childhood crush, Tam Lang, battling a horse demon in the woods. As a werewolf, Tam has been wandering from place to place for years, unable to call any town home. Pursued by dark forces eager to claim the magic of wolves, and out of options, Tam turns to Nova for help. Their latent feelings are rekindled against the backdrop of witchcraft, untested magic, occult rituals, and family ties both new and old in this enchanting tale of self-discovery.

I gave this 3 stars because I didn't like this graphic novel as much as I thought I would. I don't want to talk to negativity about this graphic novel because in the beginning there is a message from the author saying how much reading and creating this graphic novel meant to them, the fact that anybody creates something for others to ingest is amazing itself! However, this graphic novel wasn't my favorite. I felt like it lacked depth in the history of the world and they didn't explain or give details on certain side stories or on how the magic of the world worked. It reminded me of Doom and Doughnuts met The Tea Dragon Society and had a baby.

You can purchase Mooncakes here or read for free via Kindle Unlimited here


The Ballad of Sophie by Filipe Melo ★★★★★/5
A young journalist prompts a reclusive piano superstar to open up, resulting in this stunning graphic sonata exploring a lifetime of rivalry, regret, and redemption. 1933. In the small French village of Cressy-la-Valoise, a local piano contest brings together two brilliant young players: Julien Dubois, the privileged heir of a wealthy family, and François Samson, the janitor's son. One wins, one loses, and both are changed forever. 1997. In a huge mansion stained with cigarette smoke and memories, a bitter old man is shaken by the unexpected visit of an interviewer. Somewhere between reality and fantasy, Julien composes, like in a musical score, a complex and moving story about the cost of success, rivalry, redemption, and flying pianos. When all is said and done, did anyone ever truly win? And is there any music left to play?

I only read this because the hosts of Books Unbound are always mentioning this graphic novel. I knew nothing about this graphic novel but because of the title, I knew it would include music. I was genuinely shocked and was not expecting what I read! It was such a page-turner! The artwork is unique but for a more mature crowd (not a graphic novel for kiddos!) but it's an amazing graphic novel and would highly recommend it if you're into graphic novels or if you want a well-made story.

You can purchase The Ballad of Sophie here or read for free via Kindle Unlimited here


La Vie, According to Rose by Lauren Parvizi ★★★★/5
A heartfelt novel about self-discovery, grief, and a once-in-a-lifetime chance to start over. Rose Zadeh pleases everyone, except herself. Memories of her late Iranian-immigrant father, who valued hard work and family, keep Rose in a dead-end job as a Silicon Valley copywriter, and tethered to her guilt-trippy mom and needy sisters. As much as it would disappoint her father, Rose needs an escape. Voilà! A mandated vacation gives her the chance. Three weeks on a long-dreamed-of trip to the City of Light. Instead of landing in a Parisian fairy tale, Rose falls under the spell of a charming and possibly dangerous expat and encounters an old family friend keeping a surprising secret. With the aid of a French self-help guru, Rose really believes she's blossoming. Until an unwelcome reminder of home proves that finding herself will require more than a change of scenery. From Paris's cobblestone streets to Provence's sun-soaked hills, Rose embarks on a journey of adventure, betrayals, and even amour . For the first time, the directions she follows are up to her.

I thought this would be fun to read seeing that a couple of years ago, in September, I was in Paris and wanted to reminisce about France. I could relate to the main character seeing as I also have two sisters and a gossipy mom. I was rooting for Rose the entire time and was proud of her when she made certain moves but also internally yelling at her during certain situations. I didn't like the ending because it felt too 'perfect'. I feel like the author wanted to tie everything up in a perfect bow and I would've loved it if the author just left Rose's ending up to the reader instead of giving us the perfect ending.

You can purchase La Vie, According to Rose here or read for free via Kindle Unlimited here


The Fear of Failure: How To Become An Action Taker, Stop Worrying, Overcome Procrastination and Perfectionism by Wilda Hale ★★★★★/5
How many times have you missed out on something that could have changed your life, all because you were too afraid? Is the fear of failure making you procrastinate? Is your perfectionism stopping you from taking action? Then you need to keep on reading…

I haven't read a self-help book in a while and this one intrigued me seeing as I am afraid of failure (but really who isn't?). I was engaged the entire time and was surprised that I reached the end so quickly, self-help books always get to me! I recommend this book if you're feeling down and/or need a push. It's only 168 pages

You can purchase The Fear of Failure here or read for free via Kindle Unlimited here


I Am Not Your Final Girl by Claire C. Holland ★★★/5
From Claire C. Holland, a timely collection of poetry that follows the final girl of slasher cinema – the girl who survives until the end – on a journey of retribution and reclamation. From the white picket fences of 1970s Haddonfield to the apocalyptic end of the world, Holland confronts the role of women in relation to subjects including feminism, violence, motherhood, sexuality, and assault in the world of Trump and the MeToo movement. Each poem centers on a fictional character from horror cinema, and explores the many ways in which women find empowerment through their own perceived monstrousness.

A poetry book based on female characters from horror films. I thought this was a brilliant concept for a book so I decided to give it a go. I don't read poetry too often but it's nice to read some poems now and then. Poetry is subjective so I hate to judge and rate a poetry book so take my rating for what it is. I haven't watched most of the films mentioned in this book so some of the poems didn't make sense to me, I feel like if I had watched more of the films mentioned then I would've enjoyed this book more. There were a few poems that I loved but 2/3 of the book didn't appeal to me.

You can purchase I Am Not Your Final Girl here or read for free via Kindle Unlimited here

Have you read any of these books? What did you read in October?