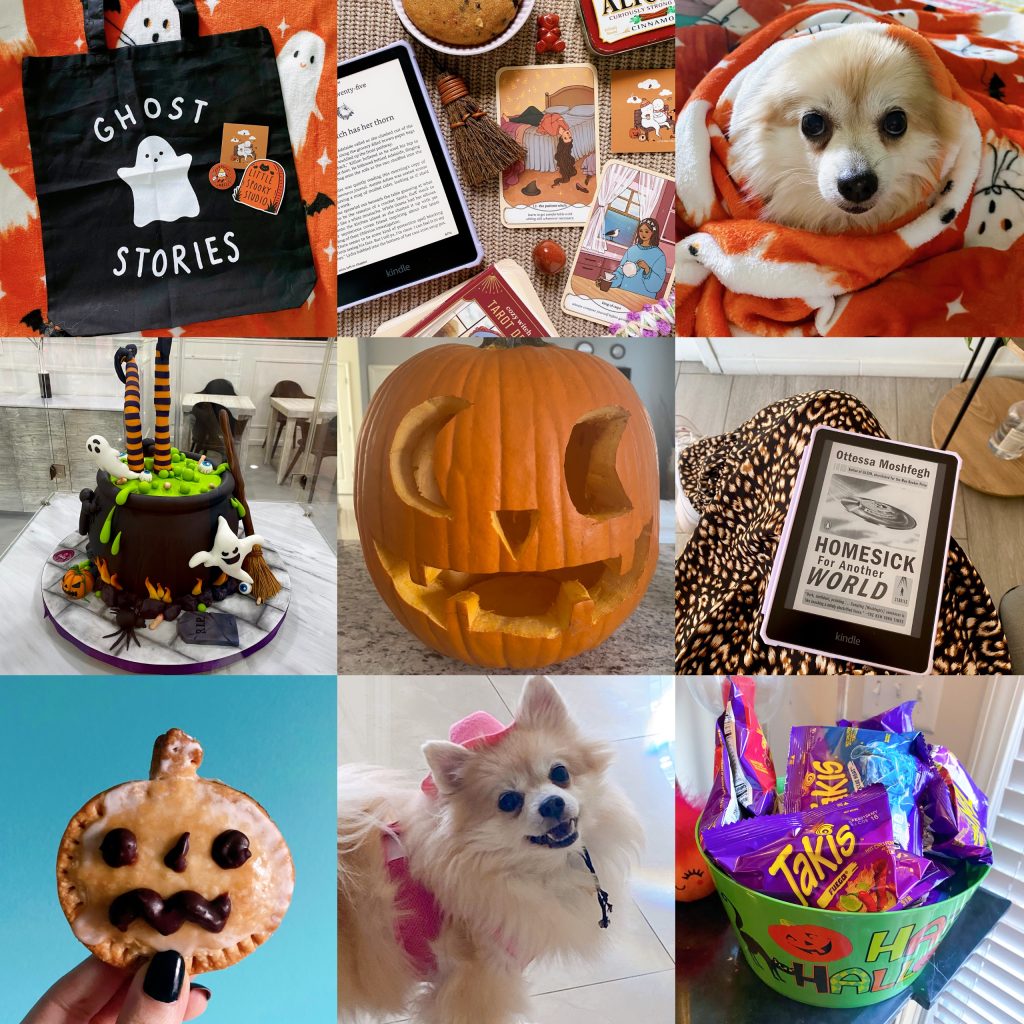 DISCLAIMER: Links included in this post might be affiliate links. If you make a purchase with the links I provide, I may receive a small commission at no additional charge to you.

What I Watched
Haunted Mansion – Disney+
A single mom named Gabbie hires a tour guide, a psychic, a priest and a historian to help exorcise her newly bought mansion after discovering it is inhabited by ghosts.

I was very open to a new Haunted Mansion as I remember the first one not being too good despite it scaring me as a kid. This film felt sort of off. The acting was so-so but what distracted me was that some of the decorations and props looked like something you could get from Spirit Halloween. The movie was also unnecessarily long, it was 2 hours! The last third of the movie didn't have to be so long. On a positive note, I did enjoy the small nods to the Disney ride.

Spider-Man: Across The Spider-Verse – Netflix
Miles Morales catapults across the Multiverse, where he encounters a team of Spider-People charged with protecting its very existence. When the heroes clash on how to handle a new threat, Miles must redefine what it means to be a hero.

I enjoyed Spider-Man: Into the Spider-Verse, the graphics alone were breathtaking! So, I was glad to see that art style again! The new Spider-Man characters (the main ones) were charming and I can't wait to see more of those characters in the second half. However, did this need to be a two-part movie? Probably not. However, I will watch the second half when it comes out. haha

Five Nights at Freddy's – Peacock
A troubled security guard begins working at Freddy Fazbear's Pizza. During his first night on the job, he realizes that the night shift won't be so easy to get through. Pretty soon he will unveil what actually happened at Freddy's.

I know a little bit about Five Nights at Freddy. I've seen a few gameplays of this game and so I know a bit of the lore. In the game, you play as a night security guard who watches over a rundown pizza restaurant and you have to prevent the animatronic characters from taking over. The game involves a lot of errie moments and jump scares which is why I was disappointed when I watched the film because it wasn't scary at all! Even the animatronics weren't as creepy as they are in the game. It was a horror film for preteens and it shows. I didn't hate it but I didn't love it, it was alright, I wish it was creepier.

A Haunting in Venice – Hulu
In post-World War II Venice, Poirot, now retired and living in his own exile, reluctantly attends a seance. But when one of the guests is murdered, it is up to the former detective to once again uncover the killer.

As an Agatha Christie fan, I was excited to watch A Haunting in Venice. I'm currently reading the novel, Hallowe'en Party which is what this film is based on. The beginning with the scenes of Venice was stunning but in the book, the story doesn't take place in Venice. Venice is a beautiful location and all but you're not fooling me into believing that there are that many kids in Venice who would celebrate Halloween in an isolated castle who very few adults present! There are a lot of other differences in the film adaptation but I'll address that in the book review when I finish the book. Also, having Tina Fey star in this film was strange. I mean she's known for comedy and this is supposed to be a drama/mystery/horror so having her in the film was an odd choice. I watched this on Halloween night and it was a fun festive watch.

What I Listened
NCT 127 – Fact Check
NCT 127 – Space
DPR IAN ~ Dear Insanity…
DRP IAN – Don't Go Insane
Billlie – BYOB (bring your own best friend)
IVE ~ I'VE MINE
IVE – Baddie
TOMORROW X TOGETHER – Growing Pain
TOMORROW X TOGETHER – Chasing That Feeling
XG – NEW DANCE
82MAJOR – FIRST CLASS
Xdinary Heroes – Break the Brake
tripleS – Invincible
SUNMI – STRANGER
LE SSERAFIM – Perfect Night

Things I Did
Went to Mexico
This was a quick trip but it was nice to travel to Mexico this time of the year as I had never been during autumn. Check out my Mexico photo diary here.

What I Read
I've decided that whenever I read more than four books I will dedicate a post to all the books I read in said month in a separate post which I'll post a few days after I publish my monthly favorites. If I read four books or less I'll just leave my thoughts in the section down below. I will also leave the book titles, authors, and my star rating down below when I read more than four books so that I don't leave this section empty.

Keeper of Enchanted Rooms by Charlie N. Holmberg ★★/5

Cider Mill Coven by Vanessa Abigail Lambert ★★★★/5

I'm Thinking of Ending Things by Iain Reid ★★★★/5

Something Wicked This Way Comes by Ray Bradbury ★★★★/5

Homesick for Another World by Ottessa Moshfegh ★★★/5

Love in the Big City by Sang Young Park ★★★/5

Nothing But Blackened Teeth by Cassandra Khaw ★★/5

Things I Love
Cozy Witch Tarot Deck by Amanda Lovelace
I LOVE the Cozy Tarot! It's my favorite I've obtained this year! It's such a cute and cozy tarot deck. The images and messages are lovely and this deck has already called me out multiple times so I guess I've quickly connected to it, haha! I will be reviewing this tarot deck late this month so I will share all my thoughts in that post.

Colorgram Sebum Retouching Blur Pact
The packaging reminds me of what you would get in those fake plastic makeup kits as a kid or like a Polly Pocket. I added stickers to the front because I thought the front was boring and I think stickers made this even cuter! Anyway, the blur powder itself is alright not the best but not the worst, it does its job. I don't use the puff that comes with this product because I don't want to ruin it. haha

Crescent Crossbody Bag
This is supposed to be a knockoff of the Uniqlo round mini shoulder bag. It's perfect! I took this bag with me to Mexico and it was neither too big nor small but perfectly held everything I could need. You can wear it several different ways and adjust the straps to your liking. This is the perfect casual everyday bag.

Universal Collapsible Hair Diffuser Dryer
When I went to California earlier this year I didn't have access to a diffuser so I told myself I would buy a collapsible diffuser attachment so I could take it with me on my next trip because I am now someone who can't live without a diffuser, though it's a love-and-hate relationship! The attachment barely fit the hairdryer at my grandma's house but I pulled and stretched it out and was able to get it to fit the hairdryer. Even though this is described as collapsible it does take up a little bit of space but compared to a regular diffuser attachment it's travel-friendly and works the same as the diffuser I use at home so I love it!

Bluetooth SleepMask Headphones
Another purchase for my trip to Mexico. I'm someone who can't sleep in the dark and quiet, I have always slept with a television in my room since I was a kid so I'm just used to having some sort of light and sound at night and find sleeping in the silent dark uncomfortable. Me and my mom shared a room in Mexico and she's a light sleeper who goes to bed early so I knew I had to find a solution to adjust my sleep schedule to hers. I bought this Bluetooth sleep mask so that I could listen to a sleep podcast at night without bothering my mom. The sleep mask is comfortable and runs for about 10 hours, enough time for you to fall asleep and not be bothered. It never ran out of battery when I used it even on nights when I couldn't go to sleep but I did charge it every morning because I didn't want it to run out of battery in the middle of the night. This sleepmask also came with a black pouch which came in handy when storing and packaging this in my suitcase.

Posts From The Month
This September ♡ 2023
What I Read ♥ September 2023
MUNDANE MAGIC ☆ 40
MUNDANE MAGIC ☆ 41
MAGICAL MOMENTS #22
MUNDANE MAGIC ☆ 42
MUNDANE MAGIC ☆ 43
Mexico ♥ Photo Diary & Haul

What were some of your favorites from the month?