Welcome back to another oracle card review. In the post, I'll be reviewing the Spoopy Tarot Deck, this is also my first time reviewing a tarot deck. So far, I've only reviewed oracle decks so this is a nice change! Check out my last oracle card review here. If you don't like spoilers then you might want to skip this post or not stare at the pictures below for too long as I will be showing some cards from the deck.

The story of how this deck came to my possession is funny so I thought I would share. I was watching a video by the Gem Goddess on Youtube on how you should ask your spiritual team or guides for a gift because you never how they are going to respond. I decided to try this out by asking whoever is watching over me for a new deck. I did this at night and slept on it. I don't know if it was the exact next day or a day later but I received a message from my older sister with the picture of this Spoopy tarot deck. I follow the creator of this deck on Instagram and knew of this deck but I didn't know if it had been released yet, I knew it was being released this year. My older sister asked if I wanted the deck and obviously, I said yes! Later, that day I posted a picture of this deck on my Instagram story and tagged the creator, and received a message as to how I had gotten my hands on the deck because apparently it hadn't been released yet! We concluded that a worker at Barnes & Noble must have placed this on the shelves early. Of course, I took this as a sign from my guides so this deck is extra special to me!

The Spoopy Tarot is a deck by Ami Naeily (previously known as Diana Lopez) who created the Kawaii Tarot. The Spoopy Tarot is where kawaii tarot meets creepy! In this deck, some of the 78-tarot cards are reimagined to fit the spoopy Halloween theme. Follow the journey of a naive ghost (the Fool) as they float through a haunted house and encounter some creepy yet cute characters!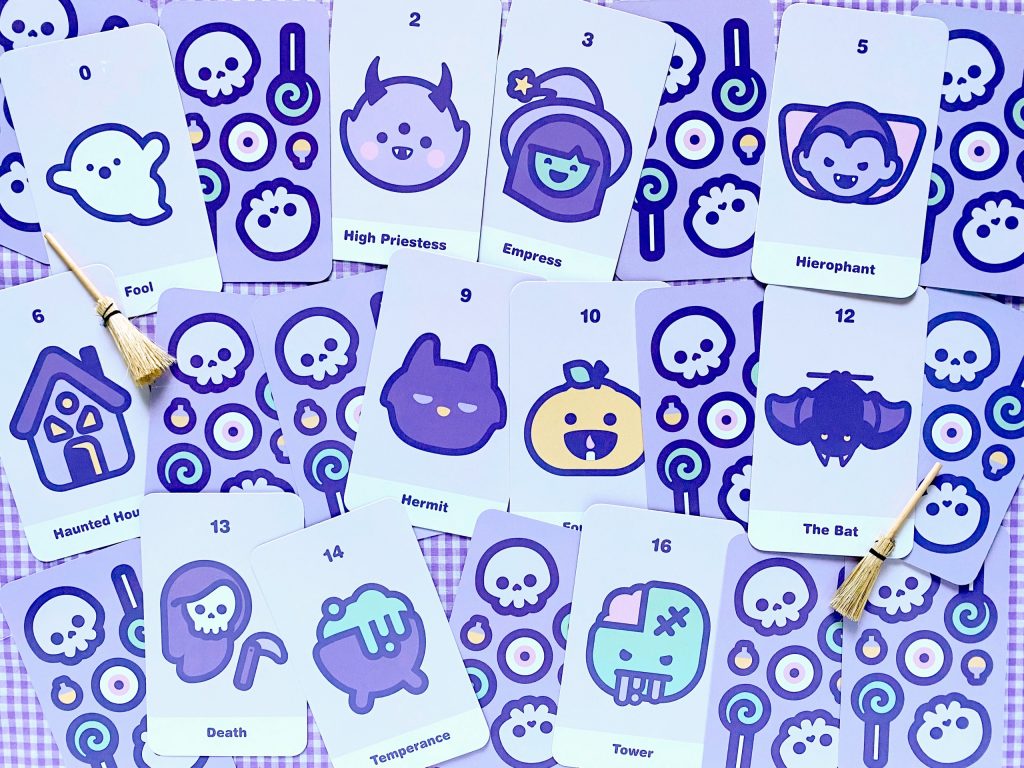 DISCLAIMER: Links included in this post might be affiliate links. If you make a purchase with the links I provide, I may receive a small commission at no additional charge to you.

PROS
– Cute and simple artwork
– Creepy cute aesthetic
– Adorable illustrations on the back of the cards
– Great for a seasoned Tarot reader
– Amazing cardstock
– Semi-gloss finish
– Unique deck
– Nice box

The artwork of this deck is adorable! It's simple but the images are cutesy and pastel which is my style so I adore this deck! It may not have too many details but sometimes having too many details can be confusing so I do like how simple the illustrations are in this deck. The back illustrations are super cute as well, it features all 4 suits on a pastel purple background.

I absolutely love the cardstock used in this deck! The cards are sturdy but not too thick, the finish is a semi-gloss that doesn't leave a shiny cast in photos, and the rounded edges are a lovely feature that makes shuffling easy. I would love more decks with this type of cardstock because it's lovely to work with.

The artwork on the box is the same as the guidebook which I don't mind because the illustration is really cute! In fact, I proudly displayed this deck on my bookshelf because it's so adorable!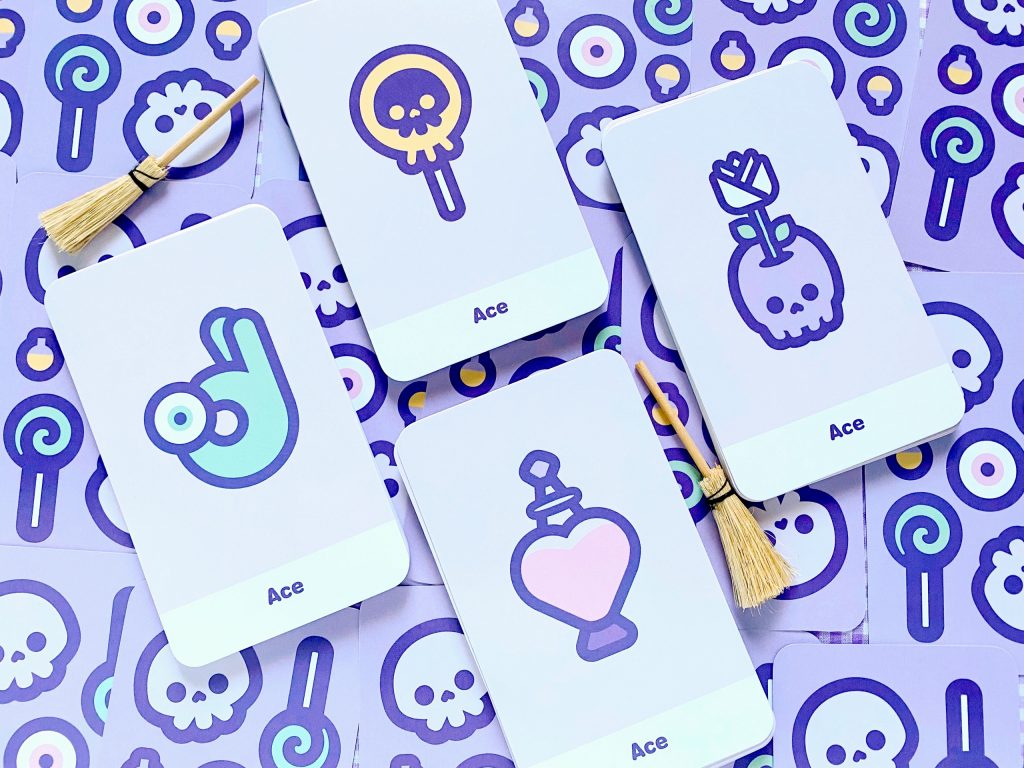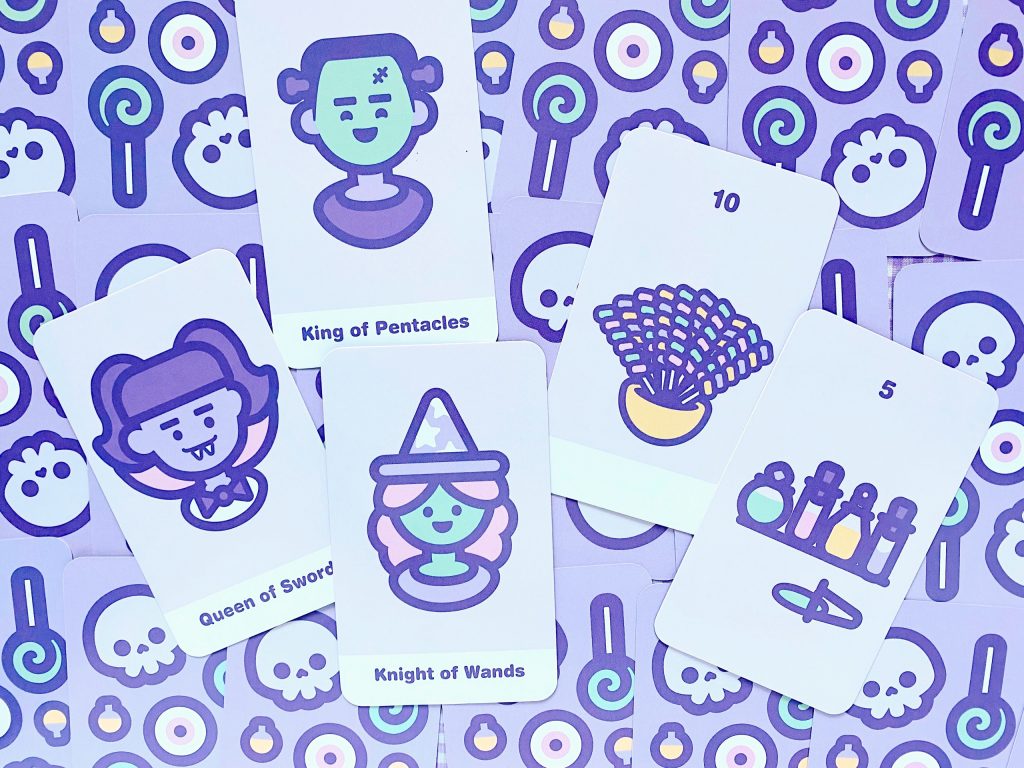 CONS
– Not ideal for beginners
– Doesn't tell what the suits are
– Not all cards are labeled
– Guidebook isn't always helpful
– 10 of Wands card has a random white row
– It's a pip deck

I want to start off by saying this deck would be great for a seasoned tarot reader or someone who understands tarot enough that they don't need to look up the definitions of the cards and knows all 78 tarot meanings. This is because these cards aren't labeled, they're numbered. Only the major arcana and the court cards are labeled. I wish every card was labeled because I had a difficult time remembering which card was which when I first started reading with these cards but eventually I got the hang of it.

The guidebook features a lot of useful information, I personally don't think it explains the meanings of all 78- tarot cards that well. Also, in the booklet, it says that the 4 suits are divided by different colors, however, that isn't the case because some cards feature multiple colors. For example, the 5 of cups card contains all four colors.

Here is how the 4 suits are divided
Eyeballs – Pentacles (represented by the color green)
Potions – Cups (represented by the color pink)
Candy – Wands (represented by the color orange)
Bones/skulls – Swords (represented by the color purple)

Some of the Major Arcana are named differently than in the original tarot cards. For example, there is a Haunted House card that replaces the Lovers card. There are a few cards like this in the deck which I think makes this deck fun and special so I don't dislike this change but because of the different images for certain cards, it may be difficult for beginners to understand. Ami also wrote a post explaining the Major Arcana in the Spoopy Tarot on their website which you can read here.

I also wanted to note that my '10 of Wands' card has a white row (pictured above) that could probably have the name written on it but it's empty. I would've preferred if all cards had their names listed under the cards because it uses different images to represent the suits and it would've made using this deck a bit easier but that's just me.

Overall, this is a pip deck. A pip deck is a basic minimal-designed tarot deck that some tarot readers prefer not to use because it doesn't follow the traditional tarot rules. This is my first pip deck and I don't hate it! I've connected to this deck from the beginning and has been my go-to deck to use during the spooky season!

You can purchase the Spoopy Tarot deck here

Do you have this deck in your collection?