A couple years ago I went through a phase where I posted a lot of
beauty-related content
. I would post hauls, reviews, dupes, unboxing, etc. Over the years, I've lost interest in makeup and would change the subjects from makeup-to-skincare and now I'm in a hair phase thanks to the
Curly Girl Method
. So, since it's been a while since I posted a makeup-related post I went ahead and put this together for you. In this post, I'll share some of my favorite beauty products that I'm using at the moment and how I apply them.
When it comes to makeup, I'm a natural all the way! I like to wear makeup that looks as if I'm not wearing any makeup #nomakeupmakeup. I like to touch up my face and smooth out any spots and imperfections so make myself look decent. Thanks to the pandemic, I haven't worn makeup too much but even during the pandemic, I found myself applying makeup just to feel put together. haha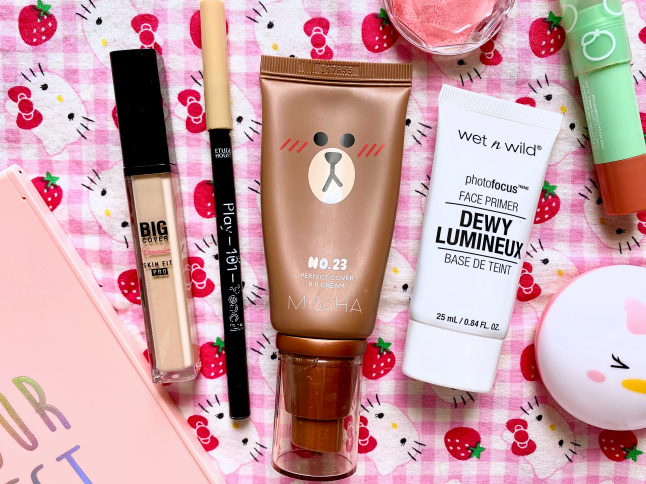 Base: Wet n Wild Photofocus Face Primer Dewy Lumineux Base De Teint
I start off with this primer base, it's very luminous so it makes your skin look really glowy. I've tried using this on its own but it doesn't look natural when used on its own so I would recommend you using it under another product.
BB Cream: Missha Perfect Cover BB Cream – No.23
Next, I use my trusty Missha Perfect Cover BB Cream, this is one of my all-time favorite bb creams and highly recommend it to anyone wanting to try bb creams. It's a medium coverage product that covers most imperfections. I use my hands to apply the product and then blend it with my Missha Water In Sponge.
Concealer: Etude House Big Cover Skin Fit Concealer PRO
Are you a concealer before or after a person? Well, I'm an after! Anything that the bb cream couldn't cover (like my under eyes) I'll apply concealer over those spots with this concealer and pat with a beauty blender sponge.
Concealer: Etude House Play 101 Pencil – #8
I only use this flesh-colored pencil when I have a really stubborn pimple that needs some extra love. haha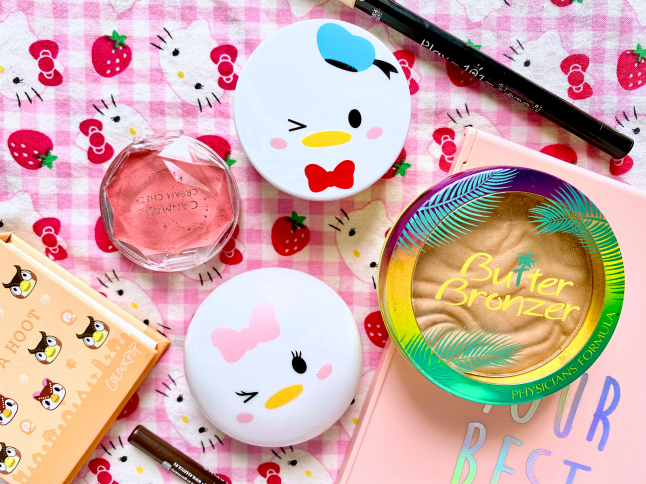 Blush: Etude House Lovely Cookie Blusher – Apricot Peach Mousse
This is a powder blush that looks lovely on, it's a peachy blush, I tend to gravitate towards warm coral/peachy colors when it comes to blush or lips. I don't wear blush very often because I have a lot of pink in my skin tone naturally but when I feel my face is too pale or ghostly I'll apply some blush to warm up my face.
Blush: CANMAKE Cream Cheek – Coral Orange
When I don't wear the other blush I use this one. This one is a cream/gel consistency. It can be worn on either the lips or as blush. It's easy to blend and gives off a subtle rosy cheek appearance.
Powder: Etude House Sebum Soak Pact
To seal everything off, I use this powder pact. I would never use powder to seal off my makeup in the past because I'm a fan of the "healthy dewy look" that was until I started seeing my makeup transfer onto pillows, blankets, dog, and my clothing, now I always make sure to apply powder to prevent makeup residue. Besides, natural oil makes you dewy anyways. haha
Contour: Physicians Formula Butter Bronzer
I rarely contour but when I do, I use this bronzer with a slanted contour brush. This product was recommended to me by my sister (she's a huge makeup addict), it's very buildable so you can go for a natural look or something more extreme. I have a round face so contour would probably do wonders for me if I wasn't so lazy…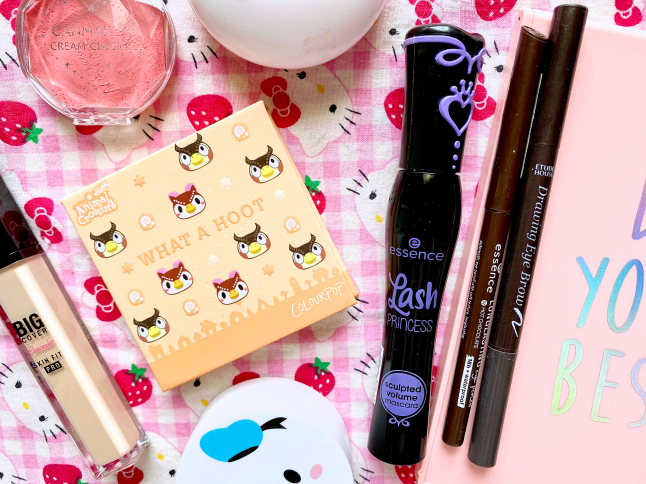 Eyes: Colourpop What A Hoot Shadow Palette
Mascara: Essence Lash Princess Sculpted Volume Mascara
Essence Princess mascaras are some of my favorite mascaras, I refuse to use any other mascara! My favorite is the sculpted volume mascara. It makes your lashes appear full and long. Does anybody still wear mascara anymore? I feel like everyone uses false lashes now. haha
Eye Liner: Essence Longlasting Eye Pencil – 02 Hot Chocolate
For eyeliner, I use this one by Essence as well. It's easy to use and has pretty good staying power. When I use eyeliner I tight line and extend the liner to the edge to create a cat-eye look or
puppy eyeliner look
, my go-to eyeliner style.
Brow: Etude House Drawing Eye Brow – #2 Grey Brown
Another holy grail of mine, seriously Etue House makes some affordable products that are amazing! I've used some of the other browns shades but the grey-brown is my ultimate favorite, this shade lightens my brows and makes them appear softer. I personally think that my eyebrows can make me look angry so I prefer a softer brow look.
Tint: Colourpop Fruit Roots Lip Tint – Peach Surprise
This was my favorite product from the Colourpop X Animal Crossing collection. It glides on smoothly, brightens up m lips, and makes them look as if they're perfect, the lip color is close to my natural lip color so it doesn't do much (lol). I don't like that they advertise this as a lip tint because it doesn't last on the lips like a regular lip tint, the color fades and just disappears completely!
Tint: Holika Holika Heart Crush Glow Tint – #BUBBLY
Now, this is a lip tint! Holika Holika always makes really good lip tints with pigmentation that lasts. I wished I would've bought more shades
when I was in South Korea
.
Balm: Dr. PawPaw Hot Pink Balm Multipurpose Soothing Balm
The newest addition to
my lip drawer
. It's a very bright pink lip color but a little goes a long way with this lip balm! I love the color I get when I blend it to my lips. I'm pretty sure you can also use it as a cheek tint but I haven't tried that yet.
What's your favorite makeup product?