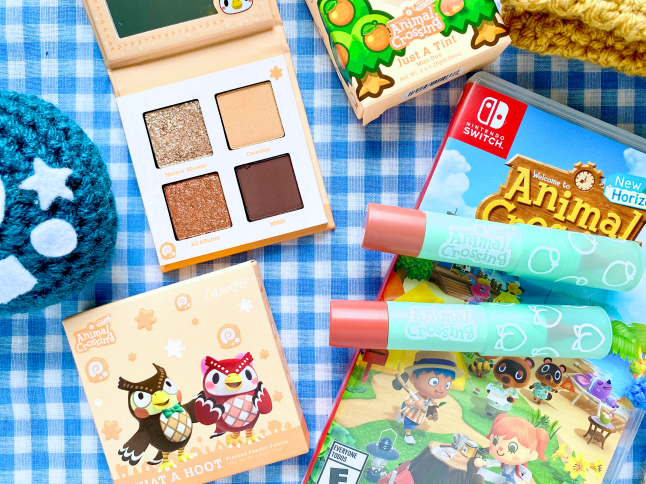 Over the weekend, my ColourPop X Animal Crossing order finally came in! When I first heard that Colourpop had collaborated with Nintendo to release an Animal Crossing makeup collection I just knew I needed to get something from the collection! However, when I actually looked at the collection I was slightly disappointed. There were so many bright colors and if you're someone like me (who wears nothing but natural makeup) then the collection probably intimidated you too. Despite being afraid of the colors, I did like two of the items and I actually managed to get those two things on the day the collection was released!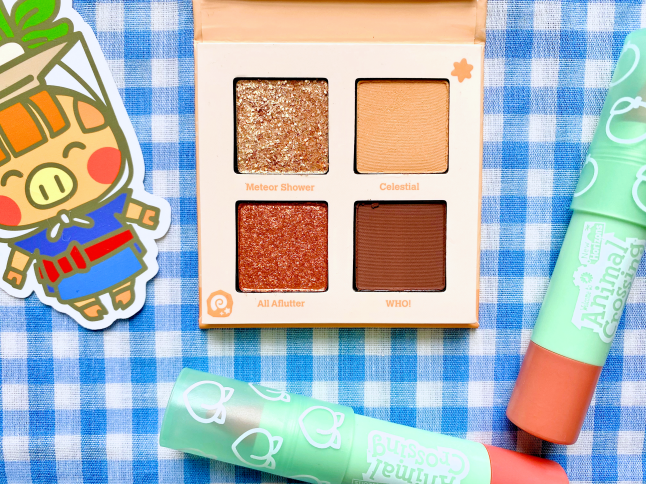 What A Hoot Shadow Palette
"Who rules the roost? Your favorite brother and sister duo, Blathers and Celeste! This 4-pan palette features warm nudes in a range of finishes to create a look fit for exploring your island and night sky."

Meteor Shower is a gold glitter. If you look at the swatches on the ColourPop website, they are nothing like the actual shadow itself. The glitter is very sparse, this would probably look nice over a shadow.

All Aflutter is a shimmery rusty bronze shade. It's my favorite shadow from the palette.

Celestial is a strange color to describe, it's like a mixture of light yellow and orange. It kind of reminds me of the powder that comes in mac n' cheese boxes (lol). It contains tiny pink specks of shimmer which you can't see in the swatch but in person, it's very noticeable.

Who! is the least shimmery of the quad. To the point, that you can't really see it in person! I thought it was a matte finish at first but in certain spots, you can see tiny hints of shimmer.

My first impression of this palette was that it's really tiny, it's the size of my palm. I've never bought any eye shadow palette from ColourPop before so I have nothing to compare it to but I thought they would be bigger for some reason. The packaging is really cute, it's a matte creamsicle color and has Blathers and Celeste with some fossils embossed on the front. The palette features 4 warm nude shades, all have some sort of glitter or shimmer finish. On the back, It has the names of the eye shadows, the names are also included on the inside. Inside, there is also a handy mirror so it's travel-friendly!

Since I rarely leave the house now, I haven't had time to play with this palette yet (who wants to put on makeup when they don't have to?) so I can't say if they're easy to blend and whatnot. They're easy to remove though! I just used hand soap and water and everything came off easily.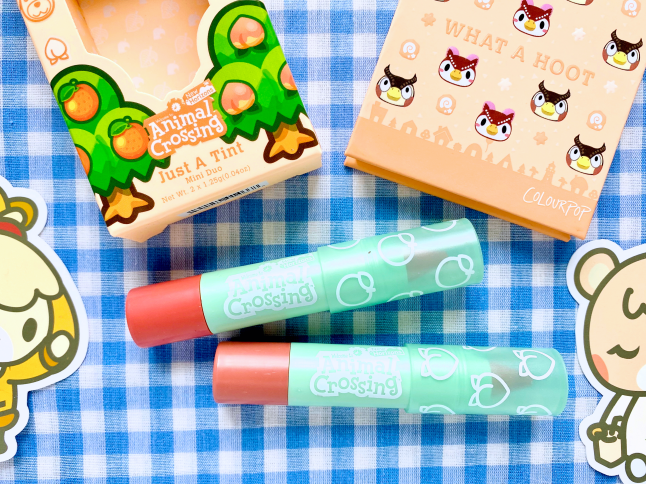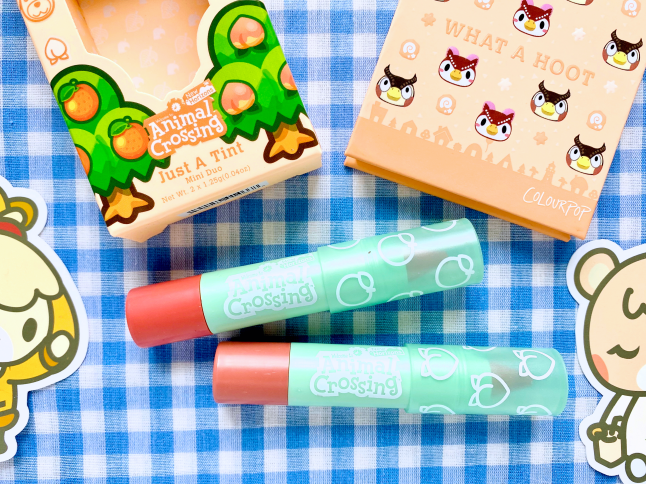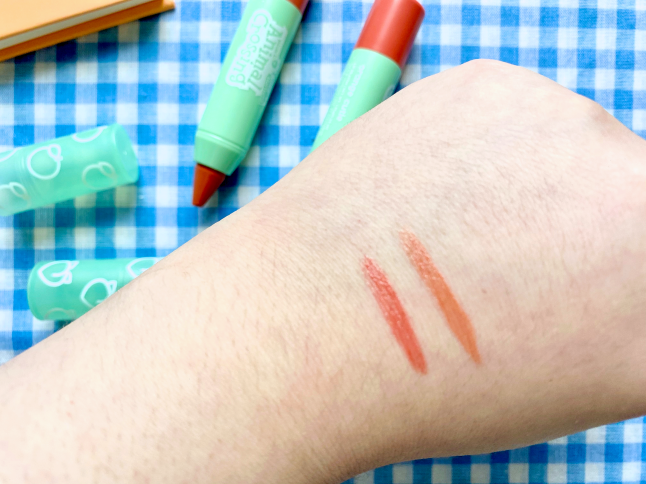 Fruit Roots Lip Tint Mini Kit
"What's your favorite island fruit? These peachy Mini Lip Tints feature the shades Peach Surprise and Orange Cutie!"

Orange Cutie is surprisingly the reddish-orange swatch. It's nothing like an orange at all! In fact, this reminds me more of the inside of a grapefruit, smells like one too! haha

Peach Surprise isn't a surprise at all! It's a nude/peachy shade. It's basically the same color as my lips so it only adds shine to my lips.

I went with the Fruit Roots lip tint duo because I didn't like the other lip colors. I'm more of an orangey/rosy/natural pink lip wearer. Even though these look like lip crayons or pencils they're marketed as tints. The packaging is in a mint green lip crayon with the Animal Crossing logo printed on the center and the color of the tint at the bottom. The cap has a white decal print of the matching fruit. They remind me of a tinted balm rather than a lip tint. The tints are scented to match their fruit name and packaging. Orange Cutie is my favorite because it actually shows up on my lips, unlike Peach Surprise. The finish isn't glossy or matte, it's basically a lip balm. The "tint" is very easy to wipe off, I literally just used a tissue to wipe off the tint. haha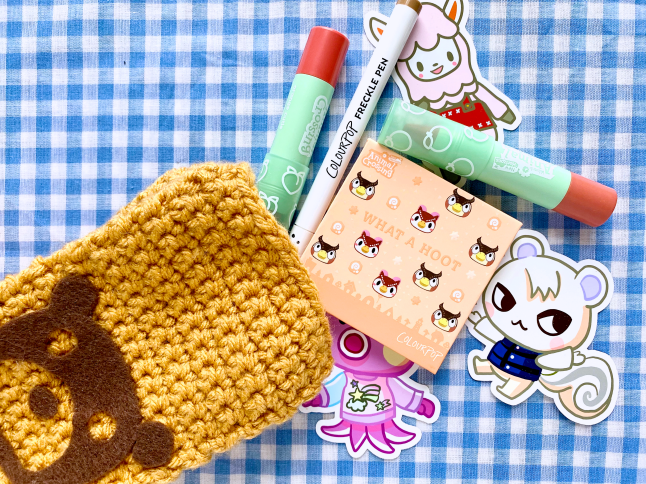 Did you buy anything from the Animal Crossing X ColourPop collection?