I've been putting this review off for a while because I don't really post beauty reviews anymore but since it's summer season I thought now would be the perfect time to publish this post in case you're in the market for a new deodorant.

If you watch Youtube or listen to podcasts chances are you have heard of the popular deodorant brand, Native Deodorant. It's a natural aluminum-free, paraben-free, cruelty-free deodorant that is made from vegan ingredients and offers effective odor protection. With over 10,000 5-star reviews, I was really intrigued so I decided to place an order and give my honest opinion.

If you've been following me for a while you might know that I've struggled with trying to find a cruelty-free deodorant for years! And now, with all the studies out there that say aluminum can cause cancer, I've been trying to find a deodorant or antiperspirant that's aluminum-free. I'm not the sweatiest person out there but I do sweat easily and I have always had a problem finding a deodorant that actually works for me. Native Deodorant has had so much hype on social media which is why I decided to finally invest in a stick to see if it actually works or just another trendy brand paying off influencers.

*DISCLAIMER: Links included in this post might be affiliate links. If you make a purchase with the links I provide, I may receive a small commission at no additional charge to you.

*I wasn't paid by Native Deodorant and bought this with my own money. All thoughts and opinions are my own.
Can you see the heart? Not sure if this is intentional or not. haha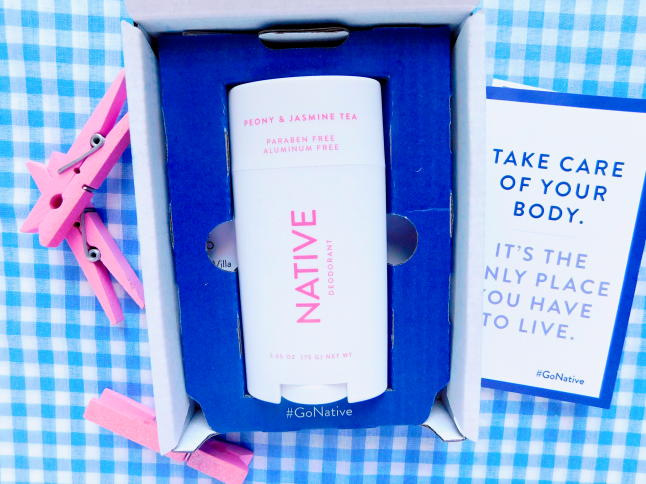 Product Description
"We never use harsh chemicals, like aluminum, parabens, sulfates, or phthalates, in any of our products. We vet each ingredient to make ensure it's safe and effective."
"We use ingredients, like baking soda and tapioca starch, that neutralizes odor-causing bacteria and keep you feeling dry. Because deodorant actually needs to work."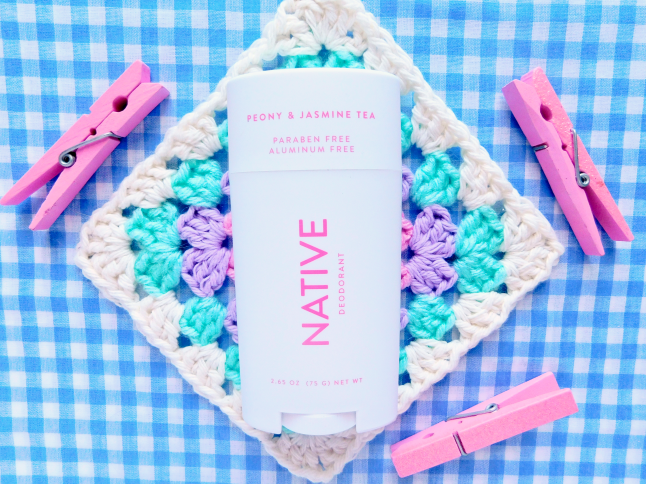 My Experience
As I mentioned, I was really excited to finally try out Native Deodorant because of all the hype on social media however I was really disappointed because this deodorant didn't work for me. First off, this deodorant leaves white marks like crazy! I haven't used a deodorant that leaves marks in a very long time. Even with all the other natural deodorants that I've used I never ran into this problem. I read online that you should wait for it to dry but even after that, I would still get white marks all over my clothing which sucks.

Another problem that I ran into was that it took weeks until I started seeing odor any results. On the Native Deodorant website, they claim that it can take 2 weeks for the deodorant to start working but it can work right away for some people. It probably took over 2 weeks for me to notice any odor protection but when it started to work I was pleased. The scent I choose was Peony and Jasmine Tea, a very floral scent. It was an autumn seasonal scent so it's not available anymore but Native offers many other scents, including an unscented version for those who may be sensitive.

Pros
– Vegan
– Aluminum-free
– Paraben-free
– Sulfate-free
– Gluten-free
– Not tested on animals
– Lovely scent
– Simple sleek packaging
– Smooth application
– Covers up odor pretty well
– Doesn't burn (like most natural deodorants do)

Cons
– Leaves white marks
– Takes weeks until it starts to work
– Multiple applications in a day
– Doesn't cover up wetness (to be fair, Native doesn't claim wetness protection but it's still something to note)
– Expensive for a deodorant

Final Thoughts
Overall, I was really disappointed with Native deodorant. Maybe I'm just one of the few that couldn't get this product to work on. If you've tried Native I would love to hear about your experience.
Where to buy
You can purchase Native Deodorant here. The Peony and Jasmine Tea scent was a seasonal scent so it's not available anymore.

Have you tried Native deodorant before?