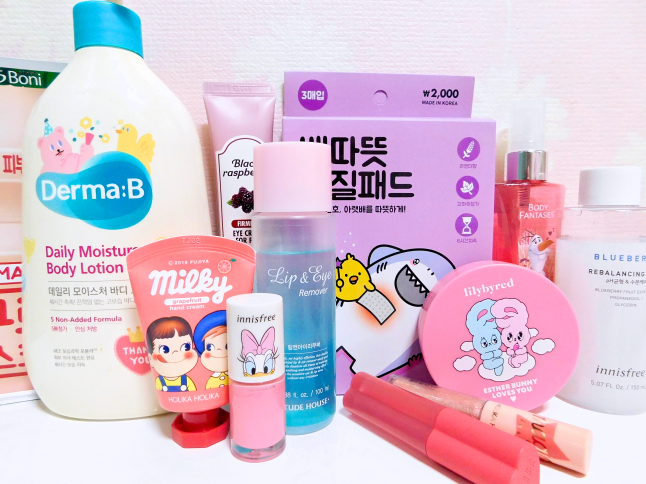 Before coming to South Korea, I made sure not to buy any new makeup or skincare because I knew. was going to end up buying everything new here. It feels amazing to go to the official store of the brand and buy the actual products instead of hoping that I get an authentic product through Amazon.

I've now been in Korea for 2 months and have racked up quite a collection of K-beauty products. Today, I'm sharing some of the items I've bought since arriving in Korea.
Derma: B Daily Moisture Body Lotion

Body Fantasies' FROZEN 2 Peach Apricot Fantasy
The display of Frozen body sprays caught my attention at Olive Young. It was between the Elsa and Olaf body spray,  I choose Olaf because I prefer sweet/fruity scents. The Elsa one had a softer yet sophisticated smell, if they still have them next time I visit Olive Young I will buy the Elsa one for sure.

DAISO No-Serum Powder Oil Control
I bought this mainly for the Moomin packaging but I did need a powder so I do use it. DAISO has a small beauty collection of Moomin so if you're a fan go visit a DAISO in Korea.

COSRX Moisture Up Pad
New packaging! Check out my review on these pads here.

ARTBOX Belly Warm Pads
Just in case I get bad menstrual cramps I bought these. A box comes with 3 pads/patches.

SHINGMULNARA Tea Tree Cica Cream
B.Lot The Real Mask Sheet
I'm such a sucker for these sheet masks from ARTBOX! They're only $1 and comes with 2 sheet masks! They're not the best quality but they're not that bad either. haha
Skin'S Boni Yogurt Mask Pack
Last time, I was picking up the other masks from ARTBOX I saw this yogurt mask which I've always wanted to try so I picked one up.
Etude House Lip + Eye Remover

Innisfree Blueberry Rebalancing Skin
I remember hearing a lot of positive feedback on the Blueberry Rebalancing line from Innisfree so I made a mental note to purchase when I came to Korea. The consistency is very watery like toner/essence mix, you pat into your skin for it to absorb, it hydrates and makes your skin feel so soft! I'm obsessed with it! It's only $8 too which is insane! Be warned that this does have a strong blueberry scent.

Innisfree Blueberry Rebalancing Watery Sun Cream SPF45 PA+++
I also purchased the matching sun cream because I was all out and again it was only $8. The blueberry scent isn't as strong in this one.

DEWYTREE Pick And Quick – Refreshing Aqua Mask 30 Sheets
A Korean Youtuber I follow recommended these masks for daily asking so I purchased them. I love that none of the masks dried out. I will definitely be repurchasing more of these in the future.

Skinfood Black Raspberry Firming Eye Cream For Face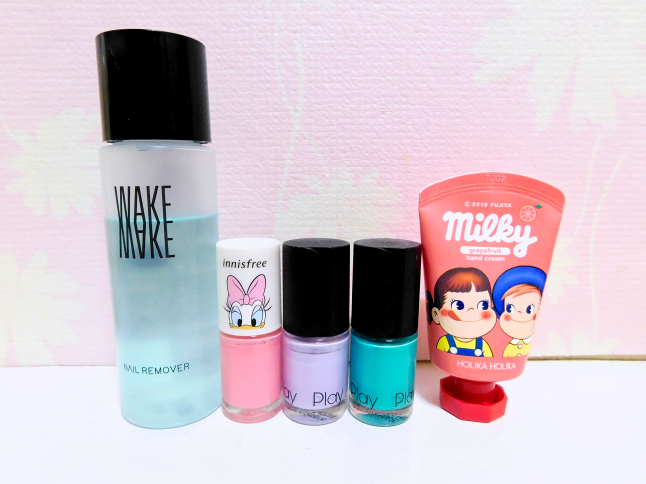 Wake Make Nail Remover

Innisfree Nail Polish #211
Was drawn to this bottle because of the Daisy packaging. It was the last one left so I purchase it. I think it's scented because every time I use this nail polish but I'm not sure what the smell is.

Etude House Play Nail Color #105

Etude House Play Nail Color #70

HOLIKA HOLIKA Milky Grapefruit Hand Cream
HOLIKA HOLIKA has a collection with Milky right now. If you visit the store you can see a cute display with cushions, hand creams, puffs, sheet masks, etc. I only bought a hand cream but I want to purchase a cushion pact before I leave. I love the Milky characters!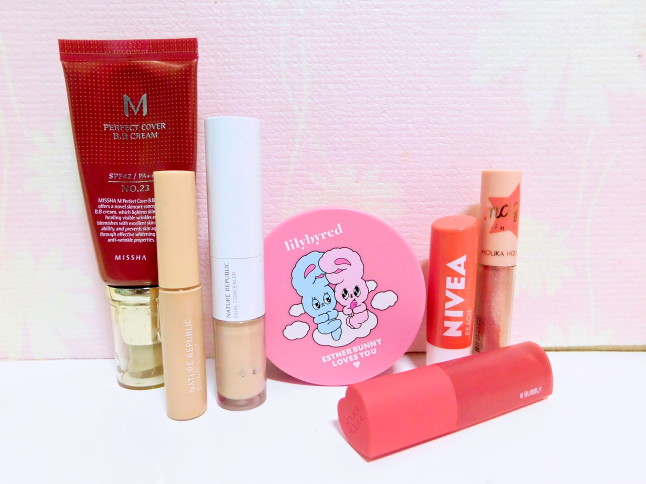 Missha Perfect Cover B.B Cream SPF42/PA+++ – NO.23

Nature Republic Power Cover Pure Shine Concealer – 02 Natural Beige

Nature Republic Dual Concealer – 02 Natural Beige
The coverage on the liquid concealer isn't the best but the lipstick concealer coverage is amazing!

LILYBYRED Esther Bunny Loves You Cotton Blur Cushion
I bought this mainly because of the packaging with Esther Bunny Loves You. The coverage isn't bad but the cushion puff is so bad so I use a sponge instead.

HOLIKA HOLIKA Heartcrush Glow Tint Air – 04 BUBBLY
How cute is this packaging? These are HOLIKA HOLIKA's newest lip tints. The color doesn't stay on for too long which sucks but it leaves a nice stain on the lips. I adore the colors in the collection so I want to go back and get another one.

NIVEA Peach Lip Care

HOLIKA HOLIKA Eye Metal Glitter – 09 Peach Crush
This eye glitter has been on my wishlist for a long time! They're perfect if you do aygeo-sal style eye makeup. I'm so glad I got to swatch all of the glitters in the store to see all the colors in the flesh. Again, I want to go back and buy more glitters! haha
Some of the free samples I've gotten. The most samples I've gotten were when I purchase over $25 from Holika Holika. I got that cute watermelon headband, a pack of wipes, and some mini samples.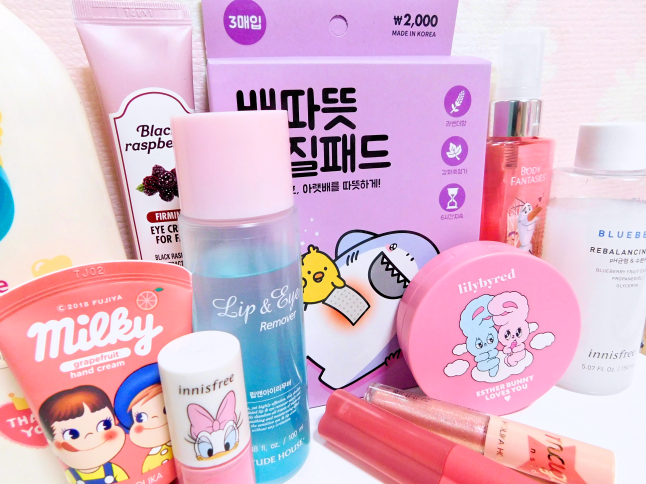 What are your favorite K-beauty items?