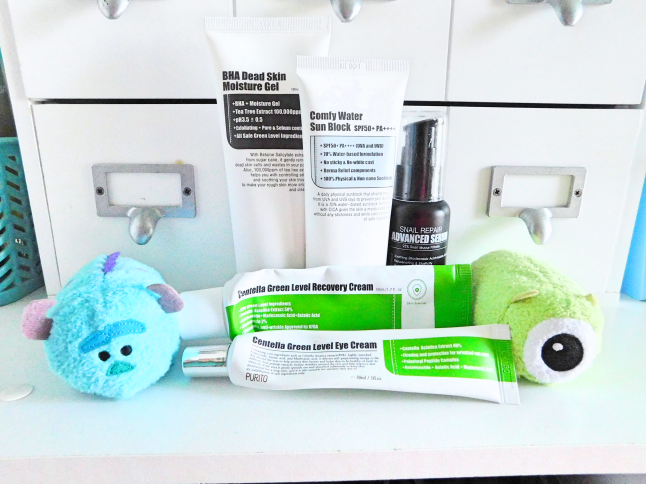 Ever since I posted
my first PURITO first impressions
I've been testing out more skincare products from PURITO which is why I'm making a part two! Last time I mentioned that I really enjoyed their products because they worked well with my skin and I saw improvements from using their products. However, this time I didn't have the same luck with their products.
PURITO only uses natural ingredients and are 100% EWG Green Level Certified. PURITO is 100% vegan and cruelty-free and even donate a portion of their profits to the Best Friend Animal Society. They also use environmentally-friendly recycled paper packaging and donated a portion of their profits to KFEM (Korean Federation For Environmental Movement). You can purchase PURITO products from Amazon here.
PURITO is currently developing a sleeping product and they want their customers to help create the product. Follow PURITO on Instagram for more information and updates on the release of the product.
*This is not a sponsored post and none of these products were gifted to me for free. I purchased all these products with my own money. All thoughts and opinions are my honest opinions. If anybody from Purito is reading this and would like to work with me feel free to contact me.
PURITO BHA Dead Skin Moisture Gel
"Farewell old impurities for a new start with moisturized skin! This product can deal not only with dead cell skins, but also impurities and sebum in pores at the same time. With a pH of 3.5, all skin types, including sensitive skin, can use the product safely. Hyaluronic acid ingredients replenish skin dryness caused by exfoliation and tea tree gently soothes the skin after exfoliation. The product exfoliates, moisturizes, and soothes at the same time."
I adore this product! I use it as the "sleeping pack" step night and if I know I'm not going out the next day I use it in the morning for a "glass skin" look. Even though it's a gel it's very moisturizing and soothing. Since using this I've noticed the blackheads on my nose have gotten smaller. However, there is one major downfall of this product. The SMELL IS HORRIBLE! I can't even explain what this smells like but just know you do not want this smell in your skincare. I couldn't stand it at first and thought that maybe I got a bad batch but after reading a few reviews I found out this was just it's the products natural scent which is unfortunate. You can purchase this product
here
.
PURITO Snail Repair Advanced Serum
"Through the sticky strength holding a snail, tighten up the elasticity of your skin! 99% Pure nutritional serum extracted from nature. Snail mucus with mucin, allantoin, glycolic acid and other ingredients, helps to protect broken skin, and is also excellent for reducing freckles and acne scars. Hyaluronic acid, panthenol, and Centella Asiatica ingredients increase the skin's elastin and collagen, making it the perfect product for anti-aging. With 93% highly enriched snail slime, it helps your skin's recovery in resilience, reduces acne scars and blemishes from sunlight. The snail slime also replenishes skin's natural moisture barrier and provides long-lasting hydration."
I was really looking forward to using this product because of the benefits but sadly, it broke me out. After using this serum a few times I noticed a number of pimples show up in just a few days. I tried the serum again after a few weeks but it still wrecked my skin! But just because it didn't work for me doesn't mean it won't work for you. You can purchase this product
here
.
PURITO Comfy Water Sun Block
"Safe to use, with 100% non-nano mineral active ingredients & EWG green level ingredients. Comfortable all day, without the sticky and stuff feeling. Fixed makeup, without lifting or smearing. Minimize white cast, no clogged pores."
Like the description says, it's a very comfortable sunscreen. The consistency of the cream is just right, it's not sticky, it dries matte without leaving a white cast. One thing you should note is that this product has a strong fragrance so if that bothers you check out
their other sunblock
. You can purchase this product
here
.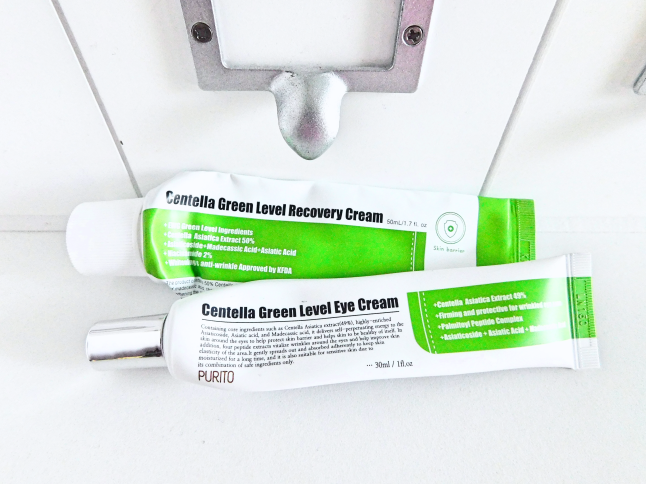 PURITO Centella Green Level Recovery Cream
"Give a safe and precious present for your skin! Centella cream contains 50% Centella Asiatica extract, which helps to soothe skin problems with an antibacterial effect and stimulate collagen formulation in the dermis layer. Asiaticoside, Asiatic Acid, Madecassic Acid, and Niacinamide are the main ingredients for improving scars and strengthening weakened skin barrier, and Mild Cica Cream that can be safely used on sensitive skin."
I loved this cream! My only complaint is that I wish more product came in the tubes because I used this cream up quickly. As much as I loved this cream I don't think the price is worth the amount you get in the tube. You can purchase this product
here
.
PURITO Centella Green Level Eye Cream
"Stretch out the wrinkles in your sensitive skin! When aging starts, protein reduces, and wrinkles are formed. PURITO eyecream are made with the effective nutrients for wrinkles to penetrate deeply in your skin, blending 4 types of peptide elements that are ingredients of protein. Also, There is 49% of Centella Asiatica extract which helps people with sensitive skin, including eyes, to use comfortably. Additionally, there are panthenol and hyaluronic acid which form a moisture barrier to soothe and protect the sensitive skin."
The price is reasonable for the amount of product you get. I love that it's in a squeeze tube because it makes application easier. It's not that I didn't like this product, it's just that I prefer other eye creams over this one. You can purchase this product
here
.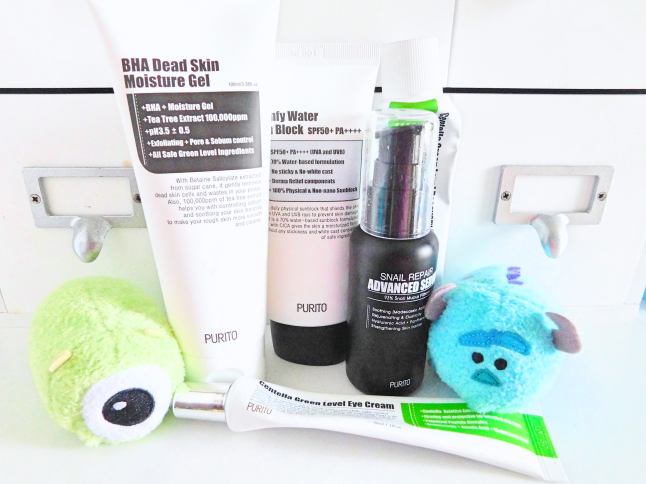 Have you used any PURITO products before?
Related Posts