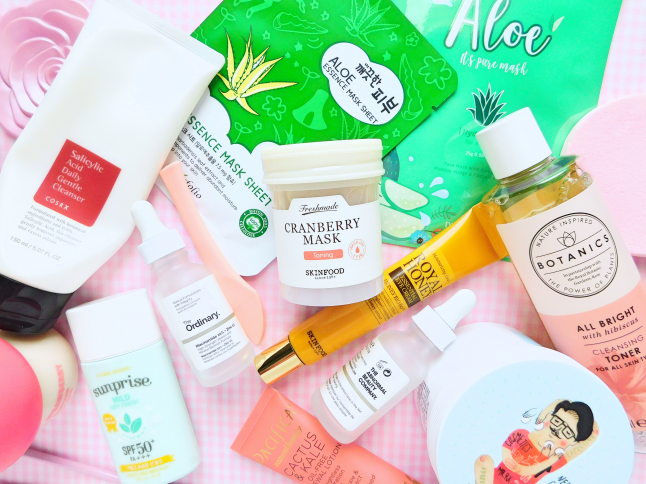 A couple months ago I was dealing with pretty bad breakouts, so bad that I decided to purchase tons of new skincare and go back to previous products that I knew worked well with my skin. I promised I would post an updated skincare routine and here we are 3 months later. To be honest the reason why this post took so long was that I wanted to wait until I had the perfect skincare set. I knew that If I kept putting this off until I found the perfect skincare products for my skin type that I would never post an updated skincare routine so I just went ahead and put together a list of products that I'm actually using at the moment.
At of all of my routines I've done with the past (K-beauty 8-step skincare routines), this is probably one with the least amount of products. I'm missing certain products as well such as makeup remover, cleansing oil, serums, essence, etc. Like I said, though if I kept putting this off I who knows when I would post a new routine. This post is mainly about my night routine but I also include what I do in the morning because of my AM routine uses pretty much the same products with some exceptions.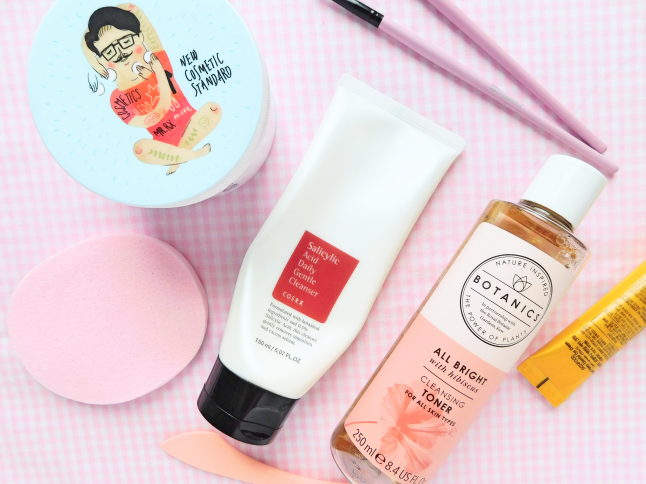 Toner: Botanics All Bright Toner
The first thing I do in the morning is splash cold water on my face, this helps me wake up and circulates blood flow. I follow up with toner. I don't wash my face in the morning but the toner helps clean my face without drying it out. I don't normally use this at night unless I've worn a facial mask before. Sometimes I use this to remove my face makeup before following up with cleansing.
Cleanser: COSRX Salicylic Acid Gentle Cleanser
I'm currently testing some cleansing oil which is why I didn't feature any in this post because they come in sample size packaging. In the evening, I use this gentle cleanser to remove my face makeup. Back when I was breaking out almost daily this was the product that helped reduce the number of pimples that I would get. It can be drying though! For that reason, I don't let this foam up too much because the longer I lather this on the more drying it can be so I just lather it on a few times and rinse well.
Cleansing Pads: COSRX One Step Moisture Up Pads
I go back and forth between choosing the COSRX One Step Pimple Clear Pads and these pads depending on my mood because both products work well with my skin type. I only use these at night after cleansing my face. They have two sides a smooth side and an embossed side which gently exfoliates your face. These serve as the 'toning' porting of my PM routine.
Sheet Masks: Dewy Tree Aloe It's Pure Hydration Mask + Esfolio Aloe Essence Mask Sheet
I've been using
sheet masks every night since 2016
. At this point, it's a daily habit that's just as natural as washing my face (check out my daily masking tips
here
). Even on days when I'm dead tired, I still wait the extra 15-30 minutes for a sheet mask. I'm currently using these aloe sheet masks, they really help calm my skin after a summery day out. If you want to try out daily sheet masks but worry about the price
why not make your own sheet masks
? Side note: I highly recommend Dewy Tree sheet masks.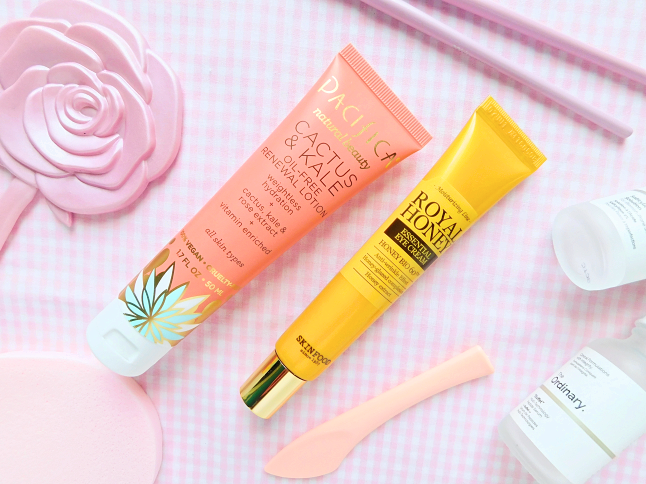 Moisturizer: Pacifica Cactus + Kale Oil-Free Renewal Lotion
The daily moisturizer I use morning and at night is this Cactus + Kale Oil-Free Renewal Lotion by Pacifica. It's not the best moisturizer I've used but not the worst either. The cream literally feels like a body lotion, moisturizing but somewhat thick. Don't be fooled by the name though, it doesn't smell like cactus or kale, it has a light floral scent.
Eye Cream: Skinfood Royal Honey Essential Eye Cream
After almost a year of
using the same eye cream
, I finally decided to switch things up and try a new eye cream. I've only used the
Skinfood Royal Honey Essential Eye Cream
it for about to weeks and it's really similar to the
Elizavecca white bomb eye cream
, I can hardly notice any difference between the two!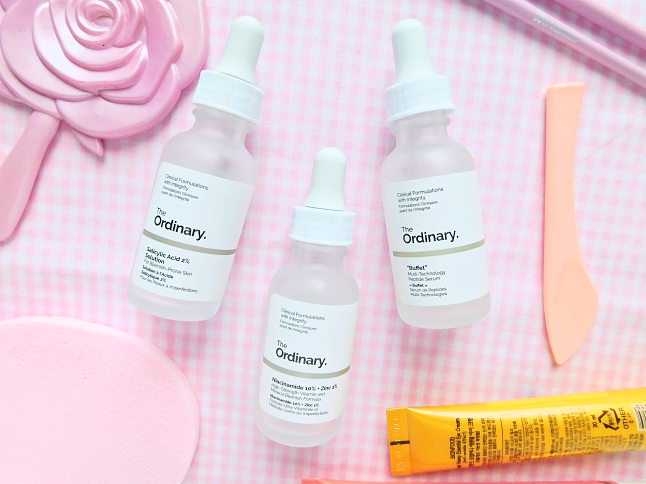 I use Buffet both AM and PM after cleansing but before moisturizing. I adore this product! It helps combat early signs of aging. I finished my bottle a few weeks ago and I have noticed a huge difference since I stopped using it which means I need to purchase another bottle. haha
At night I use Salicylic Acid 2% Solution or Niacinamide 10% + Zinc 1%. I switch between the two at night because they're practically the same product. The Salicylic Acis claims to reduce the appearance of blemishes and the Niacinamide is supposed to minimize pores. To be honest, I didn't notice a difference with either of these products so I wouldn't repurchase either one.
Sunscreen: Etude House Sunprise Mild Airy Finish Sun Milk SPF50
On days when I go out, I make to apply sun cream before I go out (read about sunscreen
here
). The
Etude House Sunprise Mild Airy Finish Sun Milk
isn't greasy, sticky, or leaving any white cast.
Scrub: Tony Moly Strawberry Mushroom Sugar Scrub
I exfoliate twice a week. This Strawberry sugar scrub by Tony Moly smells delicious and isn't as rough as other scrubs.
Sleeping Pack: Skinfood Freshmade Cranberry Face Mask
When I think I need extra hydration I throw on this face mask by Skinfood. I've been using it as a sleeping pack because the consistency feels similar to that of a sleeping mask. It's hydrating, cooling, and comfortable to sleep with. I plan on buying more once I finish this.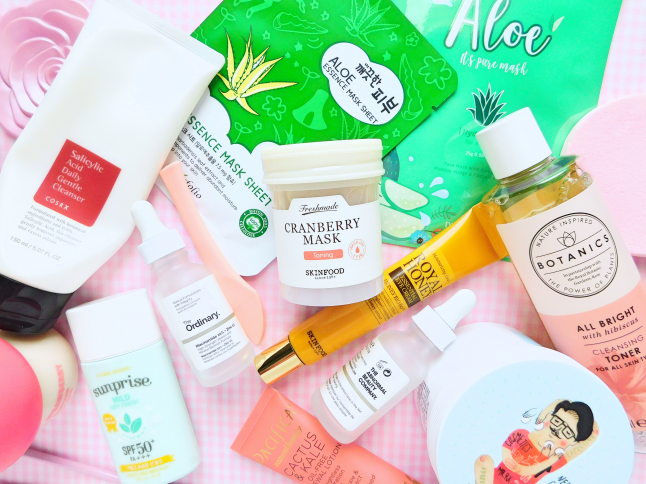 How many steps are in your current skincare routine?
Related Posts
Daily Skincare Routine ♥ Summer 2017
Beauty Graveyard #4 ♥ Skincare Empties
Current Skincare Routine ♥ Autumn 2017
My Morning Skincare Routine ♥ Winter/Spring 2017