Recently my skin has been flawless (hopefully I'm not jinxing myself! haha) which is funny because I've been using fewer products than I normally do. So today I am updating you guys on my skincare routine because I said I would try to make a post for every season. I also want to document the products I'm using at this moment so the next time my skin is suffering I can reference this post.
Since I have two different routines I will be separating both routines. This is definitely a long post but I tried to fill it up with as much information as I can. I am a huge skincare enthusiast so hopefuly my skincare knowledge can help some of you guys.
Update: In my mind, I thought my routine was pretty simple because I'm not using as many products but after typing everything I can tell you it's not as short as I thought it was. haha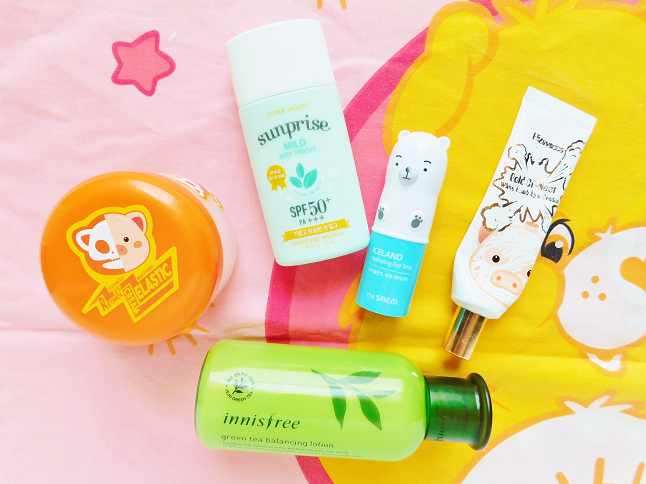 Morning
Step 1: Water
The first thing I do in the morning is splash cold water on my face to help wake myself up and help blood circulation. I don't use cleansers in the morning just water to wash off any leftover residue from the night before.
Step 2: Mizon Joyful Time Essence
Next, I use the leftover essence from the sheet mask packaging I used the previous night. I don't like to waste product so I make sure I use up every drop of liquid in the package.
*Step 3: Essence – Innisfree Green Tea Balancing Lotion
On days when my skin is feeling dry, I will apply some more essence on my face. Sometimes I skip this step though and just move onto moisturizer.
Step 4: Cream – Elizavecca Milky Piggy EGF Retinol Cream
I usually have a am and pm cream but I haven't bought a morning cream so I'm currently using this cream for both morning and night. I will talk more about this cream in the night routine.
*Step 5: Eye Stick – IThe Saem Iceland Hydrating Eye Stick
If my dark circles are really puffy I will use this ice stick to soothe my eye area. Again, I don't this every morning just on days when I think I need it. Also, I keep this eye stick in the refrigerator downstairs and some mornings I just don't feel like going all the way down there so I skip this step. #lazy
Step 6: Eye Cream – Elizavecca Gold CF-Nest White Bomb Eye Cream
Step 7: Sunscreen – Etude House Sunprise Mild Airy Finish Sun Milk
This is the newest addition to my routine. I wanted to try a new sun protectant so I went with this one by Etude House. It's amazing! It's a sun milk so it has a different texture from regular sun creams. It has a light aloe scent and dries to a matte finish. Expect this to be featured in my upcoming beauty favorites.
Night
Step 1: Makeup Remover – Skin Food Milk Shake Point Make-Up Remover
If I wore makeup that day I will start off my night routine by taking off my makeup with this makeup remover. It's one of those makeup removers that separates so you have to shake the bottle which is why it's called milk shake. haha
Step 2: Cleansing Oil – Kose Softy Mo Facial Cleansing Oil Speedy
After I've removed my makeup the next step is to begin my double cleansing process. First, I start off with a cleansing oil. I'm currently using this Japanese cleansing oil. I bought this because it had some decent reviews but I'm actually not a fan. It's really light and feels like a watered-down cleansing oil which I do not like.
Step 3: Cleanser – Philosophy Purity Made Simple Facial Cleanser
For the second cleanser, I use the Purity Made Simple Cleanser. I bought the travel-size because I wasn't sure if this still works with my skin (my skin is so picky!) but it does so I do intend to buy a bigger size when this runs out. This cleanser is gentle and moisturizing so it doesn't leave my face feeling dry after my second cleansing.
Step 4: Toner – Cosrx One Step Pimple Clear Pads
For most of the summer, I used the
Cosrx Moisture Up Pads
(I went through 2 tubs!) but I decided to go back to the original One Step Clear Pads because I think they work better with my skin type. You can read my review on these
here
.
Step 5: Mask – Mizon Joyful Time Essence Mask or Freeman Anti-Stress Dead Sea Minerals Clay Mask
As you guys know by now I daily mask which means I use a sheet mask every night (read about my experience
here
). But on days when I don't feel like waiting an extra 10-20 minutes, I use a clay mask. I've been using the Freeman Anti-Stree Dead Sea Minerals Clay Mask once a week and it's a nice rest to give my skin from sheet masks.
Step 6: Essence – Innisfree Green Tea Balancing Lotion
At the moment I am only using an essence because I haven't had the time to buy an emulsion, serum or ampoule. I bought the Innisfree Green Tea Balancing Lotion back when I had a bunch of products to layer but because it's a great product for layering but now I am just using it alone and it's surprisingly an excellent product on its own. If you are new to the 10-step Korean skincare routine I would recommend this product.
Step 7: Cream – Elizavecca Milky Piggy EGF Retinol Cream
Almost done! The next step in my evening routine is moisturizer/cream. I've been using anti-aging creams to help combat early signs of aging. I've been using this cream by Elizavecca since early Summer so I've been with it for a while. This is one of those creams that you have to wait to see results from and I have! I've noticed my face looks more plump and youthful. It's kind of sticky but that's normal since it's an anti-aging cream and most of those creams contain some type of snail ingredient which tends to be stringy and sticky. If you are looking for an afforded anti-wrinkle cream I suggest this one.
Step 8: Oil – Drunk Elephant Virgin Marula Luxury Facial Oil
After I finished the Drunk Elephant serum I moved onto the facial oil that was in the travel-duo that I bought in the beginning of Summer. I don't normally like using oils but I was curious as to what effects I could get from using this oil so I found another use for it, adding it to my night cream. I mix a drop of this oil in with my cream every night which makes the cream less sticky.
Step 9: Eye Cream – Elizavecca Gold CF-Nest White Bomb Eye Cream
Finally the finishing layer, eye cream! I've gone through countless tubes of this stuff because I love it so much! You can read my detailed review
here
.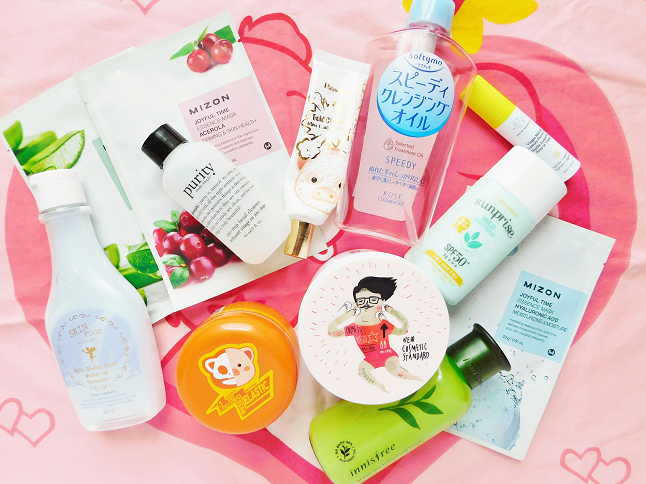 Related Posts