If you log onto any online Korean beauty website and check out the bestselling page you will always see a couple of Cosrx products on the list. Today I will be quickly reviewing each one of them. So are these Cosrx products worth it or not?
Low pH Good Morning Gel Cleanser
"But first, cleanser. This Low pH Good Morning Gel Cleanser boosts a low pH level of 5, which makes it perfect of any skin type. It's also infused with BHA and Tea Tree Oil, a magical mix of ingredients that rids of dead skin cells, dissolves impurities deep within pores, and controls sebum, leaving skin glowing."
I've mentioned before that my skin is very picky when it comes to cleansers. So any cleanser that works with my skin is a win-win! It cleans my face nicely without drying or making my skin uncomfortably tight. It's not the most amazing cleanser that I've tried but I would repurchase it again.
BHA Blackhead Power Liquid
"This powerful yet gentle chemical exfoliant boasts BHA, the scariest weapon against blackheads. Without harsh peeling or irritation, this BHA and natural extract-infused liquid roots out stubborn blackheads and helps replenish skin to prevent new build-up in the pores. Now that's a force to be reckoned with."
This is one of Cosrx's top-selling products that every Korean beauty blogger raves about and I honestly don't know why? It does what it's supposed to do (get's rid of blackheads) but that's about it. This is not a miracle product it's not gonna cure all of your skincare woes just remove blackheads. I don't understand the hype of this product. It's basically water, it just looks, feels and smells like water. But somehow this miracle water can diminish blackheads.
After using this everyday I noticed my blackheads have significantly disappeared. It does its job but would I call this a holy grail product? No! Maybe it's because I don't have that many blackheads to begin with (only my nose). It's an extra skincare step that I can live without.
Aloe Soothing Sun Cream
"A standout SPF cream that not only protects skin from the sun's harmful UVA and UVB rays, but also soothes and moisturizes skin with Aloe Vera and other nourishing ingredients. So you can leave the old-lady visor at home with no fear of redness, sunburn, and irritation. Plus, the cream is non-sticky and oil-free for an easy application and long-lasting effect."
It's not greasy and absorbs fast but it's kind of heavy. I'm also not a fan of the aloe sunscreen scent. It also is kind of tricky to remove, I started double cleansing because of this sun cream. It's not the best sunscreen I've used, my favorite go-to sunscreen is
Missha All-Around Safe Block Essence Sun
.
Ultimate Nourishing Overnight Spa Mask
"Cooked up with 65% Rice Extract and other amazing natural ingredients, this super nourishing overnight mask brightens, hydrates, and nourishes skin as you sleep. You'll wake up to a milky complexion that no amount of beauty sleep can ever offer."
This sleeping pack is a rich, smooth, non-greasy, clean-smelling cream that glides on easily. It takes a while for the mask to set. When I woke up the next morning and wash off the mask I noticed my face was brighter and moisturized. I found out that on days when I used this sleeping mask back to back I would get these small bumps, not exactly pimples just flesh-colored bumps that would disappear when I stopped using the mask. I would repurchase this again but I want to try the Honey Overnight Mask next.
Advanced Snail 92 All In One Cream
"An all-in-one repair cream jampacked with an incredible 92% Snail Secretion Filtrate. It intensely moisturizes skin and boosts its elasticity, keeping wrinkles and fine lines at bay. It even treats damaged spots and blemishes, resulting in smoother skin. It's so nourishing, you can use in place of essence and moisturizer."
Since I'm in my early 20's I've started using many anti-wrinkle or snail creams as my night cream to help combat premature wrinkles. I haven't noticed a difference since using this cream. It just doesn't do anything. I wouldn't repurchase again because I know there is another amazing snail cream out there.
One Step Pimple Clear Pad
"This one-step trouble-shooting pad is supercharged with soothing Allantoin and blemish-blasting Betaine Salicylate, which exfoliates dead skin and promotes cellular renewal. It leaves pores unclogged and skin pimple-free. We can definitely get used to that."
This is Cosrx's best product ever! It's my absolute favorite Cosrx product! You can read why
here
.
Acne Pimple Master Patch
"Medicated with Hydrocolloi, these sticker patches knock the daylights out of pimples. They sap zits dry and prevent them from growing bigger by protecting them from dust and viruses in the air. Your blemishes will shrink into oblivion, but in the meantime, you can even wear these patches out since they're geniusly clear."
Each pack contains 24 different size patches. I've used most of the patches up already.on various spots that have appeared on my face. I don't get pimples that often but when I did I would use one of these patches. However, after I stick one of these patches onto my face guess what happens? NOTHING! I've given these patches countless amount of chances and nothing happens! I've tried using these the morning and night but once I remove the pimple would still be there the next day. This product is so overrated. I would not repurchase or recommend these to anyone!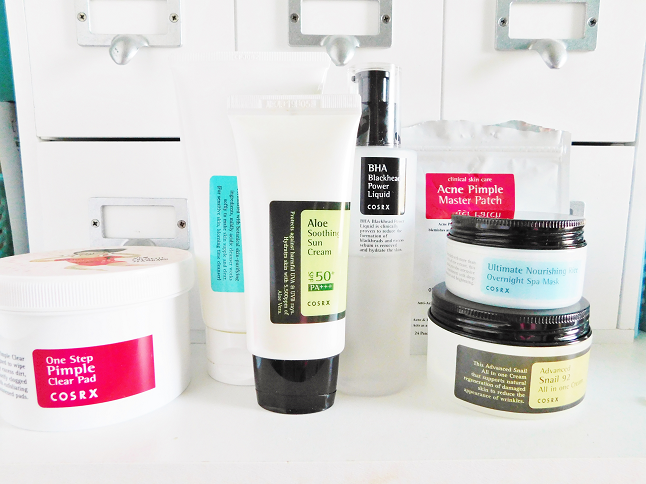 So after testing out 7 products from Cosrx only 3 of them are products that I would repurchase it. The rest of the products either didn't do anything or weren't as good as other products that I've tried in the past. Maybe it's because I don't have acne-prone skin and most of Cosrx products are for those with acne. I will continue to try new Cosrx products but I won't have my expectations raised up as high.