Sleeping packs have become a new skincare staple in my routine. Especially now that the weather is chilly. I've only used a couple of sleeping masks but I can understand why they're popular in South Korea. For those who don't know what a sleeping pack is, it's basically a gel-based cream "mask" that you apply as the final step in your skincare regime. The next morning you wash off with warm water and a moisturized skin surface is revealed!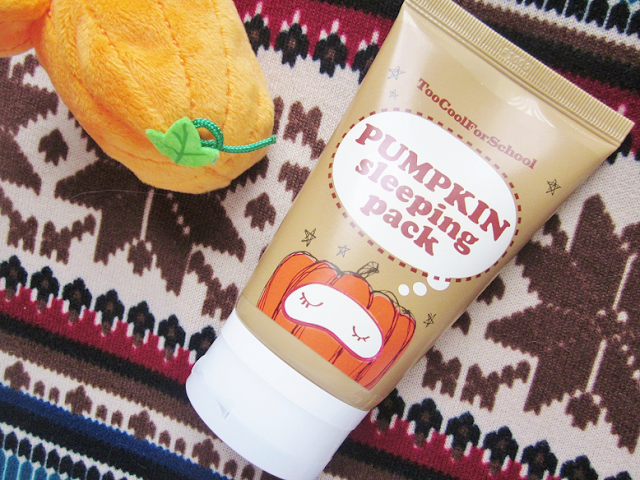 Description
"Multi Care Sleeping Mask provides moisture, nutrients and exfoliation care while sleeping. Containing active pumpkin ingredients vital for skin care such as rich nutrients of vitamin A and beta-carotene provides you with the soft skin surface. Ingredients derived from nature such as natural enzymes, aloe vera, and various vegetable moisturizing ingredients resolve skin dryness leaving the skin clean and moisturized."
– Moisturizing
– Hydrating
– Brightening
– Lightweight
– Refreshing
– Great for all skin types
– Lovely smell
– Affordable
– Cute hygienic packaging
Cons
– Too light for wintertime (but a fantastic sleeping pack overall)
– Don't know if the exfoliation actually works
My Experience
As mentioned in my November beauty favorites I first tried a sample set of these a couple years ago. I'm pretty sure you can still find those samples online, they're great for traveling. Anyways, I've been using this sleeping pack almost every night for the past 1 month and I'm in love! It's a lightweight, rich in moisture, hydrating, fresh and has a nice smell. The next morning after I wash off the pack my skin feels ultra-soft and my skin is glowing! Plus, the cute pumpkin illustration on the tube doesn't hurt.
Overall, this is an amazing sleeping pack, I love everything about it! However, I still don't understand how it exfoliates the skin. Maybe it's one of those products that exfoliate underneath your skin? Either way, I haven't noticed it. I also think this sleeping mask is too light for winter, even when layered over a cream. So on days when my skin is feeling dry, I use my Cosrx Ultimate Nourishing Rice Overnight Mask. Let me know if you would like to see a review on that next.
My Rating
♥♥♥♥ out of ♥♥♥♥♥
You can purchase the Too Cool For School Pumpkin Sleeping Pack here
Which is your favorite sleeping pack?