It's a new month which means it's time for another round-up of beauty favorites from the previous month. This time we are talking about my March favorites. In March, I started using sheet masks daily and found some new favorites from some very familiar brands. I also, discovered a new skincare product that I loved at the beginning of the month, however, I can't use it anymore because it contains a certain ingredient that I'm currently trying to avoid. Lastly, I tried two new Too Faced products that I can't get enough!
Nature Republic Aloe Vera Soothing Gel
I bought this product back in late February because I wanted something to soothe
and possibly reduce
my red cheeks. This was the number one recommend Korean aloe gel on the web so I went with this one. At first, I loved it and I still love the cool sensation it gives my face. However, the only downside with this gel is that it contains alcohol. I've never been some who minds skincare products with alcohol but since my red cheeks appeared I've been researching and trying to figure out what is causing them. I'm thinking alcohol could be the problem! Even though this is an amazing aloe vera gel I'm going to not use it as much because I do not want to dry out my skin. You can read my review on this product
here
.
Tony Moly + Innisfree Sheet Masks
In March I started using a sheet mask daily (which I will make a separate blog post on later). Since starting this daily habit I've discovered some new sheet masks that have quickly become my new favorites! I've seen the Tony Moly and Innisfree sheet masks before but never tried them. I love that the masks aren't too flimsy and contain a lot of extra essences (that I use the next morning). My favorite Tony Moly masks are the avocado and makgeolli (rice wine) masks.
Mediheal Mogongtox Soda Bubble Sheet + Berrisom Oops Bubble Masks
Bubble masks are my new favorite skincare inventions! Bubble masks bubble on the outside while working their magic under the sheet. They tingle underneath and leave you with a brighter and clearer complexion afterward! The Berrisom masks come in cute colors with a stronger scent but don't bubble as much as the Mediheal. However, I prefer Mediheal because the results were more noticeable.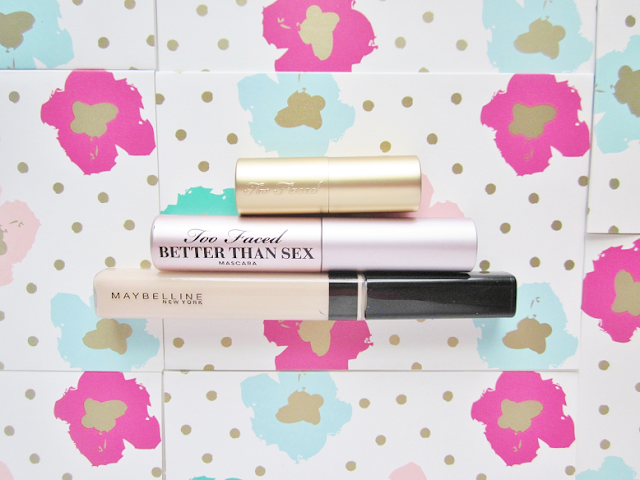 Too Faced La Creme Color Drenched Lip Cream in Naked Dolly
I received this in a Too Faced order. I love the muted pinkish nude color that I received so I immediately tried it on as soon as I opened it. It's so creamy and moisturizing! Even though it's a sample it comes with a lot of products! I may buy it after I run out because I adore this color and how hydrating it is!
Too Faced Better Than Sex Mascara
This was also a sample I received from Too Faced. There has been much hype over this mascara so I was excited to finally test it out. This made my lashes fuller and thicker, almost like false lashes! However, it smudges like crazy! Thankfully, they recently came out with a waterproof version of this same mascara. But I wouldn't purchase the full-size of either of the mascaras because I think spending too much money on a mascara is not worth it. I mean mascara only last 3 months!
Maybelline New York Fit Me Concealer
It was time for a new concealer so I bought this drugstore favorite. I've used this concealer once but I don't remember loving it or hating it so I decided to try it again. The coverage is decent if you are looking to hide small blemishes and to highlight certain areas. But it does not hide dark circles.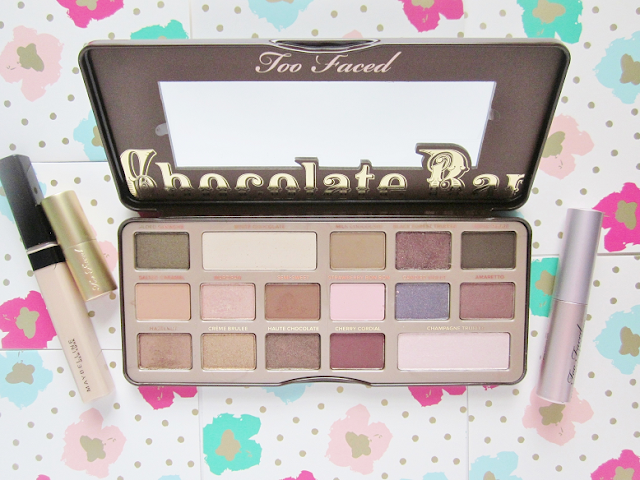 Too Faced Chocolate Bar Eyeshadow Palette
I was also going to include my peanut butter palette from Too Faced but I didn't want to include two palettes in one post, so I went with this one. Technically, I only used Strawberry Bon Bon, Champagne Truffle and Marzipan. I love these shades because they are gorgeous enough to be worn alone (especially Marzipan). But whenever I need a crease color I use Semi-Sweet or Hazelnut.
What beauty products did you enjoy using in March?