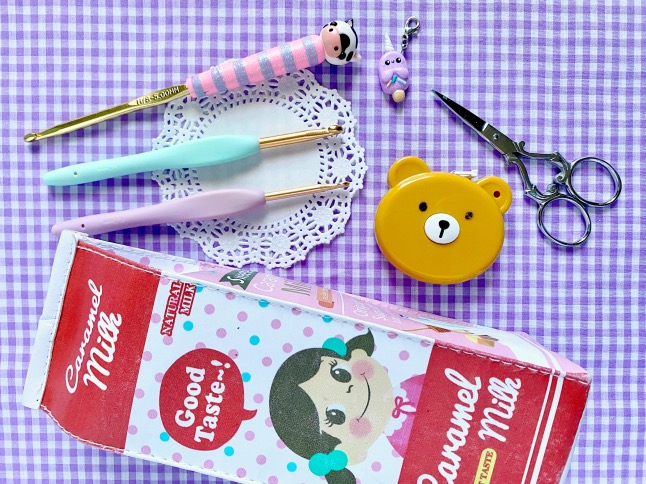 Whenever I start a new project I whip out my trusty crochet pouch. My crochet pouch contains all the necessary tools I need to start crocheting a new project. In this pouch, I keep all of my crochet essentials like my favorite hooks, darning needles, glue, scissors, etc. I like to keep things simple and just carry what I use. Sometimes some yarn scraps and felt pieces will find their way inside, I always think I can reuse these scarps for a future project but that never ends up happening.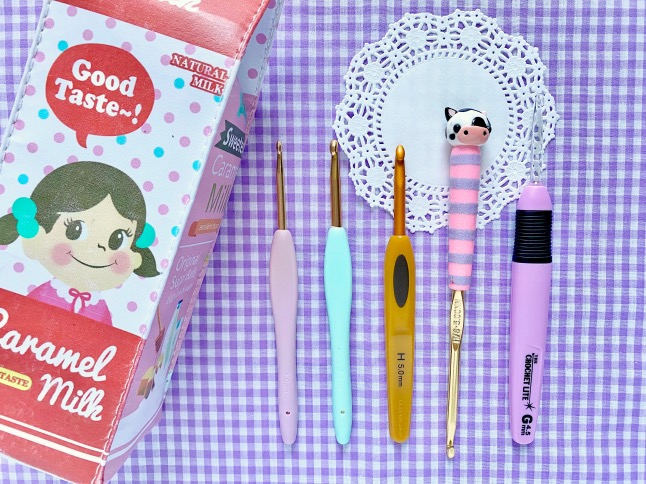 *DISCLAIMER: Links included in this post might be affiliate links. If you make a purchase with the links I provide, I may receive a small commission at no additional charge to you.

The pouch I use is this one that I got off of eBay for a few dollars a few years ago. The design is super cute, I mean it's in the shape of a milk carton! It's the perfect size for my hooks, scissors, and needles. I also like that it's slim and can easily fit in any bag.

I keep a few different crochet hooks. My favorite crochet hook sizes to work with are, G/4.25 mm, H/5.00 mm, and I/5.50 mm, are my favorite sizes to work with. A Crochet Lite crochet hook in size G/4.5 mm, for crocheting in dark places. A cute clay cow crochet hook that was made by the Clay Bean Co, it's one of my favorite crochet hooks but I rarely use it because I find it difficult to work with.
Inside the pouch, I keep two pairs of scissors, one for felt and another for yarn. A pencil that I use to write patterns and sketches. Yarn/darning needle. A pocket razor. In that clear blue case, I keep stitch makers. two measuring tapes (one is in cm and one is in inches). A bag of black safety eyes. A mini bottle of glue.

What are your crochet essentials?