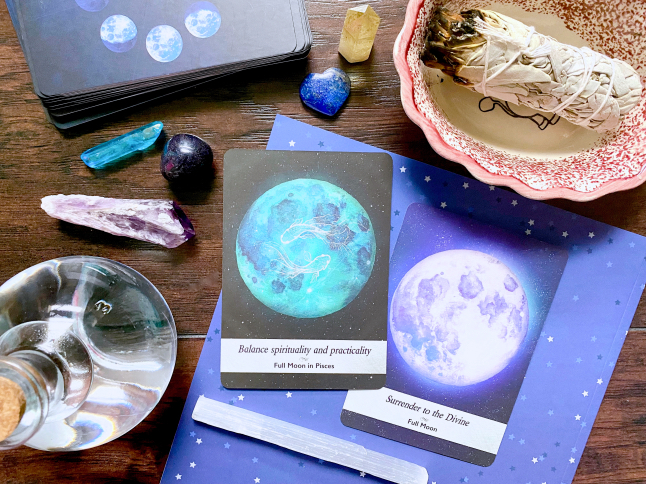 Today, Monday, September 20th at 7:55 PM EST there will be a Full Moon in the sign of Pisces. Pisces is a mutable (mutable signs are flexible and adapt well) water sign they're intuitive, sensitive, physic, empathic, and imaginative. They're known to be very a magical sign and into the unseen spiritual side. Pisces is also the last sign of the Zodiac wheel and it's the opposite sign of Virgo, the current season we're in. Pisces is a dreamy sign while Virgo is a practical sign so now would be the time to acknowledge and work on balancing the physical and spiritual sides. As always, check out your natal/birth chart to see where Pisces lands in your chart, every chart is different so depending on your placements this moon can affect you more or less.

The Full Moon is the time when the Moon shines its light and illuminates everything. Check-in with all that has happened in the past 6 months, back when the Pisces New Moon was formed. Did you follow through with your intentions? If not. why? Now isn't the time to start new goals, instead take this time to reflect, research, and make plans but don't follow through with them yet, wait for the next New Moon to start something new.

The Moon's energy is strong enough to work with on the day before, the day of, and the day after. If you would like to learn more about the Full Moon make sure you read this post. You can also read all my past moon posts here.

Why is it called the Harvest Moon?
This Full Moon is called the Harvest moon because it's the Full Moon closest to the autumn season. This also marks the final harvest of the summer season.

What to expect during this Full Moon?
– Emotional energy
– Tap into a higher level and create a deep connection with others
– Be careful where you direct your energy
– Make plans for the future

Activities to do during this Full Moon
– Reflect on what happened 6 months ago, are you on the path you want to be on? If not, what can you change to get yourself back on track?
– Do this Full Moon meditation
– Start a dream journal. Keep a journal and pen beside your bed and write down whatever you can remember from your dream the following morning
– Do this Tarot spread for the Full Moon. This account posts some great Tarot prompts
– Work with a piece of Selenite, moonstone, and clear quartz
– Use the scents sandalwood, ylang-ylang, and clove
– Wear the colors purple, deep green, and teal
– Wear silk or place silk on your altar
– Take care of your feet! Pisces rules the feet and a lot of people often neglect their feet so take this opportunity to take care of your feet. Soak them in a bath with salt, apply a rich lotion, and wear comfy socks
– Look into reflexology
– Develop your physic abilities
– Work on your crown chakra

Have you worked with the Full Moon before?