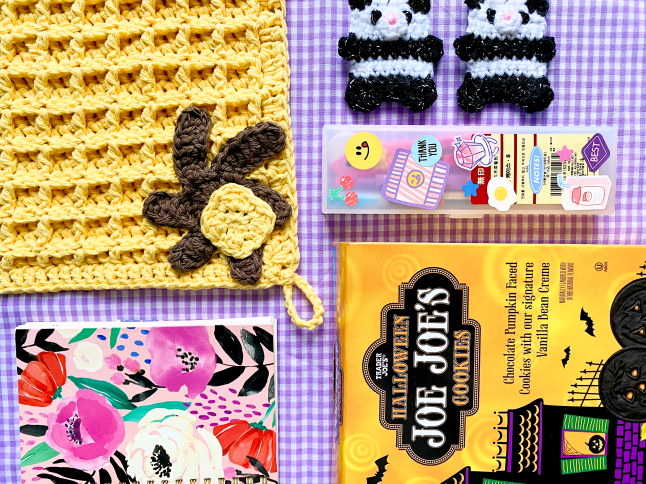 – Oat milk lattes. I know I'm late to the party but I would like to say that I did try oat milk in my coffee but I didn't actually like it. It must have been the brand of oat milk because I tried different oat milk recently and loved it!
– Receiving cute stationery from some talented artists
– Pulling Tarot cards for the future and getting a positive reading
– Discovering a new guided meditation that I really enjoyed listening to
– Trader Joe's Halloween Joe Joe's Cookies 
– Unexpected Facetime chats with my sister
– Reading a good book
– Reading loving messages after my rant. Thank you to all of you who sent me lovely support messages.
– Crocheting a waffle dishcloth that I made for my grandma. The pattern is from Twinkie Chan's Crocheted Adobe A La Mode book!
– The relaxing smell of this lavender Sage bundle
– Snuggling with 2-3 blankets because of the cooler weather, with Lucy tucked by my side.
– The new iSO 14 update. My phone is so cute now!
– Drinking ginger tea to soothe a troubled tummy
– Looking back at photos of my trip to Paris, France last year, and reminiscing about the past.
– The first day of autumn with Fall appropriate weather

What lovely things have made you smile recently?