We're only a week away from Halloween! Can you believe it? If you don't have any plans for Halloween then why not indulge and treat your skin with some extra skincare treats! Here are some additional skincare steps that you can add to your routine when you want to be a little extra.
Micellar Cleansing Water
Micellar water is a mix between a makeup remover and toner. If you don't want to have both in your skincare stash then why not just use a micellar water for both. I'm currently using the
Etude House Monster Micellar Cleansing Water
which is perfect for Halloween. It's gentle and unscented so it's suited for those with sensitive skin. I soak a cotton pad with micellar water and use as a toner in the morning and night and also to remove my makeup when I wear minimal makeup.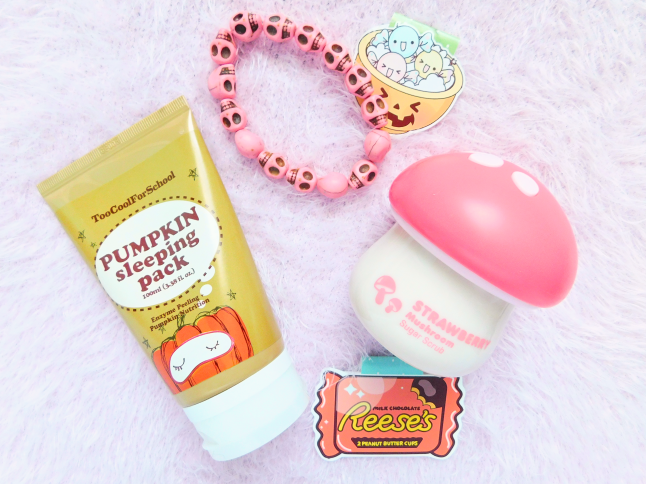 Facial Scrub
Using a facial scrub regularly softens your skin, reduces blackheads, removes dead skin and dirt, leaving your skin with a smooth canvas. It's important to not over-exfoliate though because it can damage your skin which is why I recommend only exfoliating once per week. I'm really loving the
Tony Moly Mushroom Sugar Scrub
at the moment because the strawberry seeds dissolve and the scent is sweet like fruity candy!
Sleeping Pack
It's starting to get colder so that means your skin needs a thicker cream but why not use a sleeping pack to transition your skin to a heavier cream? Sleeping packs are lightweight non-sticky masks that are designed to be worn as you sleep. You wash off with water the following morning and left with soft silky skin! One of my favorite sleeping packs is the
Too Cool For School Pumpkin Sleeping Pack
, I highly recommend it, I'm on my third tube!
Pro tip: To get that dewy glass skin look use a sleeping pack.
Sheet Masks
The benefit of sheet masks is amazing! Have you read
my latest post on sheet masks
? Sheet masks give you dewy radiant skin and if you use them often you can even reduce the number of pimples you get. Plus, using a mask sheet is probably the best way to scare someone which is perfect for Halloween! haha
How do you treat your skin?
Related Posts