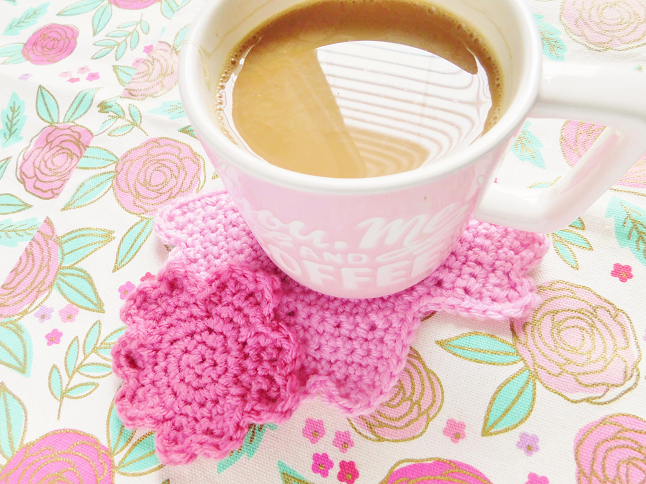 Late March to early May is sakura or cherry blossom season in Japan. It's on my bucket list to visit Japan during Spring just so that I can witness the beautiful sakura trees bloom. Until I have enough money to travel I will just have to enjoy the sakura trees through online pictures.

Since it's cherry blossom season I wanted to crochet something sakura-themed so I made a coaster for your drinks. I have so many coasters in my room because I'm always drinking something water, tea, or coffee.

If you crochet this project, you can post it on Ravelry or tag me @mooeyscrochet so that I can see your creation. If you want to learn how to crochet, watch my crochet how-to video here. If you would like to support me for making this crochet pattern available for free, you can buy me a Ko-fi. Check out all of my free crochet patterns here and my shop to see my original crocheted items.
DISCLAIMER: Links included in this post might be affiliate links. If you make a purchase with the links I provide, I may receive a small commission at no additional charge to you

Supplies
– H/5.00 mm crochet hook (my favorite hook)
– G/4.50 mm crochet hook
– Pink worsted weight yarn
– Slanted tapestry needle (I use these)
– Scissors

Aberrations
ch(s) – chains
st(s) – stitch(es)
slst – slip stitch (same as join)
sc – single crochet
hdc – half double crochet
dc – double crochet
flo – front loop only
blo – back loop only
cc – color change
dec – decrease (same as sc2tog) (single two st together)
inc – increase (make 2sc in a single st)
(x_) – repeat (_) amount of times
[x_] – repeat everything inside the [_] times amount of times

Crochet Level
Beginner

Pattern Notes
The pattern is written in US terms
This pattern uses a magic circle. Magic circle instructions here.
If you have any problems with this pattern feel free to contact me so that I can make corrections to the pattern.
Cherry Blossom
With H hook and pink yarn
Magic circle sc 9 sts, Total = 9 sts
Round 1: 2 sc in each sts (x9). Total = 18 sts
Round 2: Sc 18 sts. Total = 18 sts
Round 3: [2sc in next st, sc 1 st](x9). Total = 27 sts
Round 4: [2sc in next st, sc 2 sts](x9). Total = 36 sts
Round 5: Sc 36 sts. Total = 36 sts
Rounds 6: [2sc in next st, sc 3 sts](x9). Total 45 sts
DO NOT CUT OFF. Continue to petal pattern down below.

Petals (make 5)
With H hook and pink yarn
Round 1: sc 9 sts. Total = 9 sts
Round 2: Ch 1, dec, sc 5 sts, dec. Total = 7 sts
Rounds 3-4: sc 7 sts. Total = 7 sts
Round 5: Ch 1, dec, sc 3 sts, dec. Total = 5 sts
Round 6: Ch 1, sc 2 sts, dec. Total = 1 st
Cut off
Insert hook in the middle st from the last row.
Ch 1, turn, sc 2 sts. turn, dec.
Cut off and weave ends
Assembly
Switch to a smaller hook, to get that rounded sakura shape you are going to crochet a border around the entire coaster. Weave in the ends and you are done.

Have you ever seen the Sakura trees bloom?