An Ulta recently opened up near me which is dangerous considering I'm a huge beauty enthusiast. It's only been open for a week and I've already visited it twice! Today I'm sharing what I picked up, let's look at the damage I did.
E.L.F. Hydrating Water Cleansing Cloths
I was drawn to these because of the robin egg blue colored packaging. I've tried some wipes from E.L.F. before but I'm not sure if they're repackaged or completely new but I'll try them and let you know if they're good or not.
Freeman Detoxifying Charcoal + Black Sugar Mud Mask
This mask has been on my list for such a long time but I've never seen it in person until now. I've only tried it once so far but will be trying it a couple more times before deciding if I like it or not.
Mario Badescu Facial Spray with Aloe, Chamomile, and Lavender
The newest addition to the Mario Badescu facial spray family. I'm a huge fan of their rose facial spray so when I heard that they made a lavender one I was really excited. I love the scent of lavender so I think I'm going to adore this mist.
Soap + Glory Clean On Me Creamy Clarifying Shower Gel
I wouldn't have bought this if it wasn't 'buy 1, get 1 40% off'. Soap + Glory products smell amazing so I know I won't be disappointed with these three products.
Soap + Glory The Righteous Butter Body Lotion
Obviously, I had to get the matching body lotion to go with the shower gel. I've already tried this a few times and I'm already in love with it! This lotion softens my skin leaving me feeling nice and hydrated.
Soap + Glory Hand Food Hydrating Hand Cream
Does anybody else get suckered in by the travel-size section near the Ulta counter? Cause I sure do! Which is why I bought this hand cream. Did I need this? Probably not. But I bought it anyway because I didn't have a hand cream and it's tiny! haha
Not Your Mother's Naturals Coconut Milk + African Marula Tree Oil High Moisture Conditioner
I have very little hair conditioner left so I decided to buy one at Ulta because they have tons of options to choose from. I went with Not Your Mother's because I was very intrigued by their Naturals line. They had a version for just about every hair type but I went with the one for dry hair because my hair has been feeling very damage lately. I will report back if I end up loving this product or not.
Pacifica Coconut Super Power Deep Conditioning Damage Control Mask
This is supposed to be the cruelty-free version of the Aussie 3-minute miracle, which was one of my favorite in-shower hair masks before I went CF. It's like 4 times the price of the Aussie one but that's the sacrifice you make when going cruelty-free. However, if you guys know of a similar product that's cheaper let me know.
Not Your Mother's In A Heart Beat Blow Dry Accelerator
Finding a cruelty-free heat protectant has been very tricky for me. Not Your Mother's has one that I've tried before but it smelled horrendous! When I was in Ulta I open the bottle to see if they changed the formula but sadly they didn't but I found this one next to it so I bought this one. This is supposed to be for blow-drying to use on wet hair but I thought it could work on dry hair too.
What do you normally buy at Ulta?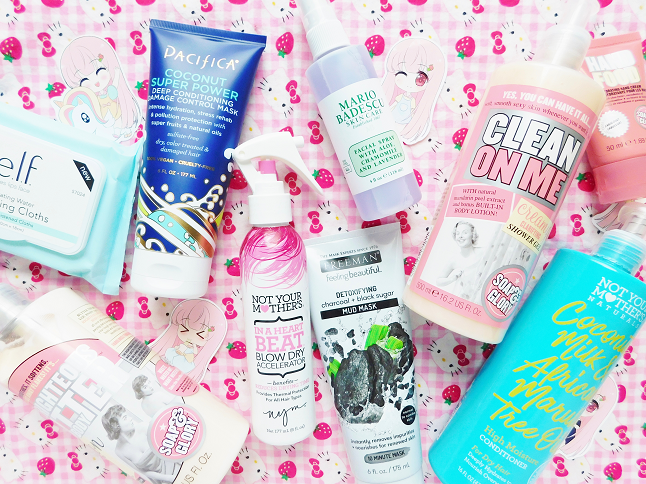 Related Posts