When it comes to cute makeup Too Faced takes the cake! Over the years I've collected a few palettes from Too Faced so today I'm going to share my collection in case you are interested in purchasing one for yourself or as a gift.
For the past three years, I've been gifted a new Too Faced palette for each Christmas. Not only is the packaging adorable but they're magnetic so they snap closed, easy to wipe clean and they smell amazing because they're chocolate-scented! The only problem I have is that the mirrors don't bend all the way (not even halfway) which can be annoying.
In terms of the eyeshadows themselves, they are silky smooth, easy to blend and pigmented! The finishes vary depending on which palette you choose but most palettes contain a mix of shimmery, sparkly and matte eyeshadows. Some of the palettes have similar colors to other palettes so I recommend looking up swatches online if you are concerned about getting duplicate colors.
The
Clover Eyeshadow Palette
is the most colorful out of the bunch even though I'm into neutral eyeshadows it's nice to have a couple bold shades to play with. I also love the layout of the Clover palette compared to the other two palettes, you get 2 extra colors!
The
Chocolate Bar Palette
was my first Too Faced palette I ever received. Before this palette, I owned the first Naked palette by Urban Decay. I would highly recommend the Too Faced palettes because they're so much cuter but that's just my bias opinion.
Out of the TF palettes I own I personally think the
Chocolate Bon Bons Palette
is the cutest. I mean it has heart-shaped eyeshadows! This palette reminds me of those cheap eyeshadow palettes you use to get when you were little but the "grown-up" version.
Looking at these palettes next to each other they have similar colors but the BonBon one has more pink shadows.
My most used Too Faced palette is the
White Chocolate Chip Palette
because it's compact, the mirror bends halfway and the shades are my favorite! The size is about the size of a credit card so I keep in tucked in my purse.
The
Peanut Butter and Jelly Palette
is my least used probably because it was an impulse purchase that I bought simply based on the adorable packaging. What can I say I'm such a sucker for cute packaging!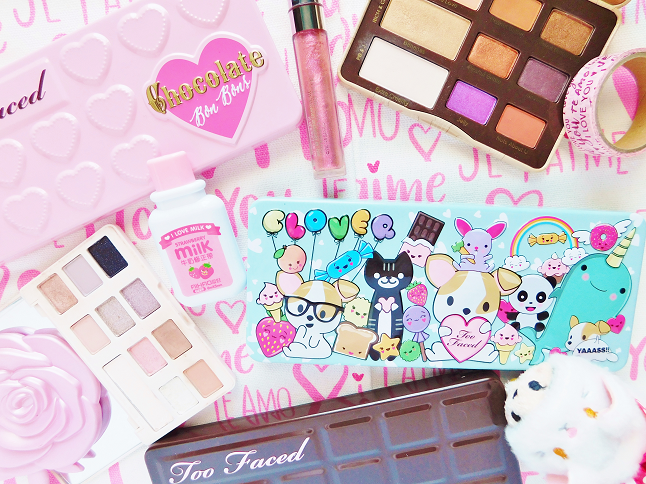 Related Posts