Earlier this summer I posted my
hair care routine
well today I have something similar, my hair care essentials. A few years ago I wasn't into hair and would use easy tricks to help style and manage my hair but recently I've been more interested in what type of products suit my type of hair. I have black thin curly hair that gets oily really easy. I'm pretty laid back when it comes to my hair and do not like to use too many products so these are my top picks and they all smell amazing!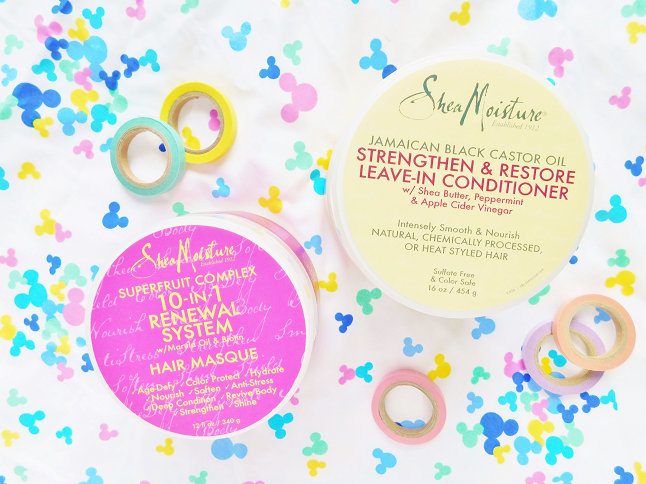 Shea Moisture Strengthen + Restore Leave-In Conditioner
I mentioned both of these products from Shea Moisture in my routine so I will lightly go over them. I recently ran out of this leave-in conditioner and let me just say how differently my hair behaved when this product wasn't in my hair. This stuff controls my curls from humidity, reduces frizz, conditions ends, strengthens, nourishes and helps restore your hair from processed and heat damage.
Shea Moisture 10-in-1 Renewal System Hair Masque
Whenever my hair needs an extra pick-me-up I use mask masque. This masque helps tackle 10 hair problems (which you can read on the container) all in one! My hair feels stronger and thicker whenever I use this. For a quick hair rescue, I apply this when I first enter the shower, do my business and then wash off. Same results but just quicker.
LUSH No Drought Dry Shampoo
On days when my hair looks greasy and bland, I apply this on my roots and massage throughout my scalp for a nice fresh lift! This dry shampoo also adds a soft texture, volume and makes your hair smell yummy! Do keep in mind that this isn't the type of dry shampoo you would use on a day you're running late because it requires more time.
Batiste Dry Shampoo
If you need a quick clean up I recommend the Batiste dry shampoos. I've tried many drugstore dry shampoos and this one works the best.
Not Your Mother's Beach Babe Soft Waves Sea Salt Spray
Sea salt sprays are my go-to styling product. I like to spritz this in my hair when I want that beach wave texture. Just make sure not to apply too much because it can dry out your ends.
Related Posts