I haven't posted a full skincare routine since 2015! Why? Well, I am always looking for the perfect skincare regime with products that actually work on my face. However, I've come to a realization that may never happen and that's alright. Instead of not sharing any of my routines at all I've decided to share small parts of my routine, seasonally. I'm also splitting my routines from morning to night because I follow a 10-step Korean skincare and I don't want these posts to be too lengthy (the night routine will be tho!). My morning routine requires half of the products that my night routine contains, to most this is still a lot of products. But if you want amazing skin then you must be able to work for it!
Toner – Klairs Supple Preparation Facial Toner
I don't cleanse my face in the morning because I don't think it's necessary, plus it dries out your skin. The first step in my morning skincare routine is toner. I use a cotton round to apply the toner because I want to get rid of any residue that may have formed overnight (like drool). What I love about using this facial toner by Klairs is that it leaves my face hydrated while still clearing my face. You can also use this as an afternoon pick-me-up by simply apply a bit of product on your hands and lightly tapping the toner into your skin – this adds moisture to your midday dehydrated face and gives you that perk up you need to continue the day.
Essence – Sheet mask
Since I use a different sheet mask every night the type of leftover essence I use in the morning varies. The night before I seal the mask packaging with a clip so that the remaining liquid doesn't dry.
Emulsion – Secret Key Snail Repairing Emulsion
Next, I use an emulsion. This product was in my previous skincare routine. This is my third bottle of the Secret Key Snail Repairing Emulsion. When I use this I notice my skin is more bouncy than usual.
Moisturizer – Mizon Black Snail All In One Cream
As if the essence and emulsion weren't enough I seal everything up with a moisturizer. I'm currently using the Mizon Black Snail All In One Cream. It moisturizes my skin but I've only noticed minimal results. I'm looking for a Kbeauty anti-aging cream that actually works so if anyone has any suggestions please let me know.
Eye Cream – Elizavecca Gold CF-Nest White Bomb Eye Cream
Normally I would use
eye patches
or an
eye stick
to help wake up my eyes. However, I currently don't own either so I'm using an eye cream at the moment. This eye cream hydrates, soothes, refreshes,
slightly
whiteness and moisturizes my eye area. Not the best eye cream out there but if you are new to eye creams I would recommend this one.
Sun Protection – Missha All Around Safe Block Essence Sun SPF 45/PA+++
The final and most important step in my morning skincare routine is sun protection (I only do this if I plan on going out). Using a sun cream in is super important that if you don't use one every day then I challenge you to order one right now! The Missha All Around Safe Block Essence is one of my absolute favorite sun creams because it's light, dissolves effortlessly on the skin and affordable. I've reviewed this before so go check that post if you are interested.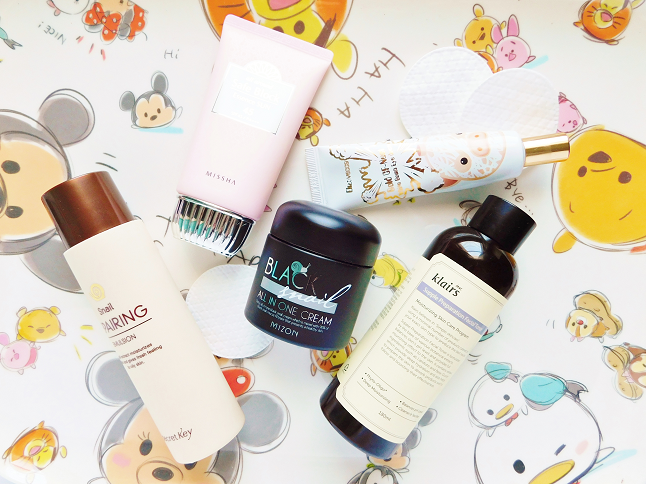 Related Posts