If you saw
my Christmas haul
you saw that I bought the Too Faced White Chocolate Chip Palette as a Christmas gift to myself. When pictures of the mini chocolate palettes first surfaced I made sure to keep my eye on them because they looked too cute to pass up! I bought the
Matte Chocolate Chip Palette
for my younger sister and the White Chocolate Chip Palette for myself because I preferred the shadows on the White Chocolate Palette. This is my fifth palette from Too Faced and certainly not my last! I've been using this palette ever since I opened it so today I will be sharing my thoughts and pictures of the palette.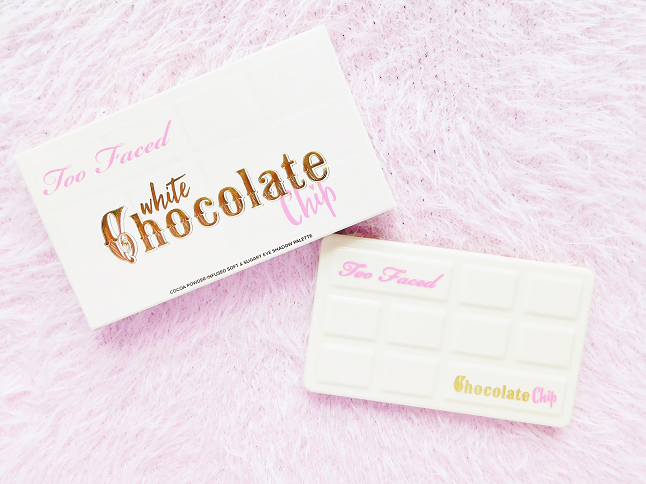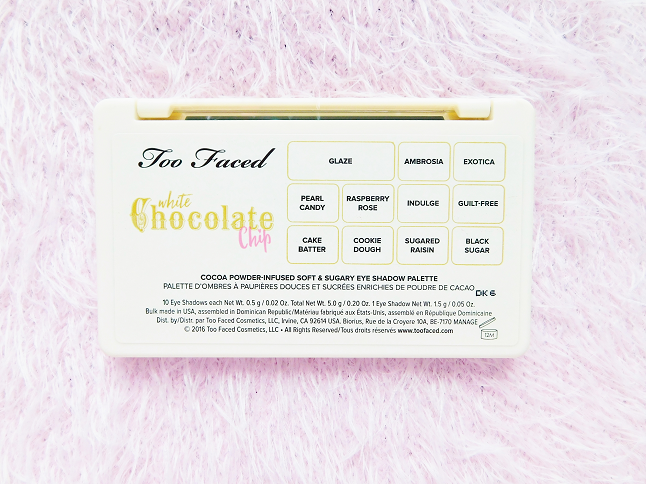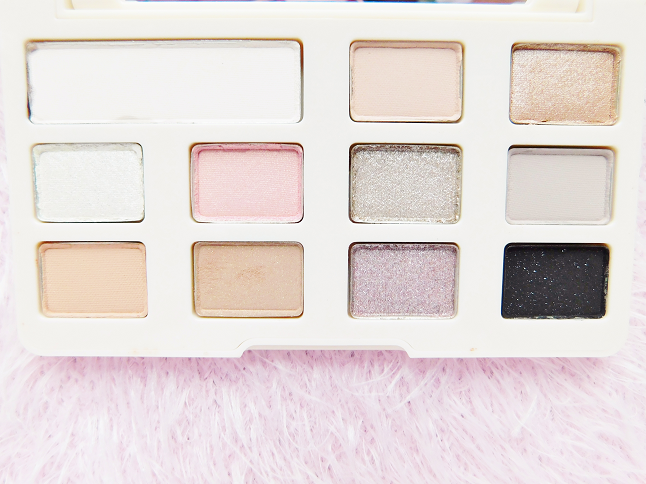 Description
"White chocolate dreams come true with a confection of powdered sugar pastels, creamy nudes and a pop of black sugar to keep things sexy. Chocolate Chip White Chocolate features 11 antioxidant-rich cocoa powder infused shades and our signature chocolate scent. The bite-sized palette is the perfect travel companion that allows you to indulge your beauty craving anywhere you go. "
Pros
– Wearable eye shadows shades
– Various shade finishes
– Comes with names of colors
– Smells amazing
– Travel-friendly
– Nice mirror
– Affordable
– Cute Packaging
Cons
None
My Experience
I love how they made a portable version of the Chocolate Palettes. The Chocolate Bar Palette is one of my favorite makeup products but it's not as travel-friendly as the Chocolate Chip Palettes are. Whenever I'm running late but still want my eyelids to have some color I throw this in my bag and run out the door. The mirror is a decent size as well! The mirrors in the other chocolate palettes aren't as big as this one making touch-ups easier.
The palette contains 11 gorgeous shades with different finishes; 4 mattes, 1 frost, 3 metallic and 3 shimmery/sparkly eye shadows. My most worn colors are Cookie Dough, Indulge, Exotica, and Pearl Candy, which I use to highlight my inner corners.
My Rating
♥♥♥♥♥ out of ♥♥♥♥♥
You can purchase the Too Faced White Chocolate Chip Palette here