2016 was a huge year of beauty, I discovered tons of new products that I now use on a daily basis. Today I'm showing you my favorite beauty products from 2016. The products that stood out for me the most. I won't explain each item too much because this post is already going to be lengthy so if you are interested in any of these products check out the provided reviews I mention for a more in-depth review on each product.
Cosrx One Step Pimple Clear Pad
These pads have to be my number one favorite beauty item I used in 2016. I have bought 3 tubs and will continue to buy them because they're amazing! You can read my review on this wonderful product
here
.
Innisfree It's Real Squeeze Mask
I used dozens of Innisfree sheet masks in 2016 and they have quickly become my favorite sheet mask. These masks aren't as highly scented as other masks, they're moisturizing and they're affordable!
Too Cool For School Pumpkin Sleeping Pack
Whenever my face needs a bit of extra hydration I would slather this sleeping pack on. Full review
here
.
Cosrx Low pH Good Morning Gel Cleanser
Finding a cleanser that works for my skin is a troublesome task. But this cleanser somehow didn't make me break out or dry out my skin like other foam cleaners. So for that reason, this product made it onto my 2016 favorites.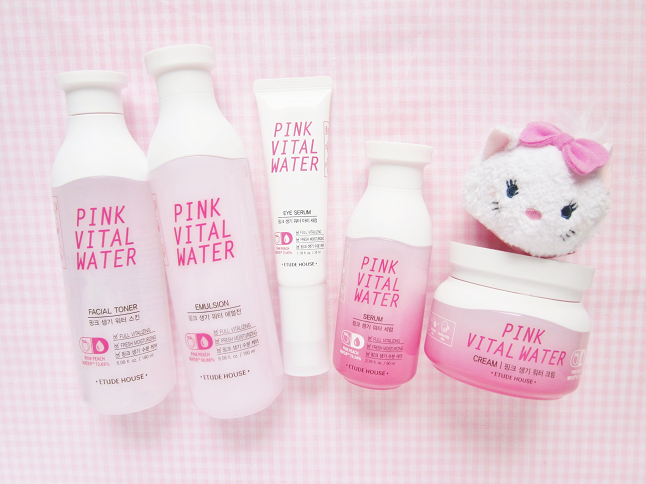 Etude House Pink Vital Water Emulsion
I used this emulsion for about 70% of 2016. It's an amazing skincare product that lasted me a long time! It's moisturizing, hydrating and smells amazing! You can read my review on the whole Pink Vital Water collection
here
.
ColourPop Paisley Eye Shadow
When I first bought this eye shadow I was disappointed because it wasn't as pigmented as I hoped. However, I later found another use for it and now love it! It's a pure glitter shadow that looks lovelily layered over other eye shadows.
Etude House My Beauty Tool Secret Brush 121
The Etude House secret brush is one of my favorite tools that I found last year. I used it to blend in my concealer before I applied my cushion foundation. It's kind of weird the first time you use it because it feels like you're brushing your face with a toothbrush but it feels so nice on your skin and it does its job at blending everything together!
Holika Holika X Gudetama Face 2 Change Photo Ready Cushion
This was my go-to cushion in 2016! I used it pretty much every day. I only bought it for the cute Gudetama cushion case but it's actually a pretty darn good cushion. Full review
here
.
The Saem Cover Perfection Ideal Concealer Duo
To cover my gigantic dark circles I used this concealer duo from The Saem. It comes with two types of concealer, a lipstick and a tip concealer. The concealers hide any imperfections that I'm afraid to show during the day and last for a fair amount of hours.
Real Techniques Miracle Complexion Sponge
When I first bought this sponge I used it mainly to blend in my foundations. However, I found this bad at applying foundation because the dampness found to remove the makeup from my face so I stopped using it. Now I use this to apply on contour and highlighter and it's amazing at that! I also think that using this dry is better than using it damp.
Physicians Formula Mineral Wear Cushion Foundation
This was my favorite western cushion from 2016. I wrote a whole review on this cushion
here
. I can't wait to try out all the new cushions that will be released in 2017!
Too Faced Peanut Butter And Jelly Eye Shadow Palette
Even though I didn't use this palette as much as I wanted to it's definitely one of my favorite purchases of 2016! I know I got a lot of Too Faced palettes for Christmas but I'm going to try to use this palette as much as I can this year.
ColourPop Times Square Ultra Matte Lip and Calypso Ultra Satin Lip
I bought lots of ColourPop lippies in 2016 but my two most used were Times Square and Calypso. Both are comfortable daily colors to wear on a daily basis.
NYX Lip Lingerie in Satin Ribbon
Before I discovered the ColourPop lips I was obsessed with the NYX Lip Lingeries! I love the color range of NYX Lip Lingerires, they're pale to nude shades. I do wish they would release pinker shades, hopefully in the future. You can read the review on the NYX Lip Lingeries
here
.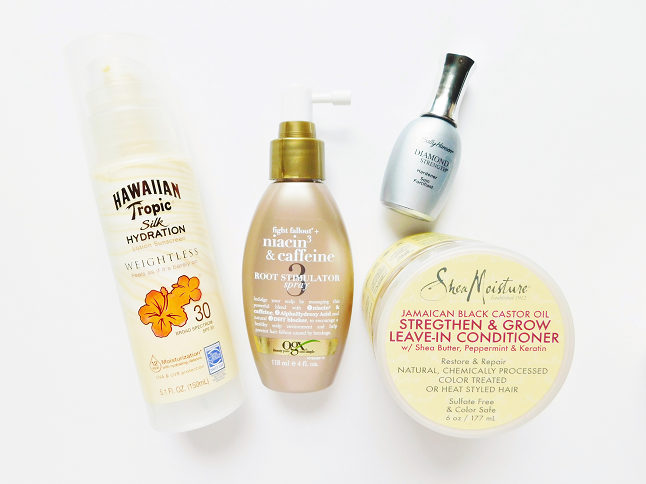 Hawaiian Tropic Silk Hydration Weightless Sunscreen
Finding a body sunscreen that doesn't feel thick or isn't heavily scented can be tricky. Thankful the weightless sunscreen isn't either one of those things! You can read my full review of this product
here
. However, this might be my last time using this sunscreen because I'm pretty sure Hawaiian Tropic tests on animals. So now I have to search for another sun lotion that is just as amazing as this one.
OGX Fight Fallout Niacin + Caffeine Root Stimulator Spray
This spray has really helped grow out my hair. I've mentioned before that my hair falls out quite easily but when I use this root spray everyday I notice my hair doesn't fall off as much around the root section and helps regrow on my scalp.
Sally Hansen Diamond Strength Instant Nail Hardener
Ever since I started using this base coat my nails haven't broken as much as they use to. This polish strengthens and made my nails stronger! However, I won't be buying another bottle because unfortunately, Sally Hansen isn't cruelty-free. If any of you have any recommendations from a brand that doesn't test on animals let me know.
Shea Moisture Jamaican Black Castor Oil Strengthen + Grow Leave-In Conditioner
Last but not least is this leave-in conditioner by Shea Moisture. This is a fantastic leave-in conditioner for those with curly hair because it nourishes the curls without giving that plastic feeling. This also is great for those who want to grow stronger thicker hair, the scent is also amazing!
What are your favorite beauty products you discovered in 2016?