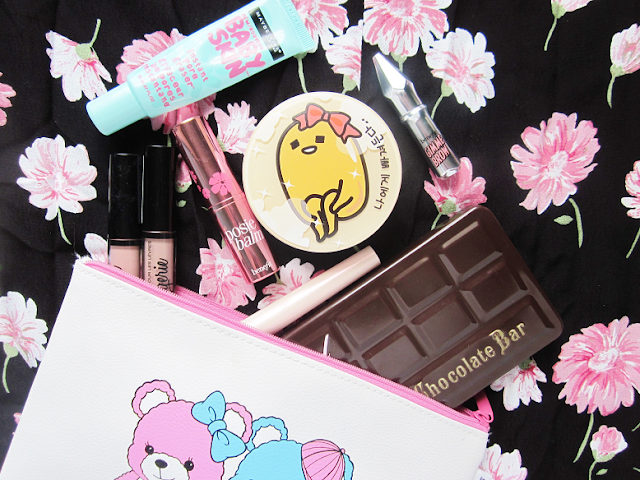 Last week, I showed what I carry in my purse so today I am going to unveil what I kept in my makeup pouch while I was in Mexico. Compared to
last year's summer makeup bag post
I carried way more beauty items this time. I did stay in Mexico for 3 weeks though so I felt like I needed more options. Thankfully I did use most of the makeup that was in my bag so I was satisfied, I used at least 85%. What's in my makeup pouch? Let's find out!
Let's begin with the face, I brought the Maybelline Baby Skin Instant Pore Eraser Primer (which I didn't end up using at all, I used my face sunscreen as a primer instead). For concealer I used the NYX Concealer every day, the name came off! As for foundation, I brought two cushions, my favorite Lalavesi Akma Cushion and the new Holika Holika x Gudetama Cushion. To blend in concealer I used the Etude House Secret Brush 121 Skin it's my new favorite brush!
Here is the eye makeup. I used the Etude House Proof 10 Eye Primer to prep my eyes. I ended up not using the Too Faced Chocolate Bar Palette as much as I wanted to. I pretty much used the Etude House Bling Bling Eye stick on days when I wanted to wear eye shadow but was too lazy to take out my makeup brushes. For brows, I either used the It's Skin Babyface Natural Eyebrow or the Benefit Gimme Brow Eyebrow Gel, I went back-and-forth depending on my mood. My most worn products were my favorite Tony Moly Backstage Gel Liner, Etude House Tear Drop Liner, and the L'oreal Telescopic Mascara. Not impressed with it tbh but it was the only mascara that I brought.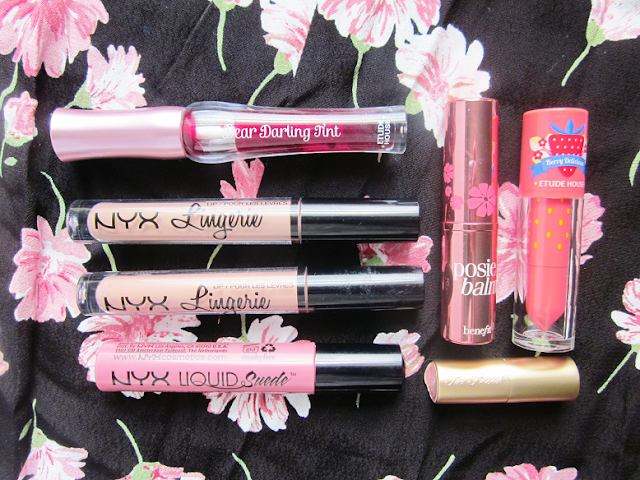 And finally, here are all the lippies that I carried. I know soooo many lip products! However, I did end up using each lip product at least once. My most worn lip gloss was the NYX Lip Lingerie in Satin Ribbon but the Too Faced La Creme in Naked Dolly was a close second! I need to buy the full-size soon! The two that I wore the least were the Etude House Dear Darling Tint and Benefit Posie Balm.
Do you carry a lot of makeup when you travel?