In honor of today's release of the new Animal Crossing Happy Home Designer game. I wanted to make a special Animal Crossing-themed DIY. The original project I had planned didn't turn out the way I wanted to so I scraped the idea. I couldn't come up with another idea so I used the PSL sweater coffee cozy pattern to create the famous red blazer you get to wear in the game. I did make some slight changes to the pattern but nothing too dramatic.

In Animal Crossing Happy Home Design you work for Nook as part of Nook's Home. You work alongside Lyle, Digby, and Lottie, the newest addition to the Animal Crossing family! In the game, you are an interior decorator who decorates Animal Crossing villager's homes. I drew inspiration from the red blazer that you wear in the game (you must wear this blazer at all working hours). I think this is a really cute crochet project that you can make for yourself (or a friend) and give them as a gift.

If you crochet this project, you can post it on Ravelry or tag me @mooeyscrochet so that I can see your creation. If you want to learn how to crochet, watch my crochet how-to video here. If you would like to support me for making this crochet pattern available for free, you can buy me a Ko-fi. Check out all of my free crochet patterns here and my shop to see my original crocheted items.

*DISCLAIMER: Links included in this post might be affiliate links. If you make a purchase with the links I provide, I may receive a small commission at no additional charge to you.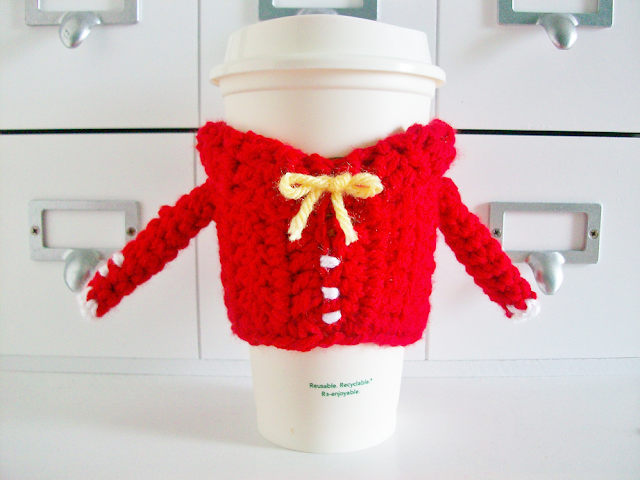 Supplies
– H/5.00 mm crochet hook (my favorite hook)
– Red worsted weight yarn
– Scrap of white worsted weight yarn
– Scrap of yellow worsted weight yarn
– Slanted tapestry needle (I use these)
– Glue (this is my favorite no-sew glue)
– Scissors
– Mini white buttons (optional)

Aberrations
ch(s) – chains
st(s) – stitch(es)
slst – slip stitch (same as join)sc – single crochet
hdc – half double crochet
dc – double crochet
flo – front loop only
blo – back loop only
cc – color change
dec – decrease (same as sc2tog) (single two st together)
inc – increase (make 2sc in a single st)
(x_) – repeat (_) amount of times
[x_] – repeat everything inside the [_] times amount of times

Crochet Level
Beginner

Pattern Notes
The pattern is written in US terms
This pattern uses a magic circle. Magic circle instructions here.
If you have any problems with this pattern feel free to contact me so that I can make corrections to the pattern.
Sweater Cozy
With hook and red yarn 
Row 1: ch 13 sts. Total = 12 sts
Rows 2-19: ch 1, dc 12 sts. Total = 12 sts
Cut off and weave ends

Collar
To create the blazer collar. You are going to want to fold the top part of your cozy into a slant. Create a slant at each end, making sure the middle is a slight line, and carefully sew into place. You may use pins to keep the piece from moving.

Now, sew the sides together with a needle. Form a tube shape (this is where your coffee cup will Sew the first and last row together with a tapestry needle. This will form a tube that will make the coffee cozy sleeve.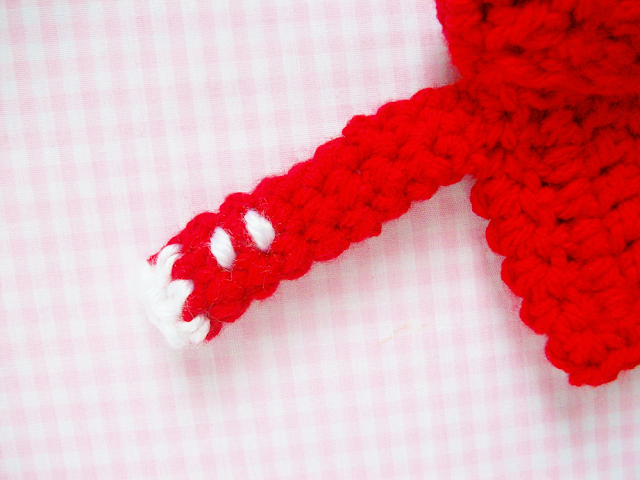 Sleeves (make 2)
With hook and red yarn
Round 1: magic circle, 6 sts. Total = 6 sts
Rounds 2-10: sc 6 sts. Total = 6 sts
Cc to white yarn
Round 11: sc 6 sts. Total = 6 sts
Cut off and weave ends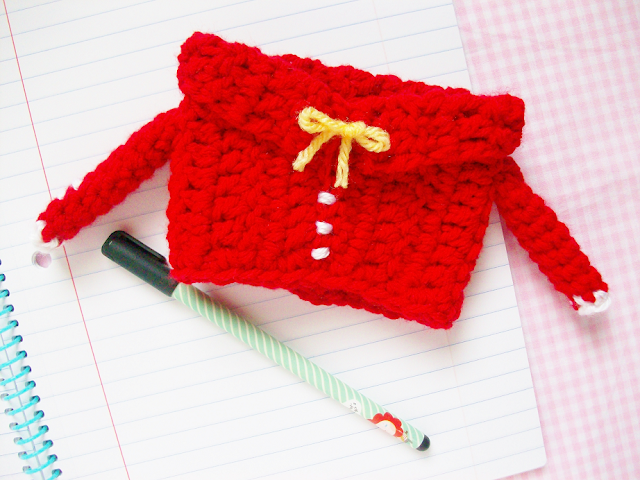 Assembly
For the sleeves, weave the long piece of yarn all the way to the top where you began (the rounded part). Sew one sleeve onto the part of the sweater directly one stitch under the sweater collar. Make sure no stitches are visible. Repeat on the other side with the second sleeve.

Using a scrap of yellow yarn, create a bow. I simply inserted my crochet hook in the cozy (in between where the two collars meet) and weaved through the yarn. I then tied the loose ends to create a bow.

The blazer that the characters wear in the game has a total of seven buttons, three in the middle and two on each sleeve. I didn't have any tiny white buttons so I just used white yarn and weaved them through. If you have mini white buttons you can skip this step and just sew the buttons on.

Are you excited to play Animal Crossing Happy Home Designer?