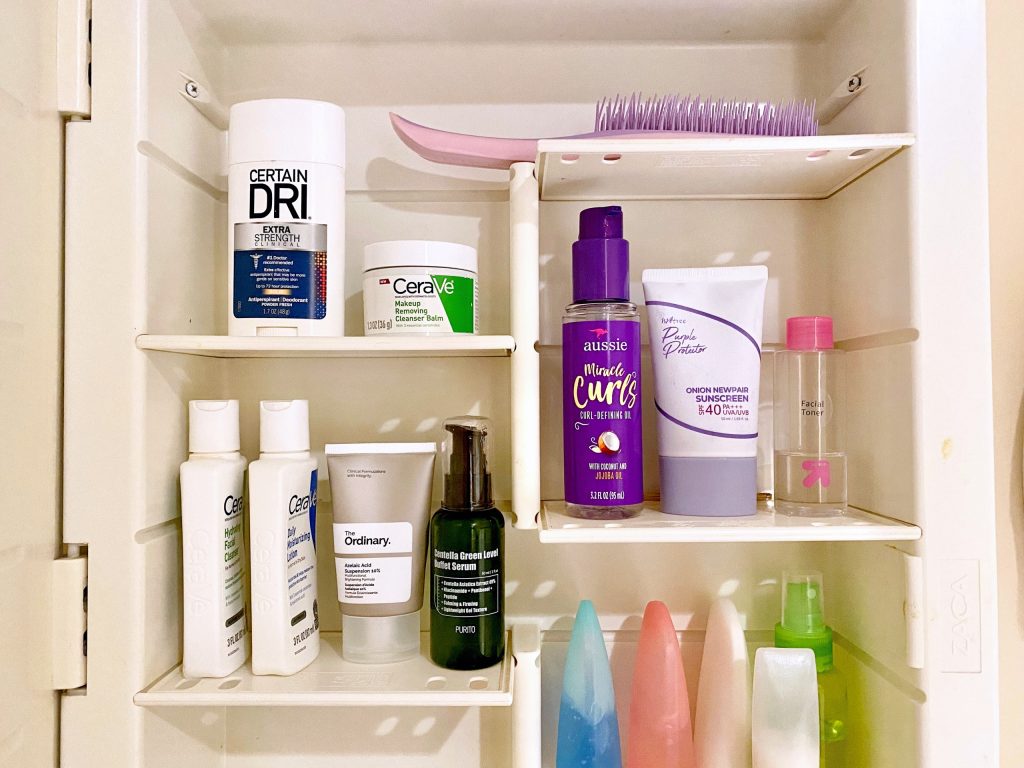 A couple of weeks when I was in California, in the Airbnb I stayed at they had a medicine cabinet over the sink! I absolutely adore bathroom cabinets because they're so convenient and serve a purpose. Because I have so many beauty products, I keep most of my beauty items in my bedroom in an apothecary drawer and storage containers on the side. I would love a bathroom cabinet whenever I move to my own place because they're the perfect place to keep your beauty products since a mirror is right in front of you and it makes getting ready so easy!

Anyways, I took this opportunity to take pictures so I could share with you all what beauty products I travel with. I published a similar post a few years ago when I went to Orlando which you can read here. I know this may seem like a lot to travel with but my skincare and haircare are very important to me! I actually wanted to carry more but I contained myself. haha
DISCLAIMER: Links included in this post might be affiliate links. If you make a purchase with the links I provide, I may receive a small commission at no additional charge to you.

For cleansing, I used a travel-size bottle of the CeraVe Hydrating Facial Cleanser which is one of my favorite cleansers. I was using this one before switching to my current cleanser but I will probably return to this cleanser in the future .

For moisturizing, I used another CeraVe travel-size bottle of the Daily Moisturizing Lotion which has been my go-to moisturer for years! It's a lightweight lotion (you can use this on your body as well) but it's moisturizing enough to hydrate your skin and it's a great moisturizer to use if you layer on other skincare products.

As a treatment, I'm currently using The Ordinary's Azelaic Acid 10% Suspension that I've been using to treat my rosacea. I used this both in the morning and evening when I was in California and it definitely helped improve my rosacea!

The serum I 'm currently using is the PURITO Centella Green Level Buffet Serum. I love this serum and have used it in the past a few times and now that I've used it again I can see it being a skincare staple that I will continue to repurchase.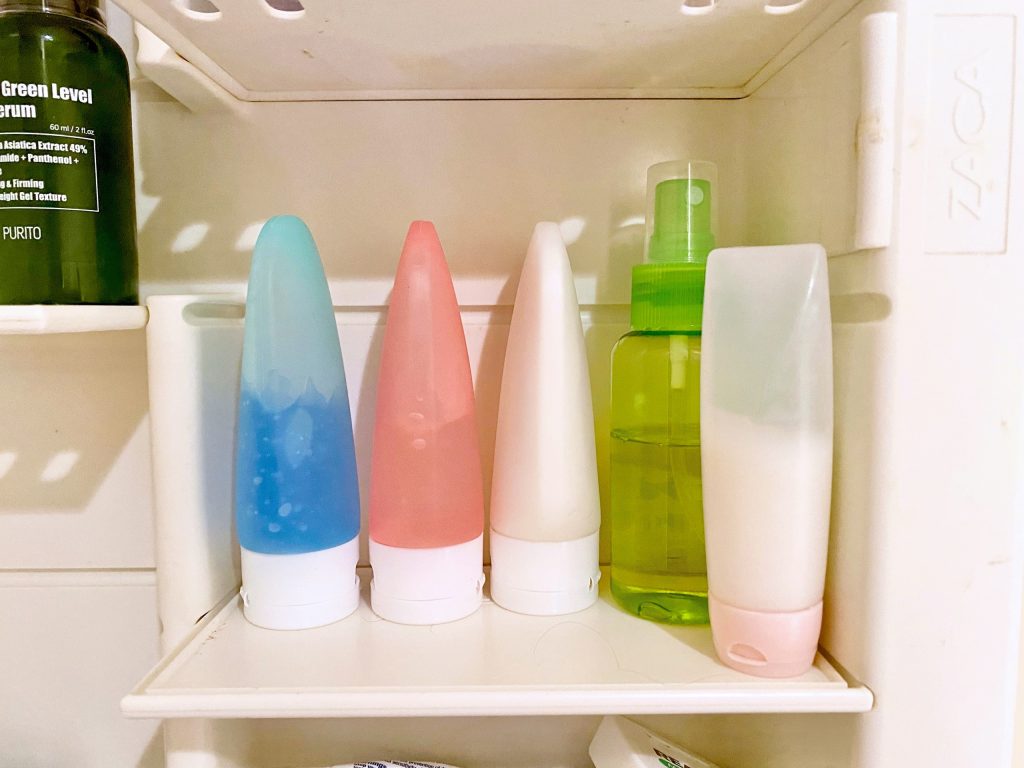 For haircare, I bought this TSA-approved travel set so I could decant my haircare products into smaller bottles so I didn't have to lung around my huge hair styling bottles and tubes everywhere, even if I did bring them TSA would probably confiscate them for containing too much liquid and whatnot.

As insane as it sounds, I brought two hair gels! Why? Because I wanted to come prepared! The LA Looks Extreme Sport Hair Gel is a hard hold that makes my curls stay intact the longest I didn't know how often I was going to wash my hair so I thought it would be nice to bring this gel so that my curls would hold up despite whatever happened. I also brought the Garnier Fructis Curl Scrunch Controlling Gel which provides a softer defined curl. I used this on refresh days when I wanted more definition in my curls.

To protect my hair from heat I brought the Cantu Thermal Shield Heat Protectant. I've been using this for almost a year and I only have about 10-15% left in the bottle so if you know of a good heat protectant let me know.

On the far right, inside the pink travel squeeze bottle, I have some of the Heritage Ahead of the Curl! Curl Creme. I previously used both a leave-in conditioner and curl cream but I recently stopped applying both to my hair because I felt that I was adding too much moisture to my hair so now I only use either a leave-in or a curl cream. Since doing this I've noticed my hair looks a lot more bouncy and my curls are more defined. I started using the Heritage curl cream last year and I really do enjoy it but I currently have three other curl creams and two leave-in conditioners that I'm making my way through so I'm kind of glad to see this go but I would recommend this product! It's lightweight yet moisturizing, contains protein, and my curls always look amazing afterward!

The only product in this picture that isn't haircare-related is the white middle squeeze tube which was my body lotion that I was currently using. I was using the Gold Bond Age Renew Retinol Overnight Body & Face Lotion which I loved! However, I wouldn't recommend putting this in a travel-size bottle because it's thick and it was difficult to get the lotion out of the tube. Also, this small bottle only lasted me 3 days before I ran out of this lotion.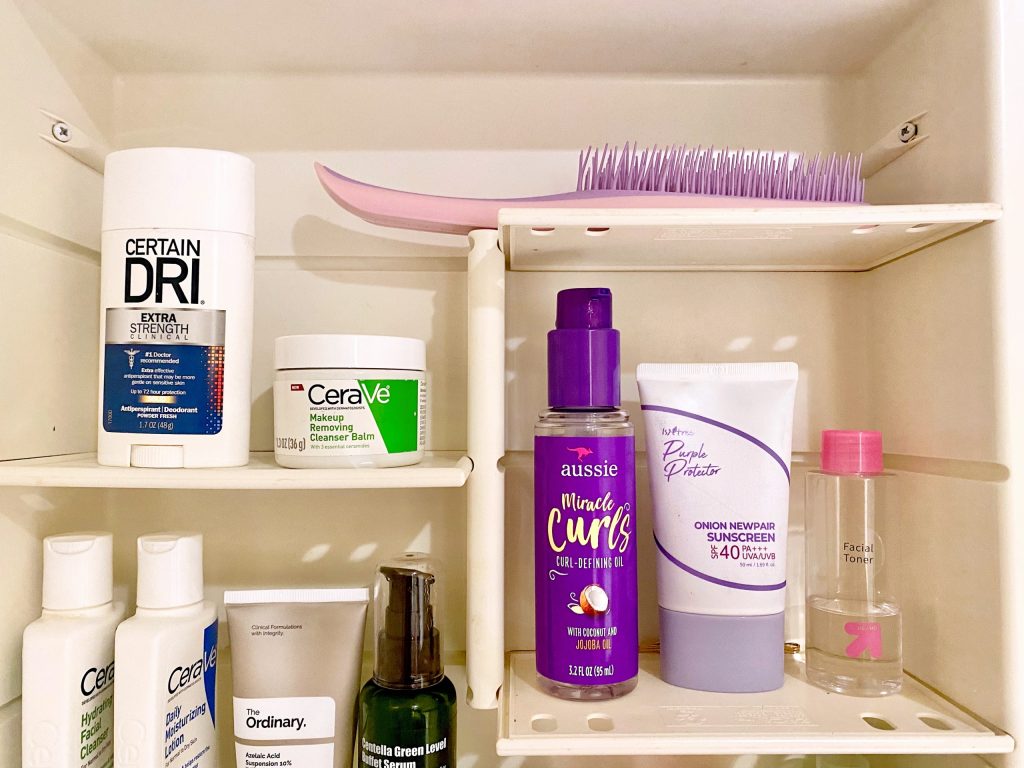 On the top shelf, I have a mismatch of products so I'll start from the top and then go from left to right. On the very top shelf, I have my trusty Tangle Teezer Brush which I use every time I wash my hair.

On the second shelf to the left, I have the Certain Dri Extra Strength Clinical Antiperspirant which I adore! If you sweat a lot, try this! I've tried a lot of the Certain Dri Antiperspirant deodorants and this one and the Everyday Strength Clinical Antiperspirant are my favorites because they worked well for me, until they stopped working for me, make sure to change your deodorants every few months! The Certain Dri Prescription Strength Clinical Antiperspirant Roll-On was the only one that didn't work for me because it broke me out, probably because the formula was too strong for me. I sweat a lot but maybe it's not as bad as I thought. haha

To remove my makeup I bought the CeraVe Cleansing Balm which is a very convenient product. It took off all of my makeup in one go! I would recommend this!

On the right, I have the bottle of the Aussie Miracle Curls Curl-Defining Oil. I only had a teeny amount of this oil left so I brought the whole bottle knowing that I'd probably use up the entire bottle whilst in California (spoiler, I did!). I'm still in search of the perfect curl scrunching oil/serum so if you have a recommendation let me know. I'm currently using this one and I'm not a fan.

For sunscreen, I brought the ISNTREE ONION NEWPAIR SUNSCREEN. I've been using this for a few months now and I really love this face sunscreen. To protect my body I also brought the Eucerin Daily Hydration Broad Spectrum SPF 30 Sunscreen Body Cream (not shown) in a travel-size bottle. This sunscreen is great because it's perfect for daily wear, moisturizing, and doesn't leave a white cast, it's also affordable and you get a decent amount. I've even used this on my face and it works well on your face though it does leave you looking greasy. It also has a strong sunscreen scent so if you're not a fan of that then you may want to skip this.

Lastly, on the far right, I have a travel-size bottle filled with the CeraVe Hydrating Toner. I don't use this as much as I probably should but on this trip, I used this every day, morning and night! It's hydrating, moisturizing, and gentle on the skin.

Do you have a bathroom cabinet?