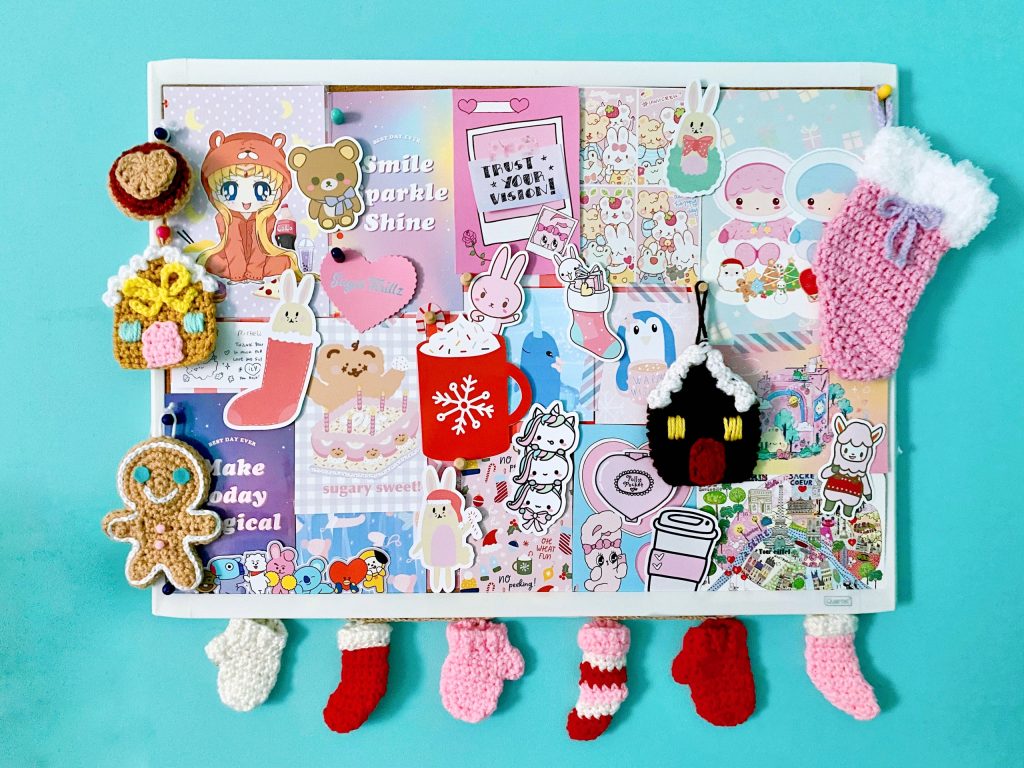 It's time for a wintery update from my bulletin board to you! Check out my winter mood board from last year and let me know which board you like more! I wasn't sure if I was going to share this mood board, as much as I enjoy making these I wonder if you all enjoy looking at them as much as I do. So, I ran a poll on my Instagram story and everyone voted YES which is how this post came to be! I was actually thinking of making a separate post where I share how you can make your own mood board, let me know if you would like to see a post like that.

I know I said in my spoopy mood board post that I would buy new artwork but due to me being a Grinch this holiday season I forgot. But, I'm going to make it my goal next year to buy new prints and decals from kawaii artists and illustrators. The thing is I have so many cute prints and I feel guilty not displaying them all which is why I hesitate to buy new stuff. I really need to find another way to display more of my prints in my room, if you have any ideas let me know.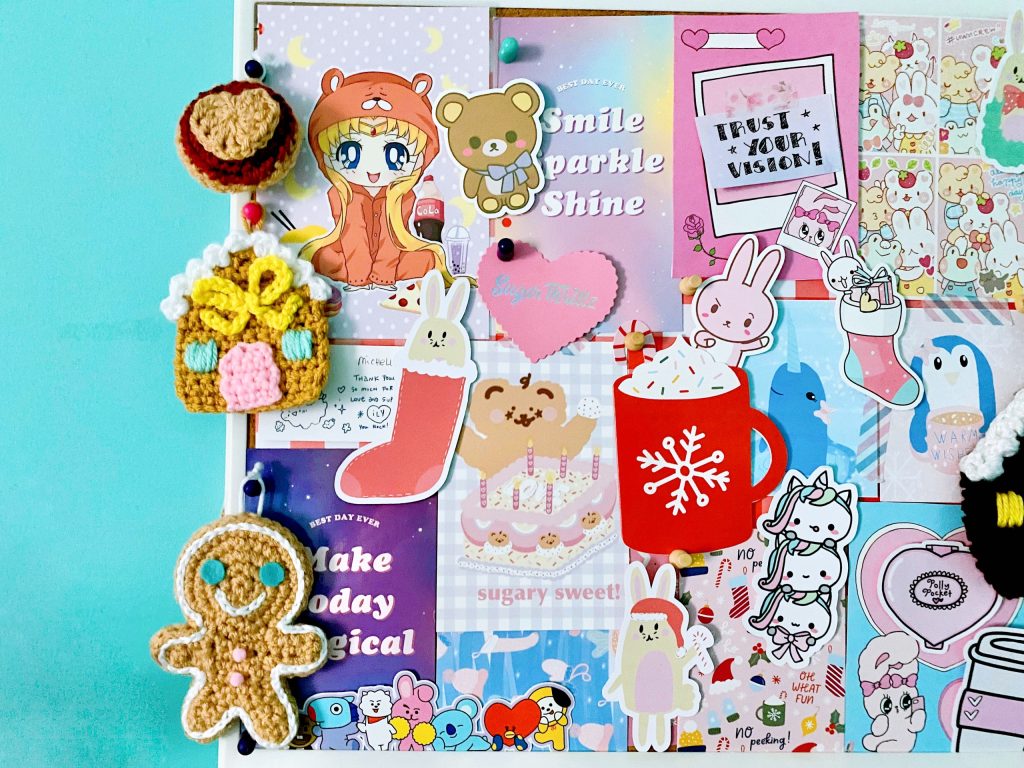 Theme: winter, Christmas magic, coziness, cold but soft animals, hot cocoa, hearts, gingerbread
Colors: pastel, shades of pink, rainbow, snowy whites, shades of blues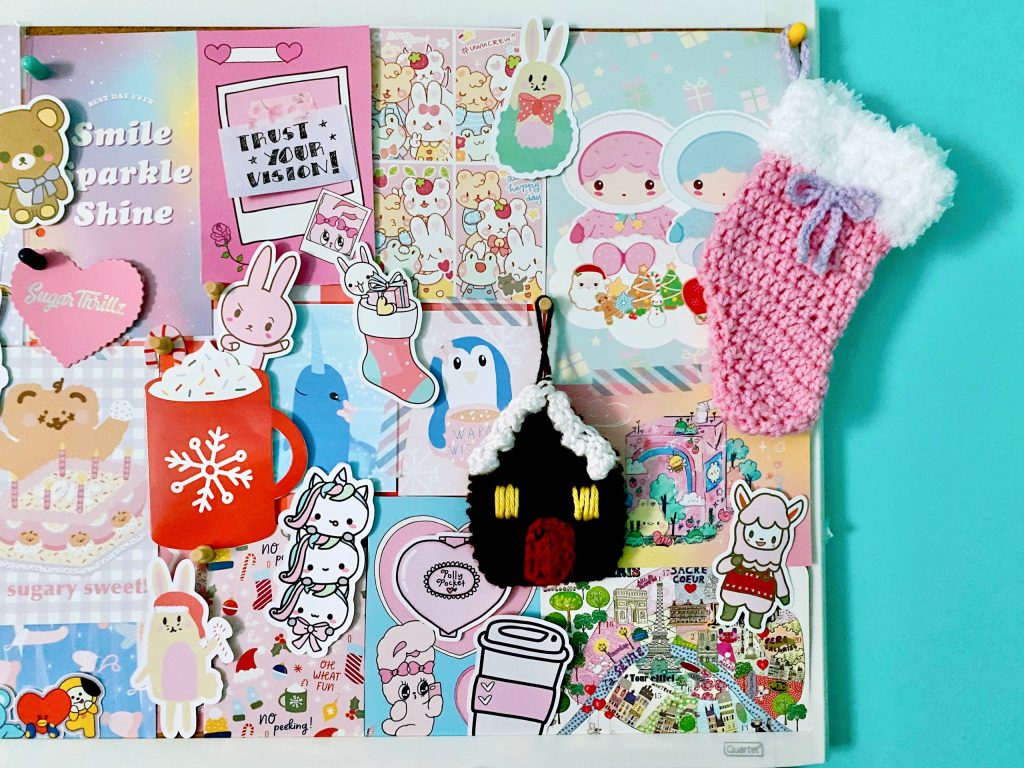 I used some journal covers that I don't use anymore as prints and tried my best to hide the holes. The cozy Usagi, twin star print, and most of the decals are from HelloPaperCat. The Christmas bunnies and mini pink/blue pints are from OhSoFawn. The cute photocard and juice box prints are by TinyPlant. The pastel bear cake print is from Jelly Love Club. Everything else is either cute packaging I saved such as postcards, tags, or journal covers. If you want to know where something is from let me know. I always want to credit the artists who create the cutest ish.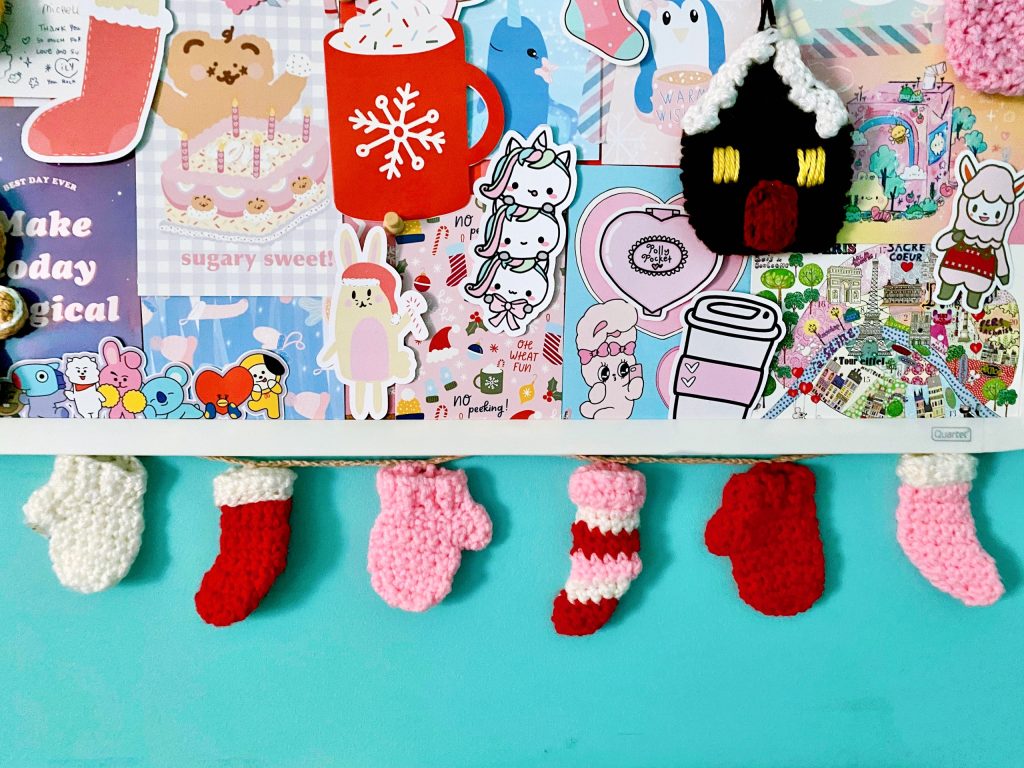 All of the holiday/Christmas crocheted things were made by me, besides the dark brown gingerbread house which was knitted by my older sister. The crocheted stocking, gingerbread, gingerbread house, and mincemeat tart ornaments are all part of my holiday 2022 collection. You can purchase them here. The sock and mitten crochet garland pattern is available here.

Do you decorate your space for winter/Christmas?