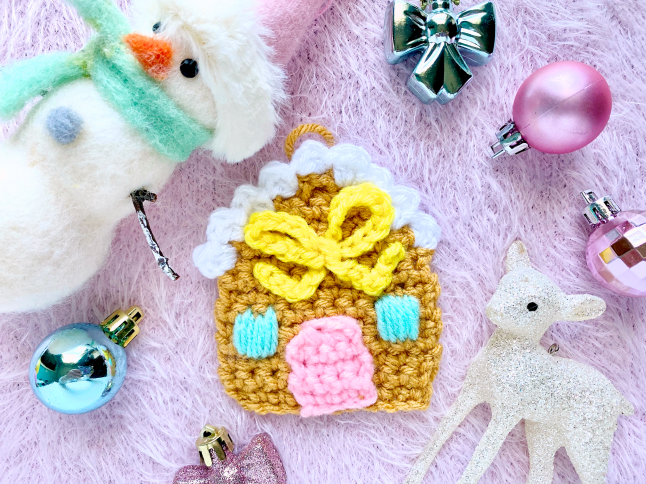 This ornament was inspired by a knitted Christmas tree ornament that my older sister made a couple of years ago (scroll down below to see what it looks like). I think she made it for some sort of advent calendar ornament thing. In the past, I would hang this gingerbread house on my bulletin board as a festive decoration. This year, I thought it would be cute to recreate the gingerbread house ornament and make a crochet version! I made a few changes and added a bow to the center of the gingerbread house. I'm very happy with how it came out and if I had a bigger tree maybe I would decorate my tree with them. haha

This project only took me about 30 minutes to make so it's a very quick pattern to crochet. It's a really easy crochet pattern, perfect for beginners. If you crochet this project, you can post it on Ravelry or tag me @mooeyscrochet so that I can see your creation. If you want to learn how to crochet, watch my crochet how-to video here.

If you would like to support me for making this crochet pattern available for free, you can buy me a Ko-fi. Check out all of my free crochet patterns here and my shop to see my original crocheted items.
*DISCLAIMER: Links included in this post might be affiliate links. If you make a purchase with the links I provide, I may receive a small commission at no additional charge to you.

Supplies
– H/5.00 mm crochet hook (my favorite hook)
– G/4.25 mm crochet hook
– White worsted weight yarn
– Brown worsted weight yarn
– Colorful worsted weight yarn
– Slanted tapestry needle (I use these)
– Glue (this is my favorite no-sew glue)
– Scissors

Aberrations
ch(s) – chains
st(s) – stitch(es)
slst – slip stitch (same as join)
sc – single crochet
hdc – half double crochet
dc – double crochet
flo – front loop only
blo – back loop only
cc – color change
dec – decrease (same as sc2tog) (single two st together)
inc – increase (make 2sc in a single st)
(x_) – repeat (_) amount of times
[x_] – repeat everything inside the [_] times amount of times

Crochet Level
Beginner

Pattern Notes
The pattern is written in US terms
This pattern uses a magic circle. Magic circle instructions here.
If you have any problems with this pattern feel free to contact me so that I can make corrections to the pattern.
Gingerbread house
With H hook and brown yarn
Row 1: ch 11 sts. Total = 10 sts
Rows 2-10: ch 1, sc 10 sts. Total = 10 sts
Row 11: ch 1, dec, sc 6 sts, dec. Total = 8 sts
Row 12: ch 1, dec, sc 4 sts, dec. Total = 6 sts
Row 13: ch 1, dec, sc 2 sts, dec. Total = 4 sts
Row 14: ch 1, 2 dec sts. Total = 2 sts
Row 15: ch 1, dec. Total = 1 sts
Cut off and weave ends

Icing
With H hook and white yarn. Insert your hook where the roof of the gingerbread house starts. slst, *2hdc in same st, slst in next spot, ch 1*
Repeat from * to * until you reach the opposite side of the house. I made 9 icing shells.

Door
With G hook and colored yarn
Row 1: ch 5 sts. Total = 5 sts
Rows 2-5: ch 1, sc 4 sts. Total = 4 sts
Row 6: ch 1, 2 dec sts. Total = 2 sts
Cut off and leave long yarn tail for sewing

Ribbon
With G hook and colored yarn
Row 1: ch 40 sts
Cut off and leave long yarn tail for sewing
Assembly
Sew the door to the gingerbread house. To make the windows, just use a tapestry needle and yarn and make long loop marks on the side of the door until you make a square, repeat on the other side. To make the ribbon, tie the long chain into a bow and sew the bottom of the ribbon to the house to stay secure. I didn't sew down the loops of the ribbon because I wanted the loops to stand out.

Have you decorated your Christmas tree yet?