Not too long ago I published a post on aromatherapy and how scents affect me, one of the tools that I recently started using was incense sticks. Incense is wonderful because helps relax your mind, eliminate bad odors, clear negative energy, calm your nerves, helps with meditation, is affordable, and a great ritual to add to your routine. I started burning incense sticks earlier this year and have been burning them regularly because I enjoy the smell and the process of burning incense, I sometimes use incense to quickly smoke cleanse to clear away negative energy. If you don't believe in that stuff, it's alright because incense still makes your space smell wonderful and relaxes you.

In terms of scents, I've always preferred sweet, floral, and fruity scents over earthy musky woodsy scents. I'm always looking for new incense scents to try so if you have any recommendations let me know. In this post, I'll be sharing my favorite incense along with the ones in my incense collection.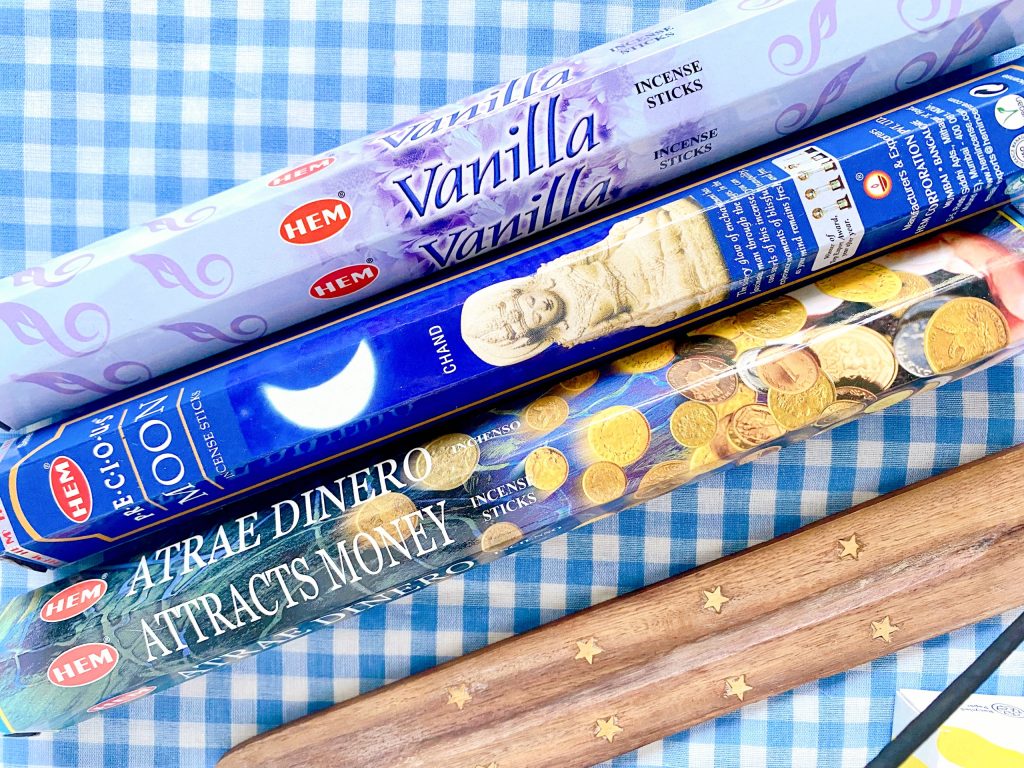 DISCLAIMER: Links included in this post might be affiliate links. If you make a purchase with the links I provide, I may receive a small commission at no additional charge to you.

Moon Incense
HEM's the Moon incense was one of the first incense scents that I burn and loved! This incense was the one that made me fall in love with incense. I bought this to burn along on Full Moon rituals but now I use it almost every other night! I like to burn it before a meditation session to help relax my nerves and set up a calm environment. The scent of this incense is described as musky and earthy with a little bit of tang and some sweet notes.

Vanilla Incense
When I saw that they had vanilla incense, I was super intrigued! I had never heard of sweet-scented incense and as someone who gravitates towards sweet scents, this incense was a game changer! It does actually smells like vanilla and makes my bedroom smell so sweet et relaxing. Even my younger sister, who doesn't like the smell of most incense told me she loves this scent! haha

Lavender Incense
Lavender is one of my favorite scents so of course, I have to include some lavender incense sticks in my collection. This incense is by the brand Satya Nag Champa. Whilst the stick burned well and the scent lasted a few hours, I found that this brand of incense cost a few more dollars and offers fewer sticks than other brands which is a downside for me. I just finished my last lavender stick so I'm on the search for a new box of lavender incense to try.

Attract Money Incense
Incense to attract money? Does it work? Well, I've had mixed results, do I 100% believe in it, no. But it doesn't hurt to see if t does and it actually smells really nice! Not sure, how to describe the scent, it has a citrusy energic scent that would make a great scent to burn in the daytime. I've heard and read articles that say positive scents can attract positive energy which is how this incense probably works.

This is also by HEM. I've found HEM to be my favorite incense brand, the sticks burn well and the scents are powerful and match the scent you smell in the box.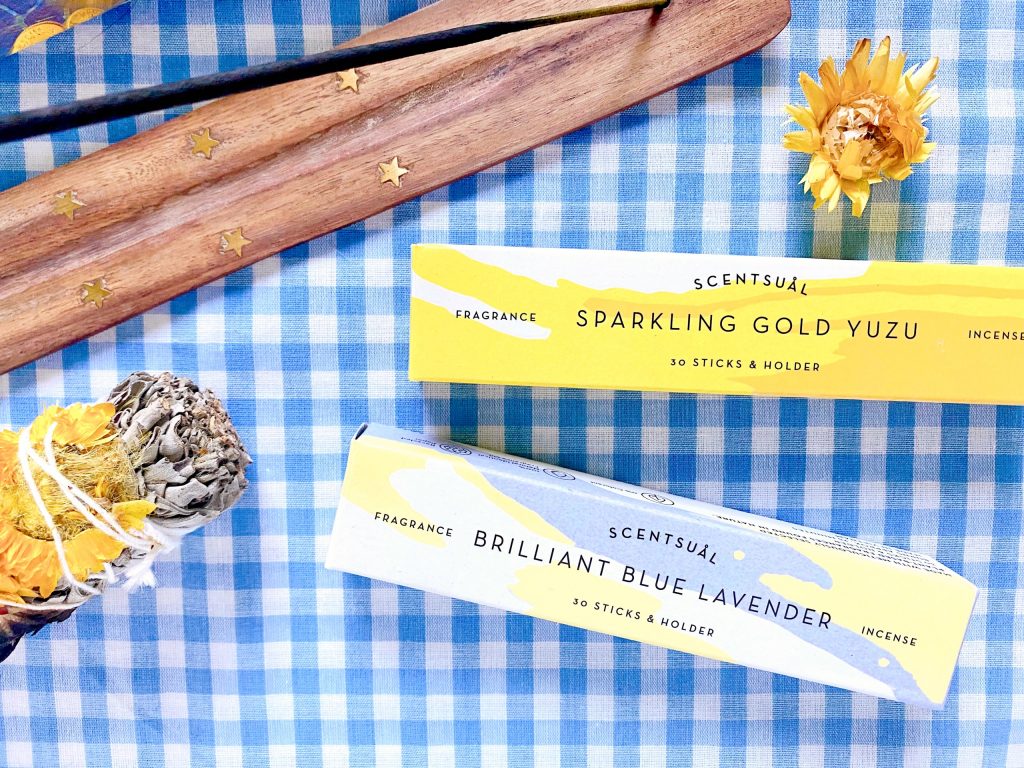 Brilliant Blue Lavender Incense
I bought this incense at Disney's Epcot at the Tokyo Pavillon shop. It was $6 for a box (they're double on Amazon) but it comes with 30 sticks and an incense holder, they're half the size of a full incense stick but they burn all the way down. With that said, the box smell doesn't transfer as well once it's burned.

Sparkling Gold Yuzu Incense
This is from the same brand as the blue lavender incense. Funny enough, the two incense smell pretty much the same on the outside but once burned the scent doesn't smell as nice. Both of these incense boxes were definitely impulse purchases from when I was in Disney but they're nice to have in my collection.

Do you burn incense?