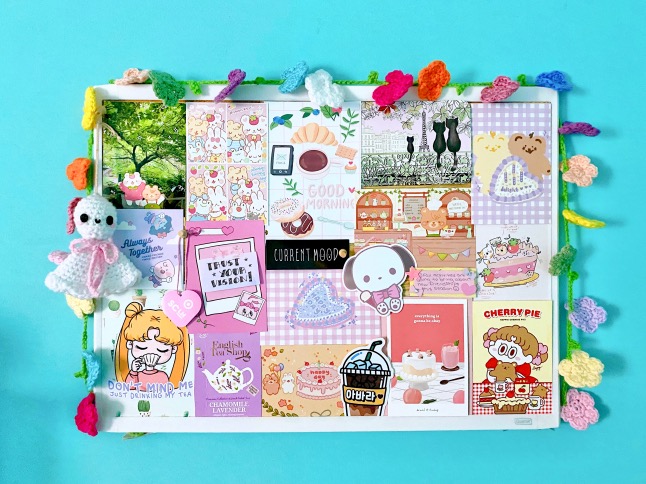 Spring is here and what better way to decorate for Spring than to rearrange my bulletin board! If you're new here, then you may not know but I love to decorate my bulletin board for every season with images, prints, art pieces, and other items to refresh my desk area. I normally don't have a theme for my boards but this time I wanted to center it around a bakery/garden, dessert, tea, coffee, cakes, etc. I used mixed pinks, peachy, lavender, and yellow as the main color scheme. I'm very happy with how the mood board came out in the end, it's probably my favorite combination I've made so far! Check out all of my past mood boards here.
I crocheted the flower garland because I had so many flowers leftover from this pattern so I decode to make a garland to add to the garden theme. For those wondering how I make everything stay together, I use washi tape! Before I used thumbtacks to pin everything but that would leave holes in some prints and sometimes they would stick out too much and I didn't want that so now I use washi tape instead and it works even better! I still use thumbtacks to display tags, keychains, and other bits and bobs. Yes, I used washi to make the garland stay in place as well.

Starting from the top, on the left, both art prints are by TinyPlant (4 prints on this board are by TinyPlant), the Always Together Kaoka Friends envelope is from a collaboration they did with TWICE that I got when I lived in South Korea, the Esther Bunny cutout is from a box of snacks I saved and I stuck that 'trust your vision' note in the center, I saved the pink heart tag from the Stoney Clover Lane X Target collaboration, the Sailor Moon tea print is by HelloPaperCat, and the English Tea Shop chamomile lavender tea is another cutout I decided to save. Does anybody else like to keep cute packaging? haha

The rain spirit plush is something I crocheted as a reward a few years ago back when I was on Patreon. You can now find me over at Ko-fi now! Should I make more rain spirits plushies?
In the center of the board, that good morning brunch print is by HelloPaperCat, a Current Mood clothing tag, the heart cake print is by JellyloveClub, the puppy die cut is also by HelloPaperCat, the happy day cake print is by TinyPlant and the iced coffee is a sticker from ArtBox Korea.
Lastly, on the right, the Paris cat postcard is from Paris, France at some random gift shop, the bear cake print is also by JellyLoveClub, the bear bakery is by TinyPlant, I can't remember who the artist for the cake print is I just remember they were on Instagram and are no longer on their so…, the pink glittery inspo tag that I always stick on my board because it's so pretty, the peach cake print in from theday.bom and the cherry pie print is by Standard Love Dance.

How often do you refresh your bulletin board?