As much as I would like to be a super tidy person, I just can't because I love creative messes! I think it adds personality to a room. One of my favorite places in my room is my desk because I think it really screams my personality. I've posted a few blog posts about my desk before but I don't think I ever published an entire desk tour which is why I'm going to talk about some of the interesting parts around my desk.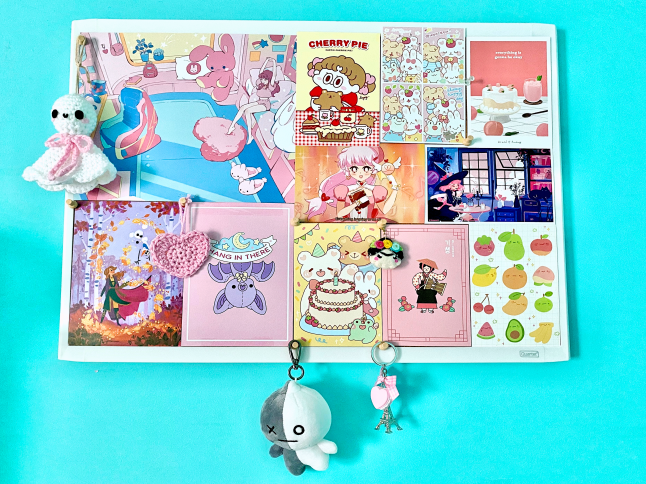 Postcard and Art Board
In the past, I used the bulletin board as a dream/mood board but I decided to turn it into an art wall for now because I want to display the prints from the illustrators that I follow.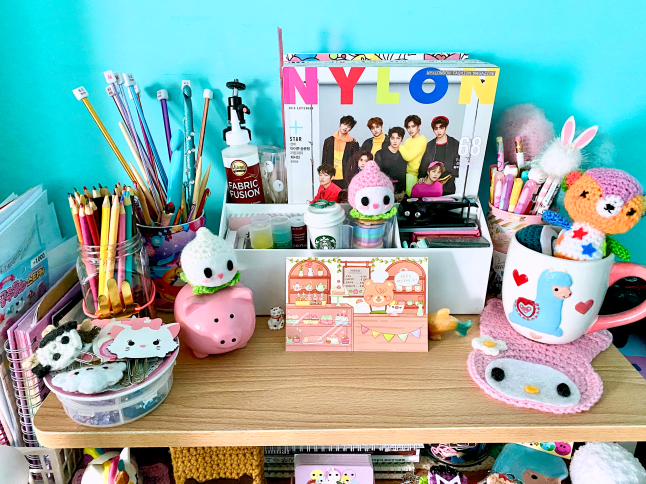 Top Tier
My desk is a super old cheap piece of plastic wood, nothing special. It has a top tier which you can use to store whatever. I keep an organizer and several containers that hold colored pencils, pens, and crochet hooks.
Notebooks
Under my desk is a sliding piece that is meant for keyboards or something but I use it to store my most used notebooks, sticky pads, eyeglasses case, pencil case, basically anything that I need within reach.

Piano Bench
I sit on that piano bench that is covered by a crocheted baby blanket (that I never finished) because I don't like the color of the piano seat.

3-Tier Rolling Cart
My rolling cart is on the right of my desk because that's the only place in my room where I can keep it and still be able to functionally use it. I keep all the stationery and video filming equipment in the cart. Check out this post to see more pictures of my 3-tier rolling cart.
Water Bottle
My main fuel force comes from water and coffee, sometimes tea. With water being the one that I drink more often. I don't drink soda and try to avoid drinks like juices or lemonades. It's a good habit that I'm really proud of.

Baymax Diffuser 
This diffuser was featured in this post last year. As cute as it is, it doesn't work anymore! So, now it just sits on my desk. haha

Gingham Paper
You're probably wondering what the red gingham under my desk if for, right? Well, that's where I fill my Youtube videos. I hate the wood on my desk because when I film videos it ends up looking really old and yellow so I mix between different types of fabric and paper so that my videos look more aesthetic. At the moment, I've been. using this gingham paper that I bought from Target for $3.
Crochet Friends
To cheer me up, I like to keep my crochet babies all over my room. Right now, my crochet Wooloo and Baby Yoda have been keeping me company. How many stuffies can you count on my desk? haha
K-pop Lightstick Keychains
I've been obsessed with making these K-pop keychains. You can order them here.

What's on your desk?