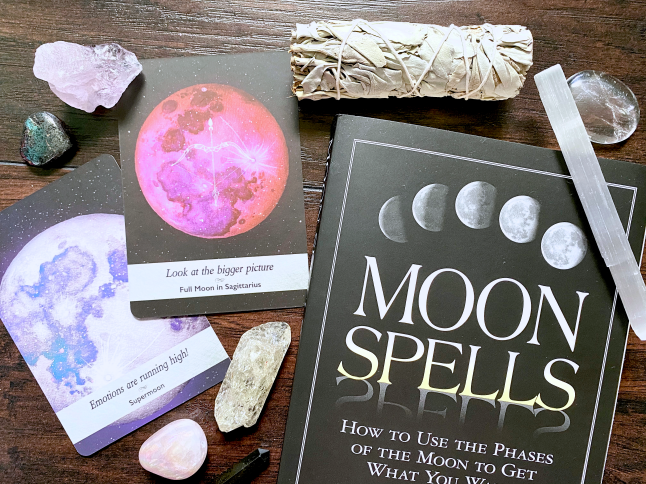 Welcome back to another Moon post. I've decided to post more Moon content because I've just been drawn to share more information about the Moon with you all. If you want to read more about the Full Moon check out this post where I explain the difference between the New Moon and Full Moon. Now that I think about it, I probably should post this specific post a few days in advance so that you can prepare before the Full Moon show but the Moon's energy is strong enough for 3 days (the day before, the day of the Full/New moon, and the day after) so you can still practice some of the activities I listed below.

For the Full Moon in Sagittarius go to your chart to check and see where Sagittarius is in your chart (if you have Sagittarius in your chart). If you have Sagittarius in your chart, check and see what house and planets (Sagittarius planet is Saturn) and how that affects you. Anytime there is a certain sign in a Full or New Moon check to see where that sign falls in your Astrologic shart to see how the moon will affect you during this moon phase.

Today, May 26th at 7:13 AM EST there will be a Full Moon in the sign of Sagittarius. This Full Moon is especially special because it's a Lunar Eclipse, Blood Moon, Flower Moon, and Super Moon.

What's the difference?
Blood moon – Any total lunar Eclipse is also called a Blood Moon. The name 'Blood Moon' is because the rays around the sun make the moon appear with a slight red tint.
Flower Moon – The Full Moon in May is always called the Flower Moon because of the spring season.
Super Moon –  Close to the earth more than any other time of the year meaning its power is more enhanced.

What to expect during this Full Moon?
– Heightened energy (especially emotional) so remember to show empathy and set boundaries
– A desire to learn (this is a very Sagittarius trait) something new
– Connect with people (safely)
– Listen to your intuition

Activities to do during this Full Moon
– Self-reflection. Reflect on what no longer serves you
– Do this Full Moon meditation
– Journal. Write down what you're worried about right now so a month from now (during the next Full Moon) you can reflect on what you were feeling a month ago
– Write down everything that no longer serves you and burn or rip the sheet of paper.
– Sage your space (I recommend this shop)
– Practice shadow work
–  Past life regression (there tons of meditations video on Youtube that can help you with this)
– Balance your chakras (especially the lower chakras)
– Work with a clear quartz crystal
– Work with Black Obsidian or any other dark-colored crystal
– Schedule a therapy session

Have you worked with the Full Moon?