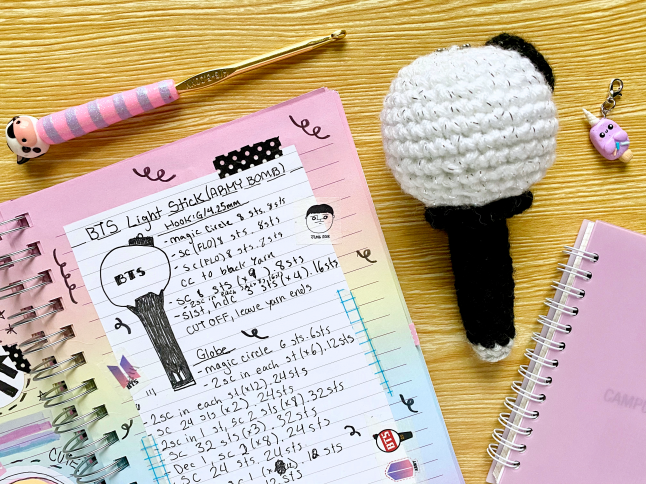 My favorite thing about crocheting is the ability to create anything you want. Crocheting is my like panting and my crochet hook is my paintbrush! I can literally create anything with just a skein of yarn and hook, and that to me is amazing! I've been crocheting for over 10 years now and I even have my own shop where I sell my original crochet designs.

After I published how to improve your crochet skills post I received a lot of requests to share how I write my own crochet patterns. I honestly, didn't know what to type for this post because I've been writing my own patterns for so long I thought it was self-explanatory but I tried to explain everything I do as best as I can. Hopefully, this post will help you if you're someone who is interested in writing your own crochet patterns. If any of you have specific questions let me know and I'll answer them.

If you would like to support me you can buy me a coffee over on my Ko-fi page. Want to learn how to crochet? Watch my how-to video here. If you decide to make this pattern post it on Ravelry or tag me @mooeyscrochet and @mooeyandfriends

First off, you need to be comfortable enough with your crochet skills. Do you know basic crochet terminology like the crochet abbreviations? Do you have a basic understanding of hook sizes and yarn types?  Do you know how to read other designers' crochet patterns? If not, then you might want to gain a bit of experience before you dive into creating your own patterns. Instead, invest in a couple of crochet books and see how they structure their crochet patterns.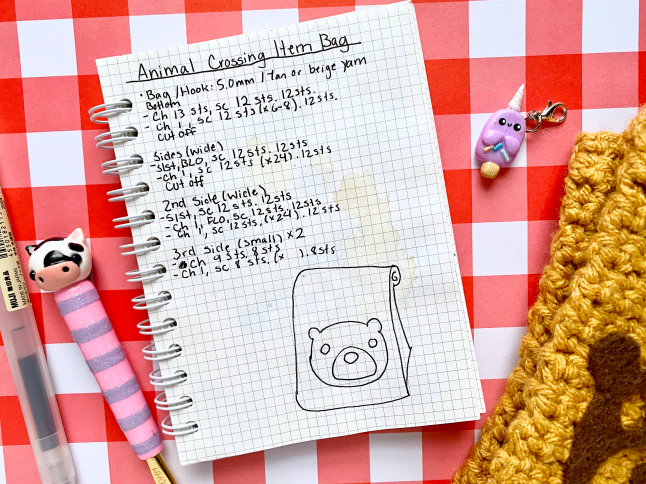 Idea
Usually, when I get an idea to crochet a project I will literally drop everything and write it down and make a rough sketch of whatever it is I want to make. I personally work best when an idea just comes to me. However, there have been times when I need to publish a crochet pattern and have no ideas. In that case, I will look at the current things I'm interested in like, what I'm watching, listening to, like on social media, etc. What I don't recommend is looking up other designers' crochet patterns because A. you could subconsciously copy their idea and B. you will compare your designs. Ideas come and go so write down as many when you're feeling inspired so that your future self can do all the work.

Sketch
Before I grab my hook and yarn, I grab a pencil and notebook to sketch out my idea. It doesn't have to be a pretty sketch, my drawings usually look like some sort of chicken scratch but sometimes I will be color it to see what yarn colors I want to use and how they look together.

Scale
If you want your project to be a certain size choose your crochet hook and yarn depending on the size of your project. You can do this by using a measuring tape and ruler. If you want to learn more about what hook size you should use with what yarn weight check out this post. The only time I do this is when I'm making amigurumi dolls and I want my dolls to be the same size.

Break it down
After you have your sketch, you're going to break down your sketch into basic shapes so that you know what shapes and special techniques you're going to need to crochet. Will you be working in rounds or lines? Now is the time to pick.

Write it down
The basic rule is to write down everything as you crochet. When I'm writing a pattern I make sure I write down everything whether I end up using it in the final pattern or not. I write down after every row/round I've crocheted so I get confused. There have been times when I didn't write down the number of stitches or rows I used and forgot everything I did! So, I highly recommend writing down everything as you go. Sometimes I will type my pattern on my laptop because I make a lot of mistakes and I don't like wasting paper. haha

Tip: I use a grid notebook because you can use the tiny grids to represent the stitches. You can use whatever notebook (or go digital if you prefer) you want but because I use my notebook a lot when I'm creating crochet patterns I do like to work with a specific notebook.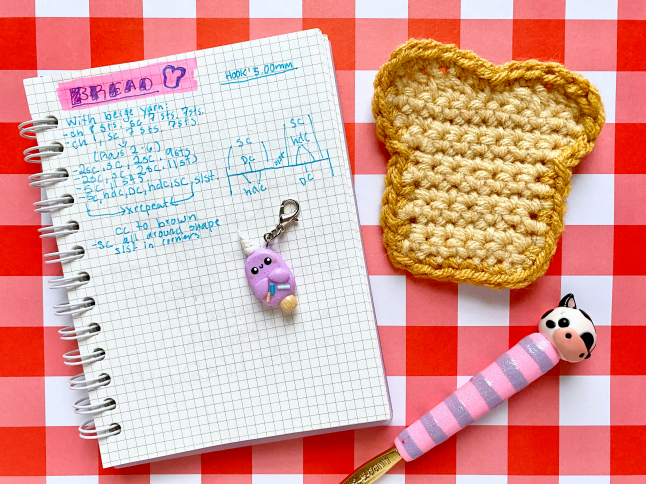 Making Mistakes
You will many mistakes and that's okay because this is literally how things are created. Not every idea that I had in mind come out exactly as I planned as soon as I grab my hook. There have been many times when I unravel my entire project and started from the beginning. That's the beauty of working with yarn, you can unravel your work if it's not what you envisioned.

Tip: If you're working in rounds I recommend using a stitch marker so you know how many rounds your project will use.

Finishing your pattern
Once you've finished your crochet project, look at your notes to make sure you've written everything down. Use a dark-colored pen to mark out anything that didn't work so you know not to use it in your final pattern. What I do is rewrite the entire crochet pattern on a separate page or notebook. If you plan on publishing this online. Make sure you list out all the supplies you used, all the crochet abbreviations used in the pattern, how difficult the pattern is, notes, tips, and anything else you think the crocheter needs to know.

Keep in mind, if you're going to publish on a website or sell the crochet pattern you might want to use common crochet terms from the Craft Yarn Council. If you're just write down a crochet pattern for your personal use then make sure that you can understand it. My personal crochet notebook is written entirely differently from the patterns I post on my blog. haha

Have you made your own crochet patterns?