I am really excited to share one of my many Halloween planners spreads that I plan to share with you guys this month. There is something about holiday-themed planner spreads that just excites me and gets me in a festive mood. I already planned out my spreads in advance because I got too excited! Haha
As you can see I am still using my mini MAMBI happy planner I do want a bigger size but I haven't seen the planner I wanted anywhere online or in stores so until it's available I will continue to use this planner or wait until next year to buy a new planner.

I used the pumpkin spice latte washi tape by Hoshi Island to line the top of my planner and a pumpkin washi tape from Michael's Craft Store to line the bottom of the spread. All the stickers are from Sprinkled Pug and most of the planner accessories are from HelloPaperCat.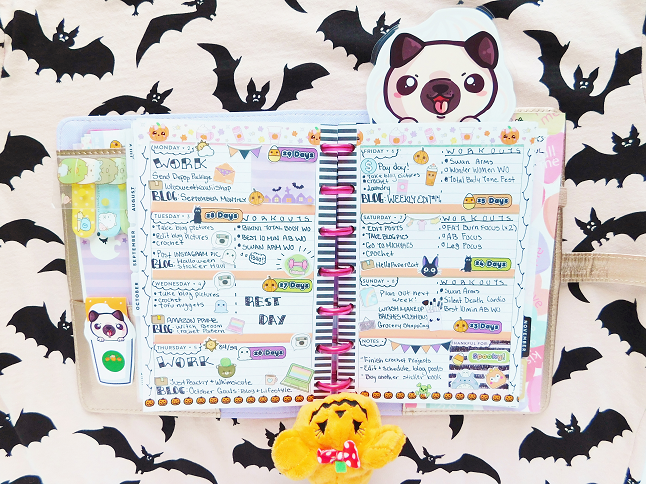 I divide some of my boxes in half to separate the days that I work out. Writing down and checking off my workouts really motivates me which is why I do it. Ironically this week wasn't the best week to track my workouts because I did miss some days.

The Halloween countdown stickers are all over the place because I received them last Saturday but still wanted to include them so I just placed them anywhere that had space available.

As for the notes, I never know what to put in that section so I just made a list of things I wanted to get accomplished within the week. What do you put in your 'notes' section?

Do you decorate your planner seasonally?