Today I have a really cute DIY project that you can make for autumn, a pumpkin patch ring holder! I saw a video on how to upcycle a Birchbox and one of the ideas was to create a ring holder. I was inspired to make a crochet version of this idea and be a little extra and design a pumpkin patch! I really enjoyed making this for you guys. Originally, it was just a box with just some pumpkins and dirt but eventually, I added a fence and a scarecrow and turned it into a mini pumpkin patch. I love the finished result! This is probably one of my favorite projects I ever made. If you make this let me know I would love to see your version.
Supplies
– H/5.00 mm size crochet hook
– I/5.50 mm size crochet hook
– Brown worsted yarn
– Orange worsted yarn
– An empty box
– Polyfill stuffing
– Mini fence pieces
– Mini wood pieces
– Miniature scarecrow (I used
this one
)
– Darning needle
– Hot glue gun
– Scissors
Aberrations
Ch(s) – chain(es)
St(s) – stitch(es)
Slst – slip stitch
Sc – single crochet
Dec – decrease crochet
'Dirt' Logs (make 4)
– Make a magic circle, sc 6 sts. Total = 6 sts
– 2 sc in each st. Total = 12 sts
– Sc 12 sts (x25 or until the log reaches 7 inches). Total = 12 sts
Stuff with polyfill
– Dec 1, sc 1 (x6). Total = 6 sts
Cut off, sew ends closed and weave in ends.
Pumpkins
– Make a magic circle, sc 6 sts. Total = 6 sts
– 2 sc in each st. Total = 12 sts
– Sc 12 sts (x5). Total = 12 sts
Turn inside out and stuff lightly
– Dec 1, sc 1 (x6). Total = 6 sts
Leave a long tail, cut off and sew closed.
Insert the needle through the other end of the pumpkin and pull tight. Create the pumpkin ridges with the yarn by pulling the yarn on the sides and insert the needle at the center bottom of the pumpkin, repeat 5-6 times.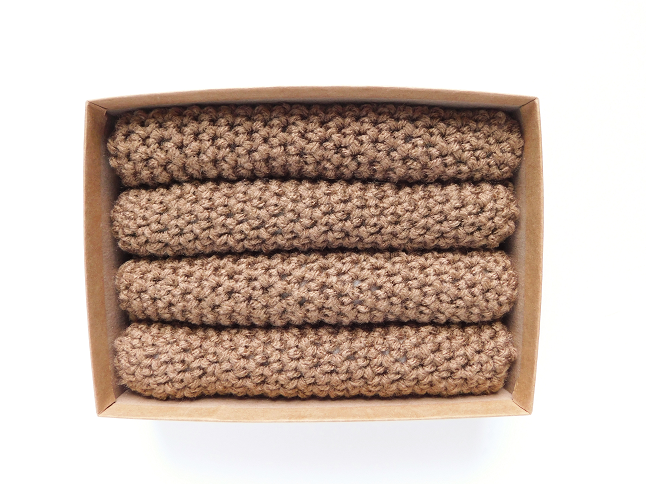 With the hot glue gun adhere the four dirt pieces to the bottom of the box. Next, glue the pumpkins on the top of dirt patches. I placed the pumpkins between two dirt rolls (look at the picture below).
Measure your fence pieces around the box and cut pieces to fit the box perfectly. Glue the fence pieces together to the side of the box.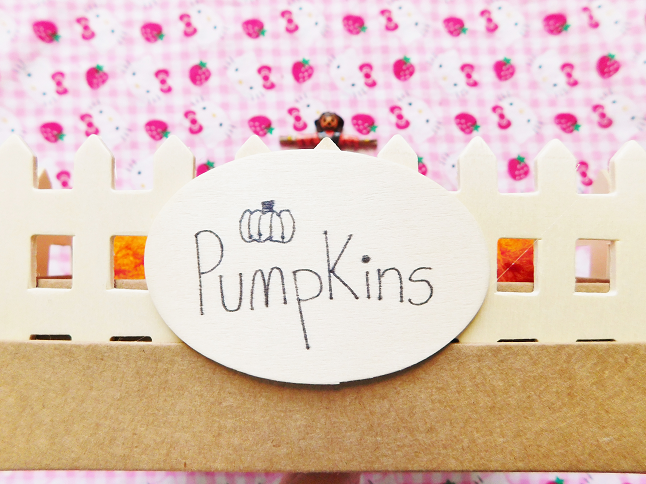 On a wooden sign write 'pumpkins' and glue to the front center of the box. I drew a pumpkin to make the sign cuter.
Hot glue the miniature scarecrow to the back center of the fence box. Now you have an adorable pumpkin patch that can store all of your rings!
Related Posts