It's been a while since I posted a monthly favorite. I didn't post December beauty favorites last month due to
2016 favorites
and to avoid too many favorites posts at the same time. You'd think that I would have a lot more products to share since I haven't posted a proper beauty favorite since November. Halfway through February, I will probably remember a product or two that I forgot to mention because that always happens! Haha
Elizavecca Gold CF Nest White Bomb Eye Cream
I've been searching for a daily eye cream that isn't too heavy and won't sting my eyes. The Elizavecca Gold CF Nest White Bomb Eye Cream (what a name) is exactly that! The tube is also super cute and hygienic.
Mizon Black Snail All In One Cream
This is the newest addition to my skincare routine. I just started using this about a week or two ago but I'm already loving it! It's hydrating and I've noticed my skin is plumper than before.
Klairs Supple Preparation Facial Toner
Ahh! My first Klairs product! I have a bunch of Klairs skincare products on my wishlist but I decided to try their famous toner first. The Klairs Supple Preparation Facial Toner lives up to the hype! It's a refreshing toner that isn't too thin or thick and moisturizing – it's the perfect Korean toner I have used so far. Whenever my face feels dehydrated I apply some of this toner onto thin cotton strips and place them over my cheeks. The coolness of the toner calms the redness on my cheeks. I can definitely see myself repurchasing this toner.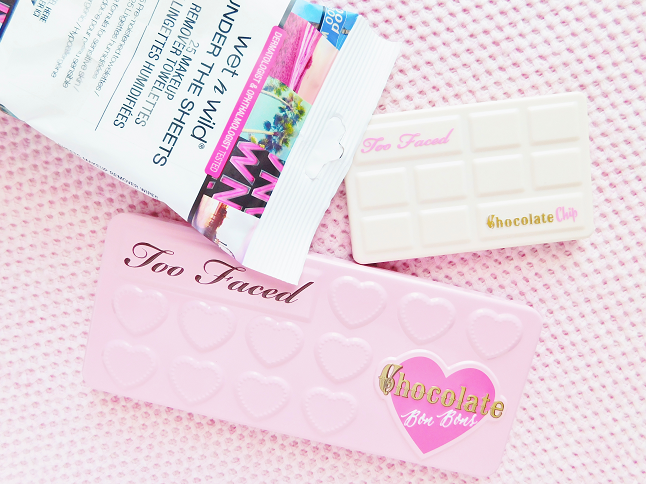 Wet N Wild Under The Sheets Makeup Remover Towelettes
I don't use makeup wipes on my face because they're bad for your skin (don't tug on your skin people!). I use wipes to quickly remove leftover residue off cushion puffs. I properly cleanse my puffs with makeup remover every 2 weeks but when I'm lazy I use remover towelettes to remove old foundation of the puffs. Plus these wipes are cruelty-free!
Too Faced White Chocolate Chip Palette
One of my most reached for makeup products in January was the Too Faced White Chocolate Chip Palette. Whenever I wanted some color on my lids I would sweep a shade or two onto my lids from this palette. If you want more information on this palette to check out my review on it
here
.
Too Faced Bon Bons Eye Shadow Palette
When I wasn't using the White Chocolate Chip Palette I used the Bon Bons Eye Shadow Palette. It's just as cute as the chocolate chip palette but this one offers a vast eye shadow selection. My favorite shades are Molasses Chip, Satin Sheets, and Cashew Chew. Would you like to see a post on this palette?