It's time for a look inside my summer bag! I switch out the contents in my bag often. It all depends on where I'm going and what I'm doing so my bag swag isn't like this. Last year I also posted
my summer bag
and I think it's pretty funny that I carry the same stuff or similar items.
My purse is a lilac pink Rebecca Minkoff Crossbody Mini Mac. It may look small but it can carry a lot! I think it's the perfect size for me because it isn't too big (I hate oversize purses) or heavy but still cute! I got it for a birthday maybe 2-3 years ago. It's my favorite purse I own. The two key chains are from Mexico.
(left to right) Forever 21 Heart Shaped Sunglasses, Skinnydip London Cat-nut Coin Purse, iPhone 6 with a macaron case, Anti-Bacterial Hand Gel, Lychee Gummy Candy and headphones
These are the lifestyle items in my purse. Sunglasses, coin purse, phone headphones and some lychee gummies that my sister bought for me. She got them from Target. They're really yummy!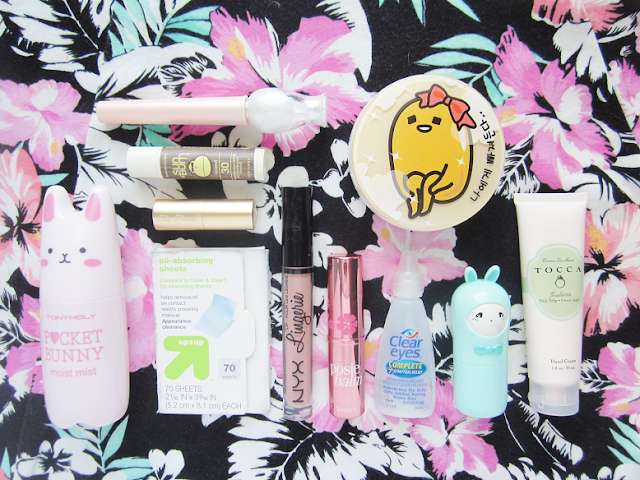 (left to right) Tony Moly Pocket Bunny Moist Mist, Etude House Tear Liner, Sun Bum Sunscreen Lip Balm SPF30, Too Faced La Creme in Naked Dolly, Oil-absorbing Sheets, NYX Lip Lingerie in Satin Ribbon, Benefit Cosmetics Posiebalm, Holika Holika Gudetama Cushion, Clear Eyes Eye Drops, Tony Moly Perfume Bar, and Tocca Hand Cream in Giulietta
I'm constantly switching out.the makeup in my bag depending on what makeup I'm wearing. This is what makeup products that were in my purse the day I took these pictures. As you can tell from the picture I tend to carry a lot of lip products. I love changing my lip color throughout the day!
What are your must-have items that you need to keep in your bag during the summer?