It's the first monthly roundup of 2016! But in order to move forward, we have to go back, back to last month that is. In December I a few new products (and rediscovered some old yet goodies) but these seven are the ones that I would consider my absolute favorites from the previous month.
Queen Helene Mint Julep Masque
This is one of my favorite green masks I've repurchased many times. They repackaged the tube so I was worried that they may have changed the formula but no, it's still amazing as ever! This is the perfect green mask to use if you want a clear complexion and radiant skin!
Leaders Coconut Gel Mask
I received two of these masks in a Memebox I ordered a while ago. I never used any masks from Leaders before but after using one of the masks I think I am going to! This mask is a gel sheet so it sticks onto your face better then a regular sheet mask does. It also left my skin moisturized and soft until the next morning! The only flaw is that it smells like nail polish remover.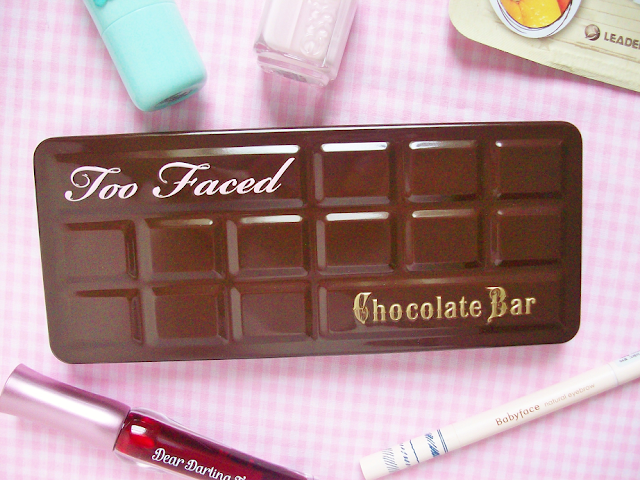 Too Faced Chocolate Bar Palette
I haven't played around with this palette as much yet but it made it onto my favorite for many reasons. First, it smells so heavenly! Better than chocolate! Second, the packaging is easier to wipe clean and is magnetic, so it closes better. The colors are also gorgeous and have dessert-inspired names. I've used a few of the shades already and they're gorgeous!
It's Skin Babyface Natural Eyebrow in Grey Brown
I naturally have very dark eyebrows so even if I fill them in with a light brown color they still appear too dark. Thankfully many Korean makeup brands carry a "grey-brown" shade which I love to use on my eyebrows because it lightens my brows. I'm currently using this brow product by Its Skin and it's pretty good. It makes my eyebrows look soft yet polished. It also comes with a built-in brush so I can brush the color throughout my brows effortlessly.
Etude House Dear Darling Tint in Berry Red
I've heard many positive reviews on this lip tint by Etude House so I decided to finally try it. It's very moisturizing and doesn't dry my lips after I apply. The tint itself is sheer but buildable. You can easily create the famous Korean gradient lip look with this product.
Tony Moly Pocket Bunny Perfume Bar in Pom Pom Green Tea
Ever since I used my first Tony Moly Pocket Bunny Perfume Bar I will never go back to using a regular perfume again! They're adorable and smell just as good as any perfume out there! They are also convenient to carry in your bag and reapply whenever you need to smell yummy!
Essie Peak Show Nail Polish
This is one of the two polishes I wore all December long. The other one was Essie's, Virgin Snow. Both are lovely pastel shades that add a bit of color while still being able to fit into the winter season.
What are your current beauty favorites?