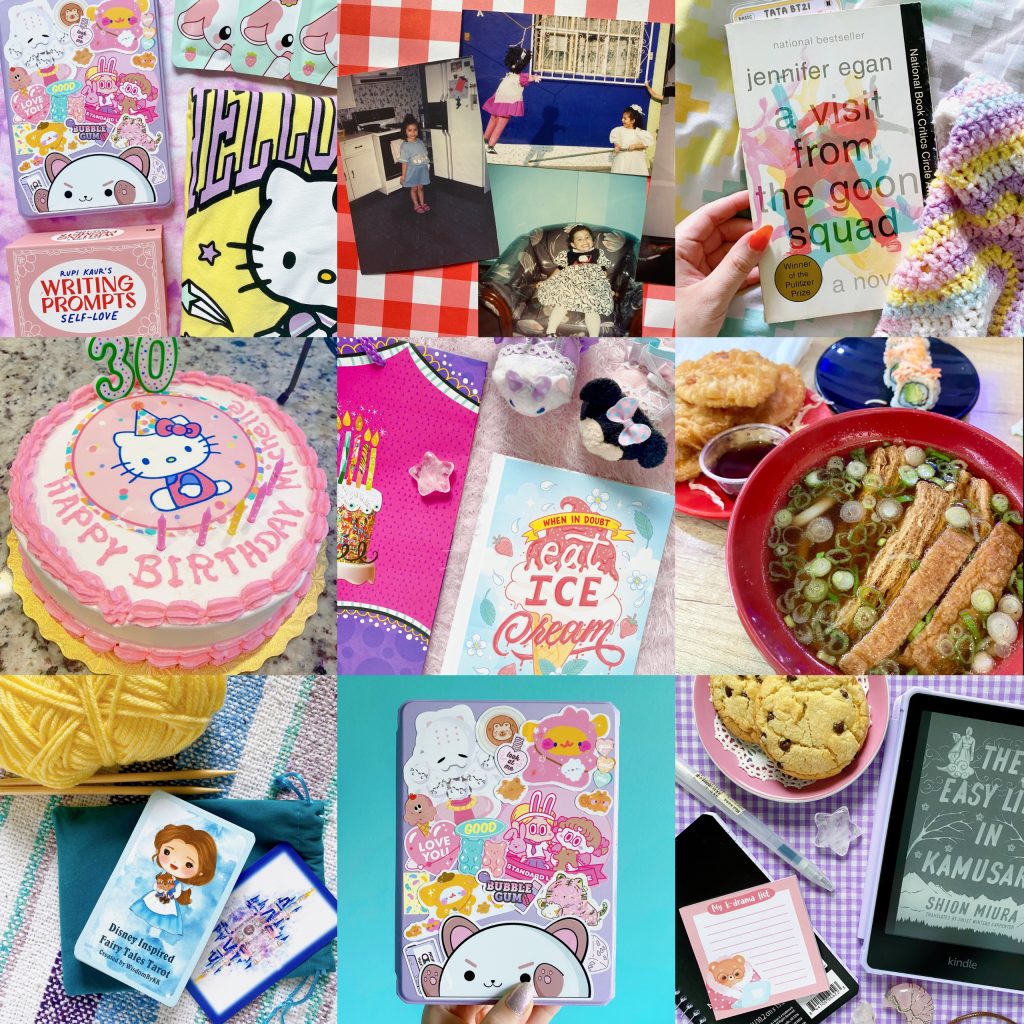 What I Watched
Secret Invasion – Disney+
Fury and Talos try to stop the Skrulls who have infiltrated the highest spheres of the Marvel Universe.

I'll start by saying that the acting was amazing! I mean, Samuel L. Jackson, Ben Mendelsohn, Olivia Colman, and Don Cheadle all did a fabulous job with what they were given. But, the low-quality settings, loose plot, and special effects could've been a lot better! The series costs 212 million to make and let me tell you they wasted that money! Marvel continues to be disappointing.

Barbie
Barbie suffers a crisis that leads her to question her world and her existence.

This movie was so fun! I'm glad that Barbie became mainstream popular because I know there are plenty of people who walked in thinking this was going to be a fun pink, fashionable, and glittery movie about a doll but what they got instead was a super feminist movie! With that said, I felt that some of the funniest moments were ruined by the movie trailers which was unfortunate. Overall, I enjoyed this film and can't wait to watch it again!

What I Listened
EXO – Hear Me Out
NMIXX – Roller Coaster
NewJeans – Super Shy
NewJeans ~ NewJeans 2nd EP 'Get Up'
Jung Kook & Latto – Seven
HYOLYN – This love (feat. Paul Blanco)
LOONA / ODD EYE CIRCLE – Air Force One
LOONA / ODD EYE CIRCLE ~ LOONA / ODD EYE CIRCLE <Version Up> – EP
NCT DREAM – ISTJ
The Rose – Alive
The Rose – Back To Me

Things I Did
I turned 30
Yup. That happened.

Took Lucy to the emergency vet
A few days before my birthday, Lucy woke up and kept throwing up foam-like vomit. After a virtual vet chat, I was told I should take her to the vet and I did. Lucy's vet told me that this was all due to her pancreatitis because of her diet. My family members will feed Lucy their table scraps which I constantly tell them not to but they don't listen to me (the life of a middle child) and say it's alright for her to get some human food now and then but clearly it's not. Don't worry I gave them a good scolding! Anyways, the vet gave her some shots and some medicine to give her for a few days. After we left, Lucy was back to normal!

Took a social media break
I took an impromptu social media break last week after being upset with my Instagram posts getting little to no engagement. I know you only do well nowadays if you're a Tiktoker or do short video content but that's not my thing. I hate being on my phone for too long. You have to film, edit, caption, and post everything on your phone and all that time adds up to hours spent on your phone and I would rather be spending those hours doing literally anything else! Social media has left me feeling defeated which led me to taking a spontaneous break which was much needed.

What I Read
Midsummer Mysteries by Agatha Christie
Summertime—as the temperature rises, so does the potential for evil. From Cornwall to the French Riviera, whether against a background of Delphic temples or English country houses, Agatha Christie's most famous characters solve complicated puzzles as the stakes heat up. Pull up a deckchair and enjoy plot twists and red herrings galore from the bestselling fiction writer of all time.

This is a collection of short stories by Agatha Christie featuring some of her well-known characters. I found most of the stories boring and unforgettable and only liked a few of the stories.

A Visit from the Goon Squad by Jennifer Egan
Bennie is an aging former punk rocker and record executive. Sasha is the passionate, troubled young woman he employs. Here Jennifer Egan brilliantly reveals their pasts, along with the inner lives of a host of other characters whose paths intersect with theirs.

This is another book of short stories, I've been in a short story mood lately. I enjoyed how the characters were connected from story to story. My favorite story is the PowerPoint story and my least favorite was the last story because it was supposed to end the book and it just was underwhelming compared to the rest of the stories.

Golden Hills by Jennifer Weiner
Senatorial favorite Ida Berkowitz is headed for a win. Raised by a hardworking widowed mother, she's authentic, relatable, and down-to-earth. Voters love her. Polls promise victory. Then her campaign manager utters four awful words: Who is Marissa Schuyler? She had almost managed to forget. Ida's bunkmate at Camp Golden Hills when they were girls, Marissa was confident, sophisticated, and wealthy. Everything Ida wasn't. Now the polished wife of a major conservative donor, Marissa's announced a press conference. About Ida.

I knew absolutely nothing about this story other than that I had seen this featured in a few bookstagram posts. I didn't know this involved politics, it was just a brief but I then switches to a story about one of the candidates' past. It was okay but I wouldn't read it again.

Sheets by Brenna Thummler
Marjorie Glatt feels like a ghost. A practical thirteen-year-old in charge of the family laundry business, her daily routine features unforgiving customers, unbearable P.E. classes, and the fastidious Mr. Saubertuck who is committed to destroying everything she's worked for. Wendell is a ghost. A boy who lost his life much too young, his daily routine features ineffective death therapy, a sheet-dependent identity, and a dangerous need to seek purpose in the forbidden human world. When their worlds collide, Marjorie is confronted by unexplainable disasters as Wendell transforms Glatt's Laundry into his midnight playground, appearing as a mere sheet during the day. While Wendell attempts to create a new afterlife for himself, he unknowingly sabotages the life that Marjorie is struggling to maintain.

I've seen this graphic novel all over the place and finally was able to read it and I loved it! It was cute and wholesome. I have a love for ghosts and there are so many adorable illustrations of ghosts in this graphic novel.

Delicates by Brenna Thummler
Marjorie Glatt's life hasn't been the same ever since she discovered a group of ghosts hiding in her family's laundromat. Wendell, who died young and now must wander Earth as a ghost with nothing more than a sheet for a body, soon became one of Marjorie's only friends. But when Marjorie finally gets accepted by the popular kids at school, she begins to worry that if anyone learns about her secret ghost friends, she'll be labeled as a freak who sees dead people. With Marjorie's insistence on keeping Wendell's ghost identity a secret from her new friends, Wendell begins to feel even more invisible than he already is.

This is the second graphic novel in the Sheets series. The topics in this book are a little more serious. I know many people think that graphic novels are for kids but this one may be better for an older audience. Still, it was cute and I liked the new character they introduced and can't wait to see what happened in the next book in this series.

Doughnuts and Doom by Balazs Lorinczi
When Margot meets Elena, emotions run high, magic is in the air, and doughnuts…float? One is a stressed-out witch trying to get her potions business off the ground, the other is a struggling rock musician whose band is going nowhere. Neither of them are having a good time! No wonder things quickly escalate from words to literal sparks flying when they first meet. Could this be the start of a delicious new relationship…or is a bad-luck curse leading them to certain doom?

I was drawn to this graphic novel by the mention of doughnuts! This was another cute read. the color palette only involved a few colors but they were done in a cool way. I thought the story was alright. I enjoyed the magical realism world and light-hearted story but felt the ending was a bit rushed.

Almond – Won Pyung Sohn
Yunjae was born with a brain condition called Alexithymia that makes it hard for him to feel emotions like fear or anger. He does not have friends—the two almond-shaped neurons located deep in his brain have seen to that—but his devoted mother and grandmother provide him with a safe and content life. Their little home above his mother's used bookstore is decorated with colorful Post-it notes that remind him when to smile, when to say "thank you," and when to laugh.

Then on Christmas Eve—Yunjae's sixteenth birthday—everything changes. A shocking act of random violence shatters his world, leaving him alone and on his own. Struggling to cope with his loss, Yunjae retreats into silent isolation, until troubled teenager Gon arrives at his school, and they develop a surprising bond.

This has been on my tbr for a long time and was excited to read this novel. I was completely engaged the entire time and didn't want to put this down! I read half the book in one night! The chapters are really short which made this novel very readable and I found the story very interesting.

Enchanted Night – Steven Millhauser
The delicious cast of characters includes a band of teenage girls who break into homes and simply leave notes reading "We Are Your Daughters," a young woman who meets a phantom lover on the tree swing in her back yard, a beautiful mannequin who steps down from her department store window, and all the dolls "no longer believed in," left abandoned in the attic, who magically come to life.

This is a novella that takes place all in one full moon night. This would be a lovely read. Funny story, I only bought this because it was featured in Billlie's Enchanted Night music video. It's the perfect late-night summer read even better if you can read it during a full moon!

Things I Love
Amazon Kindle Paperwhite & Kindle Unlimited
I've been reading a lot this year and somehow I stumbled onto the #kindlecommunity which is what made me want a Kindle Paperwhite. It just so happened to be Prime Day the same week as my birthday so this was the best time to get one! I've been loving my Kindle and reading all these free books (thanks to the Kindle Unlimited). I'm good with e-books for the rest of the year! haha

Argireline Solution – The Ordinary
I found out about this serum on Youtube even though every dermatologist said that it wasn't "Botox in a bottle" because no skincare product can duplicate the effects of a procedure but I still bought it anyways because I was curious. It took 2-3 weeks but it did eventually work for me! I've noticed my forehead is a lot smoother than before. The consistency of this serum is very watery so I pat it onto my skin and let it dry then follow with a moisturizer.

Rosemary Water Rinse
I mentioned in one of my Mundane Magic posts that I would give you all an update if the rosemary water I made any difference to my hair, and it did! I've noticed more hair growth all over! It's only been a little more than a month and I have already seen a significant amount of new scalp and length hair grow. It's not just me either, my family has even mentioned that my hair has grown!

Stardew Valley – Nintendo Switch
I finally downloaded Stardew Valley! I'm addicted to this game! It's such a calm farm simulation game where you run a farm that your grandfather leaves you. This game made my social media break so much easier. Instead of scrolling on apps, I spent my time watering my crops! haha

Garnier Fructis Curl Scrunch Controlling Gel
The Garnier Fructis curl scrunch controlling gel is infused with coconut water which helps keep your curls defined and prevent flyaways without leaving a sticky residue or crispy finish. It says on the tube that this is an extra hold gel but I would classify it as a light-to-medium hold. This gel leaves a subtle gel cast but it's not too hard and can be easily scrunched out. My curls always look soft yet well-defined afterward.

Posts From The Month
This June ♡ 2023
My Favorite K-pop Songs of 2023 ♥ January-June 2023
MUNDANE MAGIC ☆ 27
What I Read The First Half of 2023
MUNDANE MAGIC ☆ 28
MAGICAL MOMENTS #19
MUNDANE MAGIC ☆ 29
MUNDANE MAGIC ☆ 30

What were some of your favorites from the month?