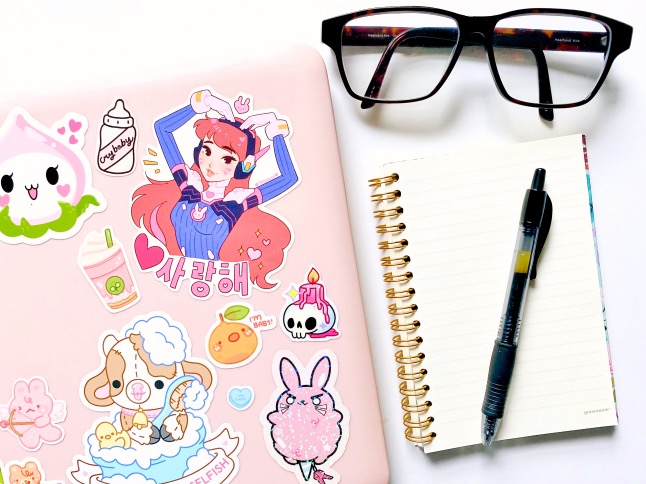 I often get asked how I manage to stay consistent with my blog. I've been on-and-off blogging for years and when I first started I just posted whenever I had an idea in my head, taking long spurs of breaks when I ran out of ideas but eventually when I started taking blogging more seriously I made a posting schedule, at one point I even blogged daily! Nowadays I blog three times a week and that works best for me and my schedule. In this post, I share some tips on how to maintain a consistent blog posting schedule, how to come up with new content, and reduce writer's block.

Create A Blog You Would Read
Something I always ask myself is "would I read my own blog?" and I would! If I was browsing the web and came across my blog I would read it. It's completely my style! Your blog is a reflection of you so when you create a blog make sure you make one that reflects your interests, style, and something you would click on and read. It will make you want to post more as well.

If you write posts about topics that you aren't interested in then you'll lose interest in your website and no longer want to post. Don't just follow the trends and what gets clicks, create what YOU would click on and read. Some posts might do better than others but as long as you enjoy sharing and making posts on subjects you enjoy that's all that matters. Try not to care about the analytical side of blogging and stick to what you enjoy publishing. Plus, you'll attract that right audience.

Weekly/Monthly Series
If you want to stay consistent with your blogging schedule introduce a few weekly/monthly series to your blog.iThis way you know what you're going to write about and it gives your readers something to be excited about and makes posting regularly easier. For example, monthly favorites, a gratitude list, monthly playlist, weekly affirmations, or come up with something original that you'll look forward to writing about.

Plan Out Your Content In Advance
I always make sure to have at least 1-2x weeks' worth of blog posts planned in advance. If you are looking for post ideas keep a journal to write down all ideas that you want to post, topics you would like to write about in the future, or posts you enjoy reading. I have multiple notebooks with ideas for future posts. This journal will come in handy when you hit writer's block. When I'm in a blog rut and can't come up with any ideas I go through my old blog journals for inspiration and I'm always so thankful for past Michelle for having an archive of blog post ideas, It makes planning out content in advance much easier!

Take Advantage of Your Time
If you have a busy schedule and don't have time to blog but want to be consistent be realistic. Instead of trying to blog multiple times a week try to post once a week. Set up an hour or two to just type up a post. if you work better in the morning or at noon, take advantage of that time to blog. I'm a night owl, I work better and am more creative at night so I take advantage of that and let the ideas flow through me and type and write down all my ideas to later come to during the day.

Read Other Blogs
Make time to read and leave comments on other bloggers. By doing this not only do you connect with other bloggers, spread your brand, make friends, get inspiration but you'll also be motivated to post more often. I always get inspired to create better content after reading through my favorite blogs.

Take Breaks When Needed
I know staying consistent is important, you don't want your reader to forget about you and your blog but don't forget to take breaks. Even when you enjoy doing something you need to take breaks. I've gone through my blogging ruts and when I do, I step down and take a break, it's a sign to cool down for a minute. Sometimes you just need some time away from your blog to get new ideas. Don't be too hard on yourself. Remember blogging is supposed to be fun and something you enjoy doing. If you don't enjoy blogging, then you don't have to do it. You can always use social media to keep your readers updated on your life and upcoming posts.

How do you maintain your blog?