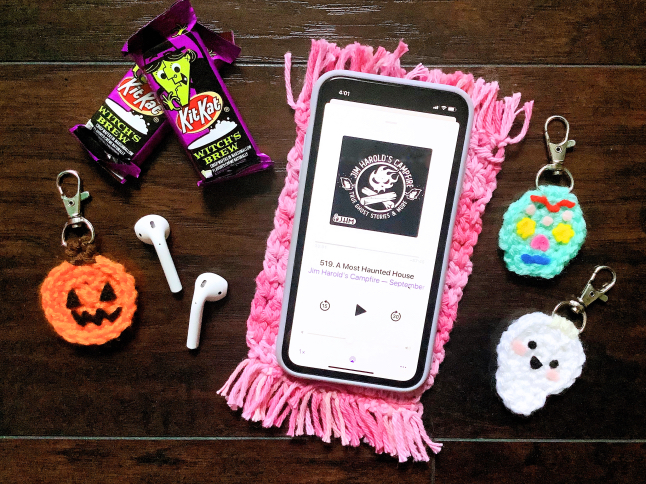 I'm a huge fan of podcasts! I listen to about 4-5 podcasts a day and prefer the longer ones over the 15-minute ones. Podcasts make time pass by so quickly especially when it's an interesting topic, like paranormal which is my favorite genre! I enjoy listening to horror lore and people's true experience with the other side. I prefer causal podcasts that seem like someone is having a conversion with you. If you want to get a little bit spooked this month I have seven supernatural podcasts that you can listen to this month to into the spooky mood.

Let's Not Meet: A True Horror Podcast
Like that title says, this Is a true horror podcast. Listeners submit their own stories of times they were stalked, followed, etc. This technically isn't a paranormal podcast but it's scary because events happen regularly. I would recommend everyone to listen to this podcast because you never know when you might find yourself in one of these situations and it's better to be prepared for the unexpected than be sorry.

Supernatural with Ashley Flowers
If you're in a time pinch then Supernatural with Ashely Flowers is perfect! The episodes run about 30-minutes each week, host, Ashley Flowers discusses topics of the haunted, the unknown, alien, conspiracy, and mystical. The topics are well researched and even though I've heard of some of these topics in the past I always learn something new when I listen to one of the episodes.

Jim Harold's Campfire
Every Thursday, Jim Harold invites a series of listeners to retell their stories of the supernatural. Do I believe every story I hear? No, I do believe in the other side but I don't believe in every story I hear because I do think certain things can be explained, or sometimes people are in states where they're more likely to see things and label them as paranormal experiences, like after you watch a scary movie or home alone. On the other hand, some of the headscratcher stories can leave you thinking for days.

Scared To Death
Every Tuesday, the husband and wife duo, Dan and Lynze, tell each other stories to see who can scare each other the best. I like this podcast, the stories are fun and can get you in a spooky mood. However, I do not enjoy cheap scares like loud noises, creepy noises, or when the hosts scream which happens regularly in this podcast, so keep that in mind if you're not a fan of cheap scares. Nonetheless, I still enjoy this podcast, it has its charm.

Two Girls One Ghost
Every week, the hosts Corinne and Sabrina discuss paranormal topics and retell listener-submitted stories. Every time I listen to this podcast I truly feel like I'm meeting up with two of my friends to discuss all things spooky. It's one of my favorite podcasts because you can tell that the hosts truly enjoy discussing paranormal topics and they have a true friendship. I always look forward to listening to new episodes of Two Girls One Ghost.

And That's Why We Drink
Each Sunday, hosts, Em and Christine each tell a paranormal and true crime story. I really enjoy the combination of paranormal and true crime in this podcast. Again, these two sound like true friends who are talking about their favorite subjects, ghosts, and murderers! Before I became interested in paranormal podcasts I strictly listened to true crime podcasts so this is like the best of both worlds. haha

What's your favorite spooky podcast?