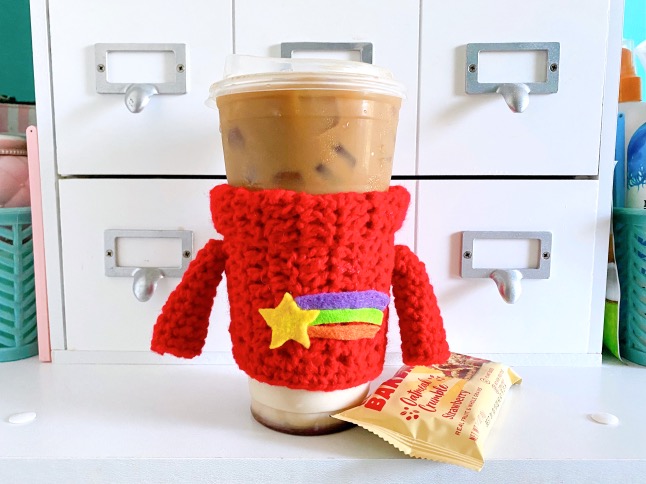 – I started my week by excessively cleaning my room because I broke out of an allergic reaction, thanks to dust mites! This has never happened to me before, I have sensitive body skin but my body has never broken out in a rash/spots. I heard dust mites are common and happen during transitional seasons but it still made me feel disgusted. I have a lot of stuffies and cute clutter and I don't always dust as much as I should but now I'll take things more seriously.

– The feeling of a new yoga mat! You saw a sneak peek of it in my Virgo New Moon post. I like using my yoga mats as backgrounds for my posts, don't worry I clean my mats often!

– Puppy cuddle therapy and cold brew with a splash of dairy-free milk ?

– Starbucks released a new seasonal drink called the Apple Crisp Macchiato describes as "apple pie in harmony with espresso. steamed milk and a caramelized-spiced apple drizzle-a nostalgic autumn pick-me-up." At first, I thought apple and coffee? But when I heard it explained as an apple pie filling I was intrigued! I'm someone who loves trying the new Starbucks coffee drinks so I gave it a try and… I loved it! It definitely gave me all the autumn feels. It's sweet and tastes like a caramel apple but the espresso doesn't make it too overwhelming. I actually think I prefer it over the iconic caramel macchiato! ?

– I've started rewatching Avatar: The Last Airbender animated series because it's a comfort show and listening to Avatar: Braving The Elements podcast made me want to watch it again.

– The new Nell album Moments in between is a total vibe. If you need a chill album to listen to I highly recommend it.

– I'm pretty sure you already saw this video but if you haven't. The OG Steve for Blue's Clues posted this heartwarming video and it gave me all the feels. If you need a pick-me-up you should watch.

Posts from the week
The Virgo New Moon 2021
A K-pop Summer Playlist ♥ Summer 2021

How was your week?