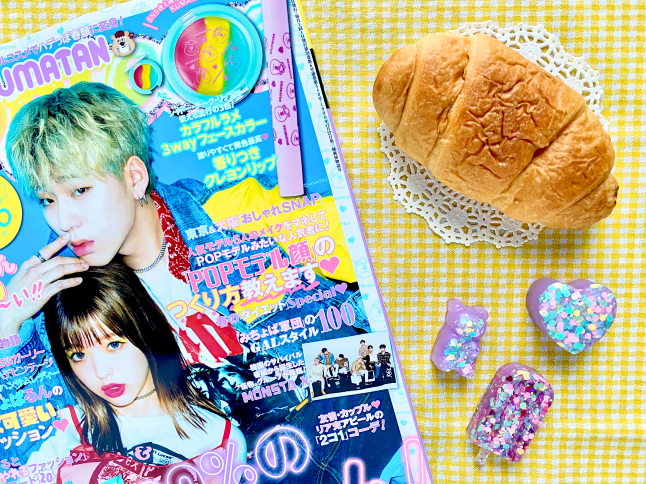 *DISCLAIMER: Links included in this post might be affiliate links. If you make a purchase with the links I provide, I may receive a small commission at no additional charge to you.

Current favorites
Watching: Start-Up
Drinking: Lavender Chamomile tea
Eating: Croissants with chocolate filling
Loving: Popteen magazines. After reading Hello Lizzie Bee recent blog post I whipped out the last Popteen issue I bought which was the June 2017 issue with Zico on the cover. I have a huge stack of J-fashion magazines next to me. I think I'll flip through them this weekend for fun. Maybe I can share some J-fashion magazine flip-throughs in the future since most of these issues are considered vintage. haha
Listening: An Acquired Taste Podcast
Practicing: Making resin charms. I shared a picture of some pastel glitter resin charms I made over the weekend on Twitter. I've always wanted to make resin charms and with all the election news and growing numbers of Covid, I thought it was time to start another creative activity to distract me from all the news. haha
Working on: The Curly Girl Method. I've always been curious about this so I went down a CGM rabbit hole the other day and I think it's finally time. This Youtube channel has a lot of good tips on how to follow the CGM plus she has gorgeous natural curls. If any of you follow the CGM please tell me about your experience. I'm looking for product recommendations that follow the CGM rules so share some if you have any.
Quote: If you rush it, you'll ruin it….pause and be patient

Posts from the week
How To Make Your Own Crochet Patterns
This October
Dear Diary, #44

Now playing
[Ariana Grande] – [just like magic]
0:29 ─♡────── 2:30

How was your week?