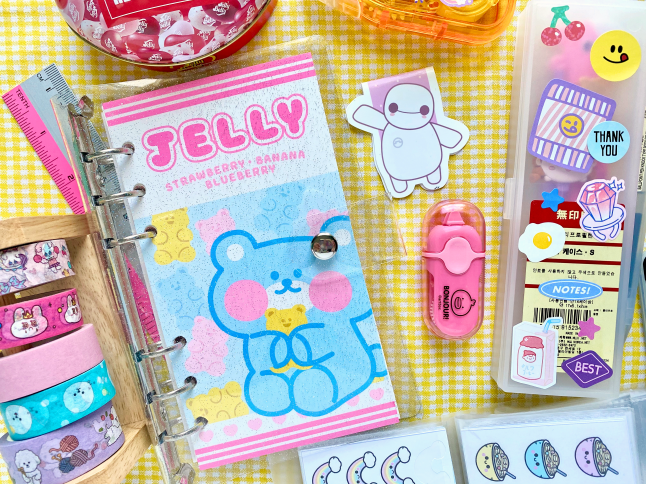 *DISCLAIMER: Links included in this post might be affiliate links. If you make a purchase with the links I provide, I may receive a small commission at no additional charge to you.

I posted a planner essentials post a few years ago but I wanted to give an update on what my current journaling essentials are because I have discovered new tools that help me when I'm journaling. If you are new to journaling and want to know what stationery items are handy to have this post will really help you. I also uploaded a video version that you can watch down below.

Remember to like, share, and subscribe to my Youtube channel!
Journals
Obviously, the most important thing you need to start journaling is a journal. I've used many different types of planners and journals such as the Happy Planner, Hobonichi, and Travelers Notebook. This year I decided to start using 6-ring journals.

Sticker Book
If you plan on collecting a lot of stickers to use in your journals I highly recommend having a sticker book to store all your sticker sheets. I bought one from Artbox when I was in Seoul but you can easily make one as well. You can see what the inside looks like here.

Washi tape and Washi Tape Holder
Washi tape is a simple way to decorate your journal with. Washi tape is really fun to use and it makes your journal really magical!

Thin washi tape
I use thin washi tape in my journals all the time! You know those spaces in your planners/journals that are too small? That's the perfect spot to use thin washi tape! I also like using thin washi tape when I'm placing polaroids in my journal and want to make the polaroids look as if I used tape to stick the photo to the sheet of paper.

Hole Puncher
A must if you are using a 6-ring. Sometimes when you're decorating your journal stationary gets in the way so you need a hole punch to clear up those holes! This is the white version of the hole puncher I have.

Magnetic bookmarks
I have the cutest magnetic bookmarks from HelloPaperCat. I literally use these everywhere, in journals, planners, notebooks, books, etc. I have so many that I need to keep in a pouch! haha

MUJI Pen
My current favorite black pen.

Retractable Razor Knife
I use this when I need to cut out things with a clean sharp line.

Pental Touch Felt Pen
I use this felt pen when I want to attempt calligraphy in my journals.

Ruler
I use this with the retractable razor knife to cut things.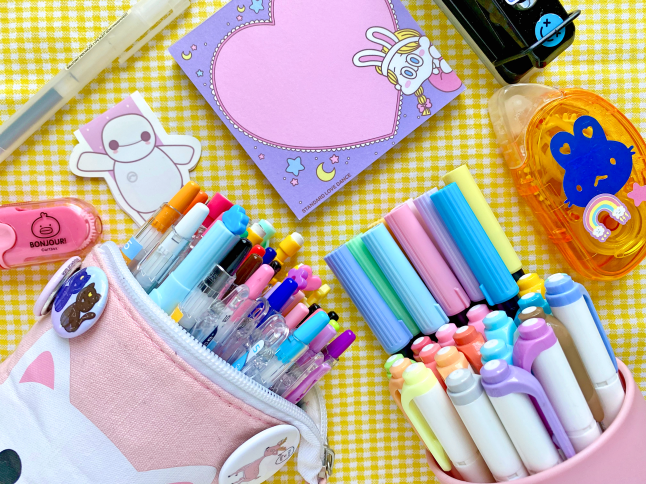 Washi tape scissors
If you use washi tape often then you know that normal scissors aren't meant for scissors. That's where washi tape scissors come in!

Mini Pouch
I started placing loose stationery items here when I was decorating my journals so it naturally became a junk stationery pouch. haha

Sticker flake tins
If you collect use sticker flakes I recommend keeping a mini tin or container to store all your stickers flakes inside.

Sprocket Photo Printer
When I want to print out photos from my iPhone's photo album I will this my Sprocket to print out the photo. I also use this when I'm making K-pop polaroids. Check out their latest Sprocket model here!

Glue/Adhesive
I don't often use glue in my journal because I prefer adhesive rollers but every now and then glue comes in handy like when I want to glue tiny sparkles!

Adhesive roller
I've seen many people who journal use gluesticks in their journals but gluesticks are annoying to use! Trust me, I've tried gluesticks multiple times but the photos or notepads always slip around and I always get my fingers sticky! That's why I use adhesive rollers. Not only are they cleaner and compact but also make everything stay intact.

White-Out
For mistakes!

Tweezers
I saw a journaling Youtuber use this and decided to give it a try and tweezers are amazing! You can see what the stickers are going to look like before sticking it down on the paper.

Washi Tape Book
This is best for when I'm traveling and don't want to carry my entire washi collection with me. It may look small but it can hold a lot!

Cute Sticky Notes
Another alternative to stickers is sticky notes/post-it notes. I love to use various sticky notes in my journal when I'm making a motivational page. 

What are some of your journaling essentials?