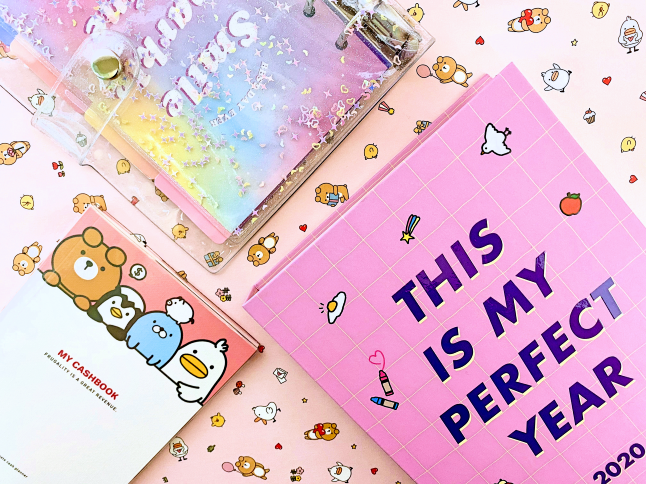 I'm back with another Youtube video today! This time, I'm sharing some of my latest ARTBOX purchases, specifically planners and journals. Like my Daiso Korea haul, I originally wanted to make a photo-heavy blog post but I think it's easier to film a video, but I did both! I share a few pictures of the planner/journal/diary will be using this year but if you would like to see a better look and flip-through of each paper good watch here. Remember to subscribe to my Youtube channel to keep updated all on of my latest videos.

Check out my video down below to see how I set up my first 6-ring PVC diary and a flip-through.
The main planner I will be using in 2020 is this hardcover A5 planner from ARTBOX. It's a hardcover binder-style planner. When you open it there is a 6-ring inside which you can open to take out pages to decorate, I really like this concept because it reduces any obstacles that may happen when decorating your planner. What really sold me on this planner were all the cute illustrations on the pages, especially the back pages! It also comes with a sheet of stickers in the back!
Another 6-ring journal? Yes! Unlike the other 6-ring planner this is A6 size and it's not a planner, they're different! These clear PVC journals are really popular in Korea. I've seen other bloggers use these in the past and they always looked super cute which is why I decided to invest in one this year. To be honest, I've never been into 6-ring/hole binder planners before because I feel like they would be really bulking and I'm not into super thick planners. says the one with a super thick Hobonichi. However,  the clear PVC material makes these journals/dairies less bulky.
The last stationery item I will be using in 2020 is this adorable cashbook. I saw a section of these cashbooks and just knew that I needed one to keep track of all of my spending in 2020. It doesn't hurt that the cover is stinkin' cute too! Hopefully, the cute characters can cheer me up from all of my spending woes. haha

What planner/journals are you using in 2020?